Dr. Joseph DeJames, above, examines a Julius E. Sprauve School athlete as part of her physical exam. CNA Chris Roddy, below, tests a JESS athlete's eye sight as part of his physical exam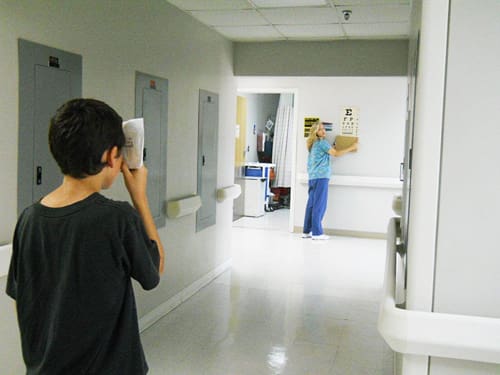 When a snafu last week almost left Julius E. Sprauve School athletes without required physicals needed to participate in school sports, Myrah Keating Smith Community Health Center director and physician Dr. Joseph DeJames came to the rescue.
A mix-up at the Department of Education meant that the athletes in upper grades at JESS were in danger of not being able to receive the physicals they needed in order to participate in girl's volleyball, boy's basketball and flag football, explained Debi Emmette, clinical care coordinator at MKSCHC.
That's when head of St. Thomas Radiology Dr. George Rosenberg contacted Dr. DeJames, explained Emmette.
Dr. DeJames, along with Chris Roddy, CNA, and Kelly Beach, RN, examined about 60 JESS student athletes on Monday, October 8, at MKSCHC.
The health care officials checked the students' vital signs, lungs and heart sounds, height and weight and examined their ears, eyes and noses, Emmette added.
Thanks to the quick action on behalf of MKSCHC officials, JESS student athletes in sixth, seventh and eighth grades were cleared to participate in their respective sports last week.