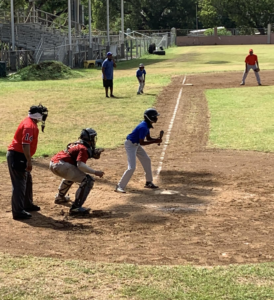 Commissioner Calvert White has his department swinging for the fences as the Department of Sports, Parks and Recreation has officially instituted a nationally recognized program into the Virgin Islands community. Reviving Baseball in Inner City, better known as RBI, is an outreach program created by Major League Baseball. This program pitches the love of baseball and softball to young people within a community. Organizers say they hope the joy of hitting, catching and throwing a ball and running around the diamond and the outfield grass will strike a deep passion for the game in the hearts of young ballplayers. Their aim is that as these boys and girls are introduced to the game, they will learn the value of teamwork, working hard to achieve their goals, academic excellence and community service.
Roberto Comacho was one of the people who wanted to get RBI going in the U.S. Virgin Islands. However, he ran into many challenges as he worked to effectively implement the program. Things changed once he officially joined the Sports, Parks and Recreation staff.
White and his team saw the value of the program, and they got to work. St. Croix District Administrator Jamilah Henry contacted MLB to find out more about the program and learn how to set up a division here in the USVI. They formed a 15-member board comprised of department employees from all three islands, a member from the Department of Education and a stateside member who is knowledgeable about the program and is from the community.
The board named Elroy Hill director of softball and John Perry as director of baseball. Coaches and officials had to submit a brief resume and the board voted to approve them. All players had to register online and pay $75 for the year. Coaches filled their roster via a draft. Thus, RBI USVI was born. The league is broken down into three divisions: Junior League Baseball (five teams); Junior League Softball (four teams); Senior League Baseball (four teams). This is a territorial league. There are two teams in all three divisions playing out of St Croix while the other five teams are based in St. Thomas.
RBI is a developmental program. Teams are encouraged to practice together. Coaches will also rotate and work with different teams within the league. In December, the department is hosting an RBI tournament. It will feature teams from Puerto Rico and the mainland United States. Local softball and baseball teams will have players and coaches from both districts.
RBI is loaded with clinics, training seminars and tournaments to promote the development of everyone involved. The team managers of administrators, coaches and officials are working together to perfect this program in the hope that all the players in this program become all-stars in the game of life.