On Friday, February 3rd, discover, dine, and dance the night away as Mongoose Junction continues its "First Friday" of each month series in Cruz Bay, St. John. Dance to live music and enjoy a wide range of locally made art at the premiere shopping and dining destination in the Virgin Islands.
Fueled by creativity, diverse culinary experiences, art and music, the Mongoose Junction community will offer V.I. residents and visitors alike a stimulating, cultural experience starting at 6pm .  Featuring, live music by, "From Broheem with Love" a Jazz, Rhythm and Blues band from 6 to 9pm.
In addition, 30 unique Mongoose merchants will be hosting artists, art exhibit openings, live music, and special offers. Among some of the First Friday art gallery, retail & restaurant offerings on Friday, February 3rd include: 
The Best of Both Worlds Gallery will turn the clock back to 1993 when photographer Constance Wallace captured the attitudes and style of a dozen local men. Her photo-collage exhibit was called "The Colorful Men of Cruz Bay" and, at the time, it raised eyebrows and controversy.  Those were simpler days, when men of various life-styles limed congenially in town, often accompanied by homeless dogs and cats that gathered wherever there might be food.  Back then, locals could take animals for veterinary care to an empty shack near the library where Dr. Saunders and Dr. Williamson ferried over from St Thomas to tend to them. 
[adrotate group="6"]
Fashions have changed since then, and many of the faces in Wallace's archival collages are no longer among us. And replacing the shack is our modern, no-kill St. John Animal Care Center, which finds homes and provides care for needy island animals.  Depending on the community to fund its adoption and spay/neuter programs, it's whittling down the numbers of homeless island animals.
Best of Both Worlds Gallery will spotlight Wallace's portraits, selling her gilt-framed vintage collages and donating all proceeds to the Animal Care Center.  On that night, 10% of all other sales at Best of Both Worlds and at Nest will also be donated to the ACC.   The Gallery invites you to celebrate Cruz Bay back-time and help our local ACC.  Other gallery artists include, Kimberley Boulon, Kat Sowa, Elaine Estern and Candice Greathouse.
The Gri Gri Project at Bajo El Sol Gallery will be hosting the opening of its exhibition "Lucid Dreaming."
"Lucid Dreaming" features new mixed media paintings by Aimee Trayser (St. John), ink on paper drawings by Andrew Barlas Jr. (St. John), oil paintings by Amy Gibbs (St. Thomas), Marta Isabel Pérez (St. Thomas/Puerto Rico) and Elisa Lacatena (St. Thomas), handbound books by Susan Edwards (St. Thomas) and metal sculptures by Mike Walsh (St. Croix). The opening's special guest artist will be video artist Bill Stelzer (St. John).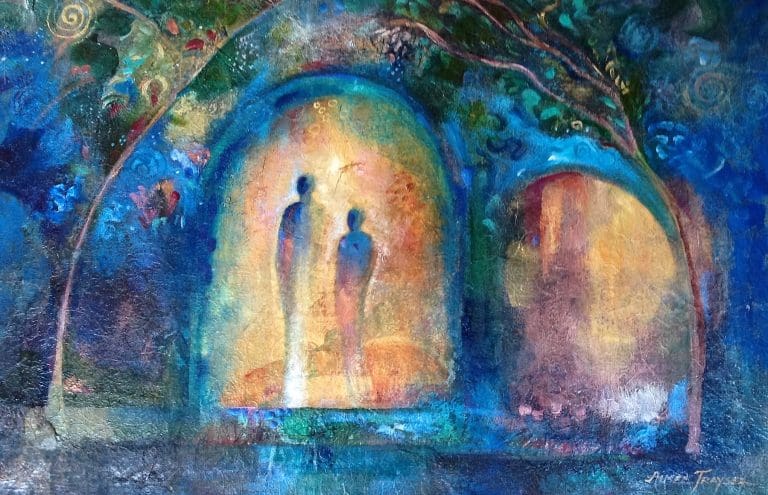 Lucid dreaming provides artists a chance to experiment with the extraordinary abilities buried in unused parts of the brain. During lucid dreaming the dreamer is aware of the act of dreaming. The dreamer may be able to exert some degree of control over the dream's characters, narrative, and environment. In reference to this phenomenon, Greek philosopher Aristotle observed, "Often when one is asleep, there is something in consciousness which declares that what then presents itself is but a dream."
St. John Experience Gallery will present live painting by local artist Monica Knaggs. Mention the words" First Friday" and receive 20%-40% off select items.
Bamboula will offer henna body painting by artist Carolyn Roust on a walk in basis from 5:00-7:00. Designs start at $10.
Mention the phrase "First Friday" and receive a free sterling silver petroglyph charm, with a purchase of $20 or more at Caravan Gallery.
Friends of Virgin Islands National Park will have a 20% off on select items.
Portico will be celebrating the launch of their new website porticoshop.com and will be gifting 10% discount cards for online purchases.
Sugarbirds will feature new photography images by owners, John and Dean Baldwin.
Steel Pan music and art work by artist, Patty Tacquard at Ocean Grill Restaurant which features fresh, contemporary cuisine.
Viva Cantina's will offer its "Chef's" Complimentary Salsa Tasting (on request) for parties of 4 or more, 5 to 9 pm. Viva's featured artists is Kimberley Boulon.
The Tap Room will offer free brewery tours and beer tastings at 6:00 & 7:30 pm. Buy any combination of 3 T-Shirts and/or Hats, and receive a FREE Pint Glass at the Brewtique.
Sun Dog Café is celebrating 20 years on St. John with 20% Off Adult Beverages 5 to 9 pm.
Mongoose Junction's first "First Friday" event of the season promises to be a fun and art filled evening. For further information, visit the Mongoose web site at www.mongoosejunctionstjohn.com