Caravan Gallery will have uzbek Suzani embroidered bags from owner Radha Speer's recent buying trip to Istanbul, Turkey.
Everyone on St. John is invited to start the holiday season with a special shopping event that could make one the proud winner of a $1,000 shopping spree.
Mongoose Junction's annual "Evening in the Courtyard" will be November 26, from 5 to 9 p.m., and is packed with special events for an evening of fun and shopping. It's a great opportunity to do some Christmas shopping because for every purchase at any Mongoose retailer or restaurant, shoppers will receive a raffle ticket.
The only way to win is to make purchases at stores or restaurants. The drawing will be at 8:30 p.m. and shoppers must be present to win — easy to do since there is so much to see. All stops have been pulled out to make this the best Evening in the Courtyard ever.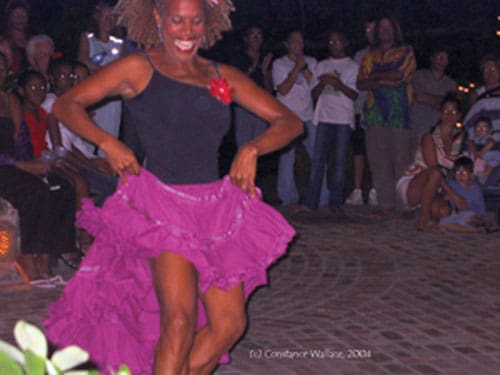 Liz Putnam will present two fashion shows with Bamboula at Mongoose's Evening in the Courtyard.
In addition to the raffle and great shopping, many Mongoose shops will also feature activities and presentations for the evening. For the arts lover, Steve Simonsen will showcase his new 2011 calendar and air his documentary of leatherback turtles filmed in St. Croix from 7 to 9 p.m. at the Friends of VINP Store.
A special show at Bajo el Sol will feature giclees of oil paintings by the late Maria Henle. Raised on St. Croix and the daughter of photographer Fritz Henle, Maria Henle was an extraordinary artist and avid environmentalist with a passion for creating large landscape paintings and color etchings.
Caravan Gallery will feature Turkish flat weave kilim carpets, uzbek Suzani embroidered bags of many sizes, and Turkish jewelry from Radha Speer's recent buying trip to Istanbul, while The Best of Both Worlds – Arts & Design Gallery will showcase new bronze sculpture work.
Jewelry aficionados will get the pleasure of viewing a special showing at R&I Patton Goldsmithing of jewelry by George Sawyer, who will be present at the show. Sawyer is featured in Engagement 101 magazine's "Top Wedding Ring Trends of 2010." Impressionistic paintings in gold, one-of-a-kind rings with continuous, seamless patterns, each Sawyer design is made by one goldsmith from beginning to end.
Fashion lovers will be thrilled to see Bougainvillea's beautiful new Holiday dresses and accessories, Fabric Mill is kicking off their shopping season with lots of great new designs and Bamboula is once again hosting two fashion shows — one begins at 5:30 p.m. in the Mongoose I courtyard and the second, at 7:30 p.m. in the Mongoose II courtyard. The shows will be Liz Putnam productions starring top local models.
Foodies take note. Sun Dog Cafe and Gecko Gazebo Bar will showcase their new dinner menu and offer free samples that will be paired with a wine tasting from a newly expanded wine list, hosted by Premier Wines and Spirits, from 5:30 p.m. Join them for happy hour specials at 4:30 p.m., then be seated by 5:30 and enjoy half price appetizers until 6:30 p.m..
The Tap Room will be showcasing their new food menu for this season. From 5 to 9 p.m. they will be offering their menu at 50 percent off. Top it off with a bit of the bubbly! Ocean Grill will have special pricing on Moët Champagne during the evening.
For more information contact Michael Barry at 340-244-9713 or by e-mail at michael@sundogcafe.com.