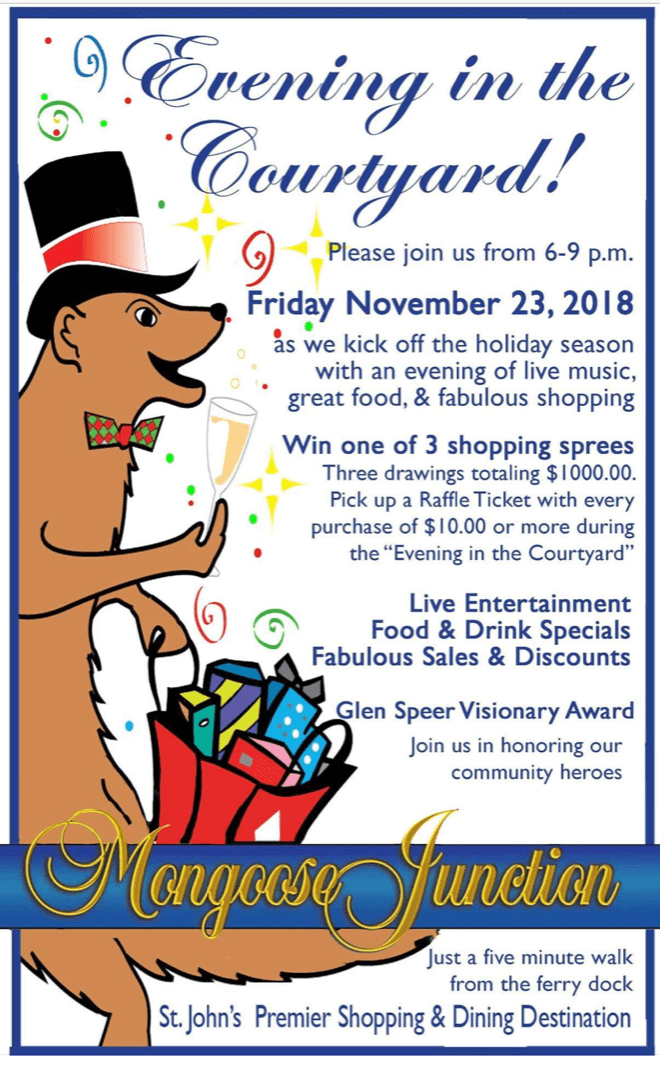 St. John's premiere shopping and dining venue, Mongoose Junction, will kick off the holiday season Nov. 23 with their annual Evening in the Courtyard event from 6 to 9 p.m. Locals and visitors alike are welcome to take advantage of specials, sales, and a raffle with prizes of a $500 and two $250 shopping sprees. Each purchase at a Mongoose shop or restaurant earns a raffle ticket, so the more you shop, the more chances there are to win.
There will be music and live entertainment at the Cruz Bay shopping destination, which is celebrating its 40th birthday this year. The winner of the Glen Speer Visionary Award, which recognizes a member of the St. John community for their contribution to the aesthetic visual appeal or quality of life on St. John, will be announced at the event.
Evening in the Courtyard specials will include:
Twenty percent off selected lines, and free gift with purchase of $100 or more at Bamboula
Special deals on select prints and original works by Virgin Islands artists at Bajo el Sol Gallery
Buy three t-shirts or hats and receive a free six-pack of St. John Brewers beer at the Brewtique
Free sterling silver petroglyph charm with purchase of more than $40 or free pearl necklace to those who spend more than $150 in John Medeiros jewelry at Caravan Gallery, which will provide free champagne while shopping
In-store specials at Island Fancy
Twenty-five percent off duty free prices and diamond jewelry, not including clearance items, at Little Switzerland
Fifteen percent off storewide and 50 percent off select items at Lulee
Twenty percent off new fall women's apparel and an extra 30 percent off sale items at Just BEach
Uncork a message in a bottle at Portico to unlock up to 50 percent off
R&I Patton goldsmithing is celebrating 45 years on St. John
In-store specials at Sugar Birds
Free gifts and discounts at St. John Experience Gallery
In-store specials at the Friends of the Park store
Ten percent off sunset sails at Trevor's Activity Center
Food and drink specials at Greengo's
Free waffle cone or topping with ice cream purchase at St. John Scoops
Complimentary dessert, one per table with dinner upon request, at Sun Dog Cafe
Happy hour all night long at the Tap Room
Mongoose Junction is just a five-minute walk from the ferry dock in Cruz Bay. Follow them on Facebook or visit www.mongoosejunctionstjohn.com for more information.