Coral Bay was spruced-up last weekend, just in time for a visit from some of the territory's top brass.
On Saturday morning, April 21, more than 30 people came out to clean up the mangroves, shoreline and roadsides in Coral Bay from Flamingo Club to Penn's Point and in Friis Bay.
A joint effort between the Coral Bay Yacht Club and the Coral Bay Community Council, volunteers also disposed of about a dozen derelict dinghies from the bay and shoreline, explained CBCC president Sharon Coldren.
The clean-up coincided with the eleventh anniversary of the John's Folly Learning Institute celebration, where first lady Cecile deJongh was scheduled to be the keynote speaker.
Trash bags were picked up and the roadsides were free of debris by the time deJongh rode out to the institute on Saturday afternoon, Coldren explained.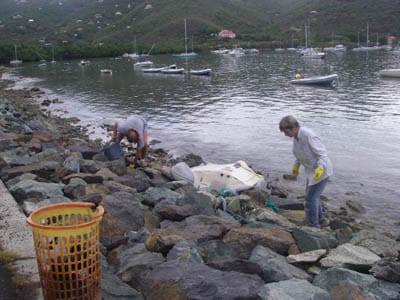 Just In Time for First Lady
"By the time the first lady drove by, hopefully she got to see Coral Bay as a neat and cared for community," Coldren said.
Department of Public Works officials removed the trash from the roadside, where it had been stacked by volunteers.
"We want to thank Public Works for arriving on time promptly at 11 a.m. and picking up all of the trash bags and debris," said Coldren.
While the effort was well worth it, more permanent efforts need to be implemented, Coldren added.
"Unfortunately, by this morning at the triangle, there is already fresh litter," she said on Monday morning, April 23. "We really need trash cans in public areas of Coral Bay, especially at the triangle and bus stop and in other areas where pedestrians walk.
And, of course, we need the dumpsters moved out of the mangroves."
The next Coral Bay community clean up has not yet been scheduled. Call the CBCC office at 776-2099 for more information.