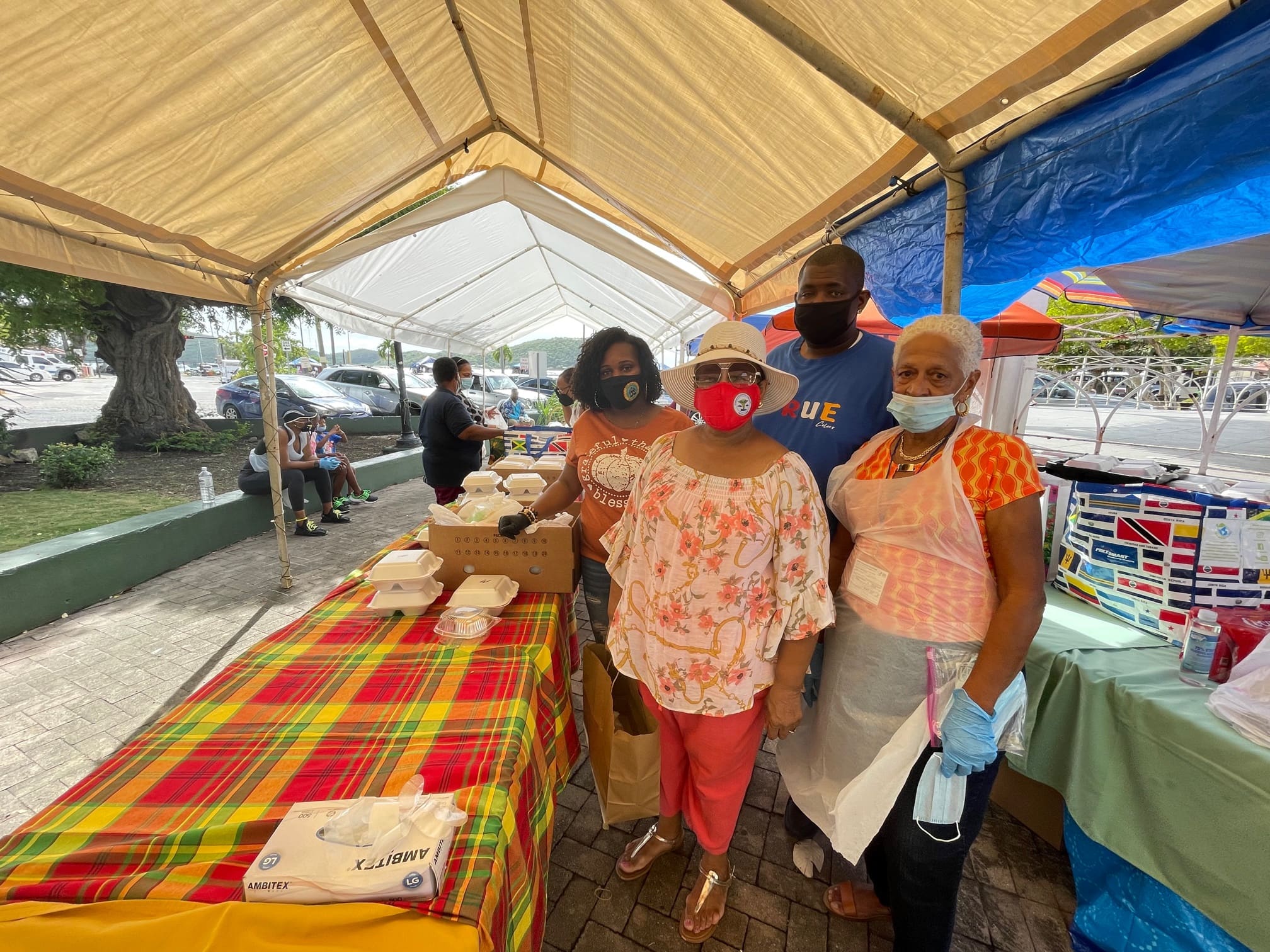 Francine Penn-Scipio (front left) is joined by Millicent Gagliani (front right,) granddaughter Franique Ryan (back left) and volunteer Micah Fountain at Thursday's community feast. (Ananta Pancham photo)
Francine Penn-Scipio described Thursday as "bittersweet" as she gathered with friends and family on St. Thomas to distribute more than 400 meals to the community at the annual feast that she and her late husband, Clarence Scipio, started nearly 30 years ago.
"If he was here, he would have loved to talk your ear off," she joked while sharing with the Source more about the evolution of the event, which she said started with the simple goal of feeding the island's unhoused population and senior citizens. Guided by his faith, Clarence Scipio thought of the feast – which has run throughout the afternoon each Thanksgiving in Emancipation Garden – as a showing of love and brotherhood, not only because of the time the couple spent with people who stopped by to eat but because of the community support it received.
"One of the things I really loved is having the seniors come in," Francine Penn-Scipio said. "We set them up under the bandstand, had some music playing and they loved to sit and talk. With the pandemic, we haven't been able to do that, so instead, we take their meals to them."
For the past two years, the pandemic has also changed the buffet-style structure of the event to a pre-packaged one, but even so, Francine Penn-Scipio said the spirits of their patrons haven't dampened.
"Before, you'd come out and walk up, ask for whatever you wanted and you'd be served. Now, everything is plated and while the flow of people goes up and down – before, it was like a storm all day – we still have so many that come up to grab a meal," she explained. Thursday illustrated her point: with a cruise ship in port, visitors to the island stopped by the feast tents, along with Main Street vendors, emergency workers and more. Meanwhile, the air was filled with strains of music that tangled together from personal speakers brought in by different families, who sat down on the benches or along the walls to eat.
"They come by and ask, 'can I have a meal?'" Francine Penn-Scipio said. "Of course they can. It's Thanksgiving – we would never refuse anyone."
Along with friends and family volunteering to package and distribute, local community members working behind the scenes also contribute the food. On the menu this Thanksgiving was turkey, chicken, ham, veggies and lasagna, among other things, and Francine Penn-Scipio shouted out Victor Sydney, of Victor's New Hideout, as her primary source.
"There are so many who work to make this happen," she said, adding that even assembling the plates took hours of volunteer time. "And while it is bittersweet, in honor of my husband, it is just as beautiful every year."