The Miss St. John show and competition went off without a hitch on Saturday night, June 24 — and it started on time. "In the 40-plus years that this show has been going on, this is the first time we're starting on time," joked emcee Irving Brown.
Moremi Aderohunmu, the crowd favorite, walked away with the title of Miss St. John 2006-2007, while Cerene Abramsen was crowned first runner-up.
Contestants, along with the Queen Committee Dancers, wowed the audience with an opening dance number wearing carnival-inspired yellow outfits with an orange and white feather headpiece.
"I'm your scrumptious Virgin Islands delicacy," said contestant number one, Gemma Ashley, in her introduction statement.
Abramsen described herself as a "young, confident St. Johnian," while contestant number three, Kidicia Riviere, spoke of her "vivacious personality." Aderohunmu, a former St. John Princess, described herself as a "strong, bi-racial butterfly."
Cool Session Brass entertained the crowd in between segments — including swim wear, international costume, talent, evening wear and question and answer — allowing the ladies to prepare.
Sultry Swimwear
Ashley's swimwear ensemble was titled "The Caribbean Sun," while Abramsen emerged wearing a white swimsuit with blue detail and matching hat and shoes. Abramsen's swimwear was designed exclusively for her by St. Johnian Karen Samuel.
Riviere wowed the crowd in a fuchsia one-piece with an open back, and Aderohunmu looked cool and confident in a blue one-shoulder, asymmetrical one-piece accented with rhinestones.
In the international costume segment, the girls each represented a different country.
Ashley, wearing a green and gold gown, represented Zimbabwe's goddess of light. Abramsen thrilled the audience in her international costume featuring bright feathers representing the birds of the Amazon.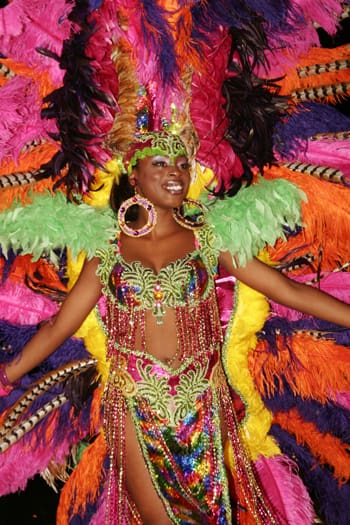 Riviere sparkled as a snowflake, representing Iceland, and Aderohunmu represented Japan dressed as a geisha, then quickly changed into an outfit emulating a traditional Thailand dancer.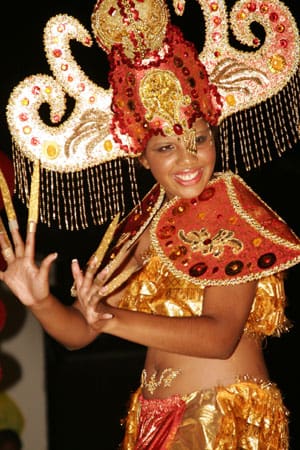 The girls showed off their talent in the next segment of the competition, which began with Ashley performing a solo piece in tribute to Broadway musicals.
Abramsen, a member of the St. John Majorettes for six years, showed off her choreography and baton twirling skills in a tribute to the group.
Riviere highlighted the melting pot that is St. John by singing a song about this year's festival theme — Mas, Music and a Cultural Mix for Festival 2006. She also sang a Trinidad calypso and moved her hips to the sound of Colombian singer Shakira.
Aderohunmu showcased her unique background by acting and dancing as dolls from three different regions — Ohio, Nigeria and St. John.
All four ladies looked stunning in the evening wear segment. Ashley looked delicate and beautiful in a "pink passion" tube top gown, fit snugly to her body, with netted fabric at the bottom, which added to the "breezy passion of the dress," she said.
Evening Wear Beauties
Abramsen emulated her name, Cerene, by calmly moving around the stage in a white gown with iridescent sequins, beads and rhinestones. Her name means peaceful, tranquil and calm, she said, and her white dress represented the color of innocence and serenity.
Riviere channeled the beautiful turquoise waters and bright stars of St. John with a bright blue gown covered in sparkling rhinestones and glass beads. Aderohunmu's cotton candy pink gown was made from silk, featuring a strapless bodice and Austrian crystal accents. She wore shoes with two-and-one-half-inch rhinestone encrusted heels, and an Austrian crystal necklace and earrings.
Still in their evening wear, the young ladies confidently made their way through the question and answer segment, where they were required to answer impromptu questions.
Riviere Earns Most Titles
Riviere walked away with the most titles, including Miss Photogenic, Miss Popularity, best talent and best evening wear.
Ashley won Miss Congeniality and Serene was awarded as Miss Cooperative. Aderohunmu won best international costume.
The crowd jumped to its feet and erupted into cheers when Aderohunmu was announced as Miss St. John. She will represent St. John during festivals throughout the Caribbean for the next year.