Guten Morgen from St. Moritz,
Sunday, January 21
Alexa finished closer to the Top 20 than ever before — 1.3 seconds from the Top 20, 2.22 seconds from the leader. In her first three races, she was 3.44, 3.22 and 3.42 from the leader. So, better than a two-second improvement!
Great news from the German team. Alexa's best friend on the German team won the event! Anja Huber is Alexa's training partner in the off-season. After the first run, Anja was 0.43 seconds off the leader, and in ninth place. After the second run she was in first by 0.07 seconds.
With that win, the German racing team had first place finishes in the bobsled, luge and skeleton. A fine tradition for Alexa to be around!
Alexa and the Germans arrived Sunday, January 21, in St. Moritz for the World Championships.
I got here on Saturday, January 20, without my luggage. The hotel desk says the bag has been found and will be here Monday morning, January 22. Have a great room with a view of the skeleton start house. How easy is that.
Monday, January 22
Caught-up with Alexa and the Germans this morning here in St. Moritz. One of her German coaches told me that Alexa cried a few tears after her disappointing race in Innsbruck, last Friday. (She was three-quarters of a second faster in her practices runs before the race).
Coach said that the German girls don't have tears and that Alexa's were a good sign that she cares so much.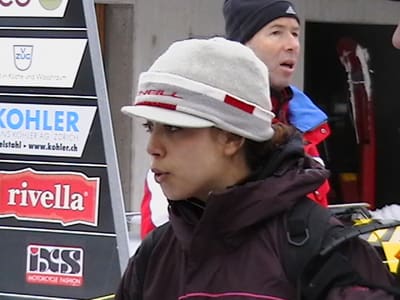 Alexa had two practice runs this morning. Her first was fast enough to get peoples attention. On the second run she adjusted her runners for more speed and it made her control bad. Her German teammate then gave her a set of his runners for the rest of the competition. (Alexa has just one pair and most athletes have several). This new, borrowed pair, are narrower in the back and cut sharper so they will grab the ice better.
Frank was fourth last year with these runners! Maybe Alexa will have a little magic rub off.
The track here is handmade, man-made every year. The same crew of men have been building it for the past 12 years. Each man has about 100 yards of track that he then maintains and grooms, using metal bars, snow, and water from a hose to shape and smooth it perfectly. The track winds through the forest from St. Moritz to the village of Celerina, circles an ancient barn, goes under railroad tracks. The corners aren't numbered but named … Tree, Sunny, Horseshoe, etc. I walked it this afternoon to learn more about the corners and turns. It's a magical walk out of a Hansel and Gretel fairy tale.
St. Moritz is a quaint, Swiss, Alpine village with huge ground-floor shop windows on every building along its winding, downtown streets. I've never been to Rodeo Drive in Beverly Hills, but St. Moritz must be the same. Some streets are walking only. And, in my life I have never seen dirty Lamborghinis parked casually along the curb, until now.
Practice Tuesday, January 23, at 8:30 a.m. and Wednesday, January 24. World Championship race Thursday and Friday, January 25 and 26. First two runs on Thursday, and two more on Friday. Opening ceremonies Wednesday.
Wednesday, January 24
Alexa, New Zealand, Latvia, Italy and Japan are all battling in the 1:17 to 1:18-second range. Alexa has beat them all on some runs and been fourth on other runs. She is very anxious not to be last…she is seeded last (leaders are at 1:11 to 1:12).
Thursday, January 25
Alexa is in 20th position at the end of Day One. She is in 20th position! She's 0.74 seconds behind the Russian in 19th position.
There are two 2006 Olympians chasing Alexa! Two-tenths of a second behind is the Olympian from New Zealand, 0.38 of a second behind the Torino Games slider from Italy.
The slider from Latvia is more than five seconds behind. The leader is an American, 5.75 ahead of Alexa. If Alexa can hold off the girls behind her and finish in the Top 20, she will get to take a fourth run. Top 20 go four times down the hill. I would also assume that a Top 20 finish would qualify Alexa for next year's World Cup Tour.
I am finding out what a good competitor she is. She seems to have a natural focus on simply sliding as fast as she can, and she's not concerned about the other sliders. For the first time we can remember she was able to slide a faster second run than her first run … that is a real break through for her. 1:14.38, then 1:14.11. She is truly excited about that result and less interested in where she stood overall! That is a natural born competitor.
A half-dozen coaches have come to me and commented on how well Alexa is driving her sled. Of course she needs more experience, but also a faster push start, better equipment, and a few more pounds on her bones would help with gravity. (Many of the top sliders are 30 and 40 pounds heavier).
Teams here: Canada, USA, Germany, Switzerland, Austria, Norway, Great Britain, Italy, Russia, New Zealand, Japan, Latvia and Alexa. Twenty-three athletes. I count 17 Olympians.
Friday, January 26
Alexa finished 21st today. That was not a surprise to us as the two women chasing her have much more experience and have both posted training times well ahead of Alexa. The Italian girl was 20th, with the support of a big Italian crowd…we are not too far from Italy here in St. Moritz. The New Zealand girl withdrew from the race and Alexa flat out beat the girl from Latvia.
Alexa was not terribly disappointed in her placement, more in her run for today. It wasn't her best of the three she took, though better than her practice runs. Several coaches told me that Alexa appears to have a real gift for driving her sled. Imagine controlling the slip and slide of round runners on hard ice at 70 mph. One coach thought that just looking at her on video she could pass for a top ten driver! She comes up short with experience and knowledge of the various track curves, needs better equipment, and a faster sprint start… but at 18 years old she has great promise. Her mental state for competition is unique. She's focused on the right things, realistic, and level-headed.
From here she trains a week before going to the Junior World Championships (athletes under 23 years old), then two more World Cup competitions, finally home.
The general thought, though not official, is that her qualification for this World Championship will now qualify her for next year's World Cup tour.
I'm heading home to my sweetheart and much warmer weather!
Morgen
(Stephen Morgenthaler)