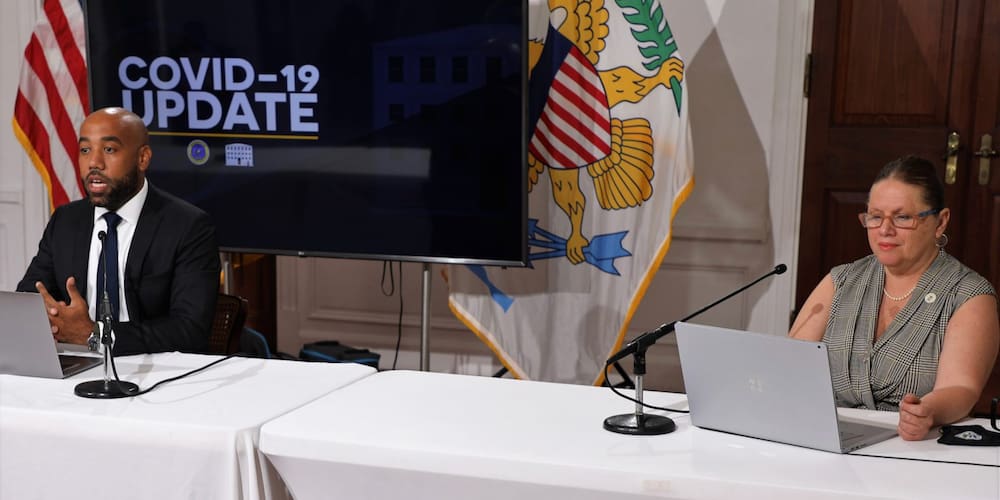 V.I. Communications Director Richard Motta, standing in Monday for Gov. Albert Bryan at the weekly Government House news conference, announced that the names of the first two winners of the VAX-to-WIN $100,000 lottery have been drawn and will be announced Monday, July 19. At the press conference, officials said Friday, but the announcements were pushed back to Monday to allow time to verify vaccination.
The two winners will take home $100,000 each, once it is verified they have been fully inoculated against the coronavirus and are residents of the territory. The lottery will take place once a week until Sept. 10, with prizes of $100,000 for those with two doses of vaccine, $50,000 for residents with the single dose of the Johnson & Johnson vaccine or one dose of the Pfizer or Moderna vaccines. The winnings for those under the age of 18 will be deposited into a parent's account.
The government will distribute a total of $2 million, funded through the federal American Rescue Plan, over 10 weeks to encourage more people to get vaccinated.
According to the lottery rules, the Department of Health randomly assigned each qualifying vaccinated person with a unique number for the drawings. Four of the numbers will be picked each week in each district to ensure alternative winners if the first number is ineligible, or refuses the prize.
The V.I. Health Department will contact the winners by phone or email, based on information provided at the time of vaccination. To determine if a notification is legitimate, residents can call 340-777-8227.
Motta announced that the lottery drawing for people working within the school system, as well as private schools and Head Start, will be Aug. 9. School workers must register at vaxtowinusvi.com. Three winners in each district, who are fully vaccinated, will take home $25,000, $15,000 or $10,000 in the one-time drawing.
Motta also said people can now access the digital vaccine record or Polaris key on the Department of Health website to keep track of vaccine dates and doses. Businesses and organizations can check securely on patrons' vaccine status. Soon, Virgin Islanders will be able to use the key when traveling, eliminating the need for fully vaccinated people to take COVID tests.
Health Commissioner Justa Encarnacion updated the territory's COVID numbers and stressed the importance of getting vaccinated, especially now that cases are increasing again. She said 99 percent of the fatalities are people who are not vaccinated.
As of Monday, there were 122 active cases in the territory with 67 on St. Thomas and 54 on St. Croix. St. John has one case. Schneider Regional Medical Center is caring for seven cases, and there are two patients at the Gov. Juan Luis Hospital. There have been 32 fatalities in the Virgin Islands.
"It is unfortunate that we continue to see positive cases weekly. Unvaccinated individuals are being affected by it. Bear in mind you may acquire COVID-19 and feel no effects. However, you may transmit COVID-19 to those who are more vulnerable – those you love most – and they will be highly affected and maybe hospitalized and die," she said.
The British Virgin Islands is experiencing a big spike in COVID-19. V.I. Platinum reported more than 1,200 active cases on Sunday and the island country just experienced its third death. Both Motta and Encarnacion said they have spoken with BVI officials but did not report any offers or requests for help.
Encarnacion reported that almost 57 percent of the V.I. population has had one dose of the vaccine, and 37,466 people are fully immunized. She said the territory has lower numbers of immunizations than other districts and needs to strive for 90 percent to reach community immunity.
Free vaccines are available by making an appointment – either calling 340-777-822 or online at www. covid19.usvi.care. COVID-19 tests are also free, and no appointment is needed.
The upcoming pop-up test sites are:
St. Croix
– Tuesday, July 13, from 10 a.m. to noon – Charles Harwood Clinic.
– Thursday, July 15, from 10 a.m. to noon – Charles Harwood Clinic.
St. Thomas
– Tuesday, July 13, from 1 to 3 p.m. – Home Depot.
– Thursday, July 15, from 1 to 3 p.m. – Fort Christian parking lot.
St. John
– Wednesday, July 14, from 1 p.m. to 4 p.m. – gravel yard.
On financial matters, Motta reported that the Bureau of Internal Revenue is preparing to disburse child tax credits beginning July 15 and $10 million in tax refunds that will be sent out soon.