Geared for individual villas, MyVillaBook offers comprehensive services to guests.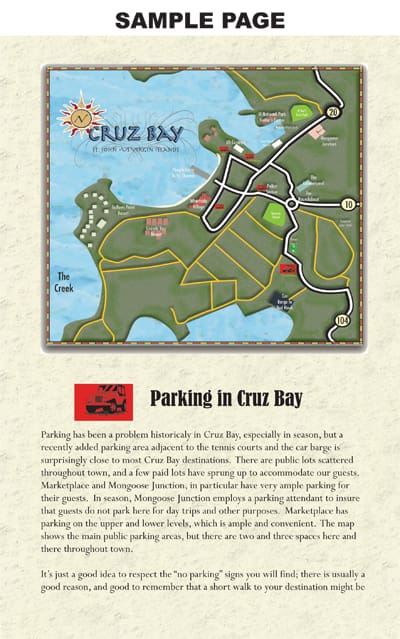 Imagine guests walking into their rental villa and having the fridge already stocked with their favorite beer and snacks; a reservation at their favorite restaurant is already set for that night and, in the morning, a massage therapist arrives for an already booked appointment.
That's how Michael Barry sees future guests enjoying St. John vacations while allowing his new company to literally take care of everything.
After more than year of development, the Sun Dog Cafe owner recently unveiled his newest venture, St. John Host Inc. and the property-specific MyVillaBook.
"When you arrive here for the first time you don't necessarily know how cool it is to walk out to Drunk Bay and see the rock sculptures," said Barry. "What I'm doing is to synthesize all of the information that is out there and streamline it and personalize it for each guest."
With its comprehensive and innovative approach to meeting all possible needs a villa guest could have, Barry's new company strives to solve a long-standing problem, he explained.
"The problem has been there forever; you know those three ring binders in rental villas that serve as a manual and refer guests to restaurants and services," he said.
The books are difficult to assemble and often out of date, Barry explained.
"It seems like no one has been comprehensive about fixing this problem and MyVillaBook is my attempt to make it work," he said.
Barry's attempt at fixing that three-ring binder problem includes a hard cover book specific to each villa, a soft cover book sent to future guests of the villa, an accompanying website and a personal concierge, able to be reached via a toll free number.
First of all, the villa book is a professionally printed hard cover publication customized to each villa individually, explained Barry.
The book features high quality photos of the rental property and information personalized by the villa owner about the features of the property, Barry added.
"In addition to the individual vacation rental information there is a substantial amount of information about a visit to St. John, what amenities the particular villa offers and how the guest might best enjoy their stay in the villa and on the island," he said.
"It will have information about who to call for what, when," said Barry. "It will also help villa managers because the guests will know what to do if their light bulbs are out at 3 a.m." Barry said.
In addition to the hard cover book in the villa itself, Barry's new company will mail a soft cover version of the publication to guests who have booked the property, he explained.
The soft cover, spiral bound book will detail island information similar to the hard cover version, but also contain suggested itineraries and a calendar where guests can make notes, Barry explained.
"The soft cover book arrives as a gift from the villa owner to be used before and during the trip and serves afterwards as a memento, something that will be shared with others," he said. "So say you're in Cincinnati and you get this book in the mail. It's snowing outside and you're looking at this fantastic book about St. John and planning your amazing vacation in paradise."
"It's a bit about the romance, but there is also practical information like restaurant menus and ideas for island adventures," said Barry.
The third piece of the puzzle is a toll-free number for guests to connect to their own personal concierge, which will be overseen by Shanna Dickerson, St. John Host's director of guest services, explained Barry.
And finally, a matching website and an in the works cell phone application, will allow guests to access all MyVillaBook information and services right from their computers and smart phones, Barry added.
"A matching website gives guests the option to use MyVillaBook on-line for their convenience and gives the ability to reorder books conveniently," he said. "An application allowing the content to be downloaded to a smart phone or other device is in development."
While Barry admitted that the book is not for every St. John tourist, MyVillaBook is ideal for the guest who is looking for a little help planning their Love City stay, he explained.
"It's not for everyone, but there are a lot of people who, if they want assistance, this process could be a good fit," said Barry. "The goal of the comprehensive program is a complete focus on a guest staying in a villa on St. John and to make sure guests maximize their time and pleasure here."
The program is currently in the sales and production cycle and Barry said the cost is "shockingly inexpensive," with most revenue expected from concierge bookings.
"We don't know the capacity right now for how many villas will be included but in order to maintain a high level of production, the number will be limited," he said. "We'll see how things develop in response to the initial offerings."
The books will be refreshed every year with the initial mailings set to go out in October, Barry added.
For more information call 244-9713.