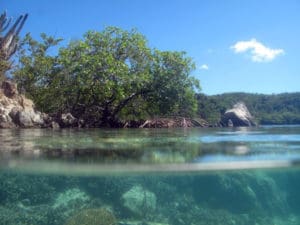 Virgin Islands National Park and the Virgin Islands Coral Reef National Monument advise mariners of the procedures for registering their vessels in Hurricane Hole for the 2023 hurricane season.
Vessel owners who were permitted in 2022 to use a storm mooring in Hurricane Hole and wish to retain their storm mooring berth for the 2023 season must complete an application to renew their berth.
Applications may be picked up at the National Park Service (NPS) Visitor Center in Cruz Bay, St. John, or emailed upon request. Contact Esther Francis at VIIS_Storm_Permits@nps.gov or 201-4521 with any questions regarding the application process or to request an application. Please send completed applications via e-mail to VIIS_Storm_Permits@nps.gov, by U.S. Mail or delivered in person at the park Visitor Center between 8:30 a.m. and 1:30 p.m., Monday through Friday. Applications to renew a berth must be received at the park by April 21.
Applications may be mailed to: Virgin Islands National Park, 1300 Cruz Bay Creek, St. John, VI 00830; attention: Storm Permits. The NPS will issue a new permit for the same berth upon receipt of the completed application and verification of the 2023 berth assignment.
A virtual drawing will be held for all open berths beginning at 9 a.m. on May 6. Completed applications must be provided to the NPS by May 4.  Applicants are advised to stand by to receive a phone call during the virtual drawing.
Any vessel owner who was issued a temporary permit last year and wishes to retain the berth this year must notify the NPS. If the original permit holder does not renew their permit, the temporary permit holder may renew the berth after the May 4th deadline.  If the original permit-holder renews the permit, the temporary permit-holder may participate in the May 6th drawing to compete for open berths.
Note that if a vessel was sold or transferred during the past year, the new vessel owner must renew the storm berth from the previous year to retain the berth.
Contact Esther Francis at 201-4521 if there are any questions. www.nps.gov