Nest owner Missie Hensel, above, in her popular shop Nest & Co. Hensel and sales associate Valentine, below, smile for the camera outside the shop in Mongoose Junction.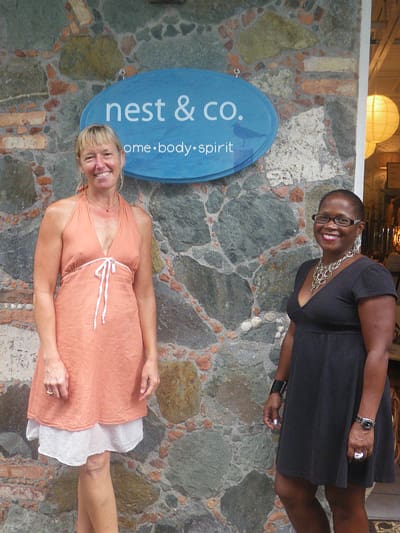 Those unmistakable turquoise shopping bags spotted across Love City last week mean only one thing — Nest is back open.
After shuttering the doors to her well-appointed location in The Marketplace in the spring, Nest owner Missie Hensel re-opened her popular shop last week  in a new location with new merchandise and a new look.
Hensel used a white wash and blue paint treatment to give Nest a crisp beach cottage feel in its new Mongoose Junction digs. Located in the former Sea Leathers location, Hensel took advantage of the additional 100 square feet of space to expand her offerings and add a spacious fitting room crafted from reclaimed wood.
"I spent a month in Maine this summer and I wanted to make this space feel like a beach cottage," said Hensel. "It's got a bit more of a nautical feel and I even collected some shells up there that I brought down."
The nautical theme also allowed Hensel to be environmentally conscious in decorating the new shop. She used beautifully worn wooden oars to hang the expanded line of clothing, with prices starting at $30. The nautical and green themes continue in Hensel's reclaimed wooden fitting room, which was sourced locally.
While Nest fans can still pick up their favorite Pacifica scented candles, children's bamboo clothing and Caldrea cleaning products, shoppers should not miss the new jewelry lines, stationary and Jonathan Adler offerings, with everything from dog leashes to iPad covers in his distinctly bold patterns. And there are more new items arriving all the time, Hensel added.
"We have a lot of new jewelry and clothing still coming in," she said.
Also still on the horizon for Nest is a coffee and cookie bar. Soon, Nest shoppers will be able to buy Carpe Diem's Thunderbolt brew by the cup and nibble on a tasty home-baked treat. Hensel expects to start serving coffee within a week or so.
The Nest owner also plans to start selling stamps so shoppers can choose a card from her finely-edited collection, write it out at a small cafe table and pick up a stamp before walking out the door, explained Hensel.
After several months of work bringing her down east beach cottage to life, last week Hensel was enjoying the delighted reaction from her loyal fans upon entering her new shop.
"You don't know how happy I am," she said. "When I wake up in the morning, it feels like Christmas. Being in this new location and being a part of this business community here is just wonderful."
Stop by Nest, open Monday through Saturday from 10 a.m. to 9 p.m. and Sundays from 10 a.m. to 6 p.m., in its new Mongoose Junction location. While there is a lot of new at Nest, there is one thing that has not changed — that signature Nest scent derived from the collection of scented candles, lotions, soaps and more.
"That Nest scent is still here," said Hensel. "I was worried about that, but it still smells like Nest."
For more information call the store at 715-2552.