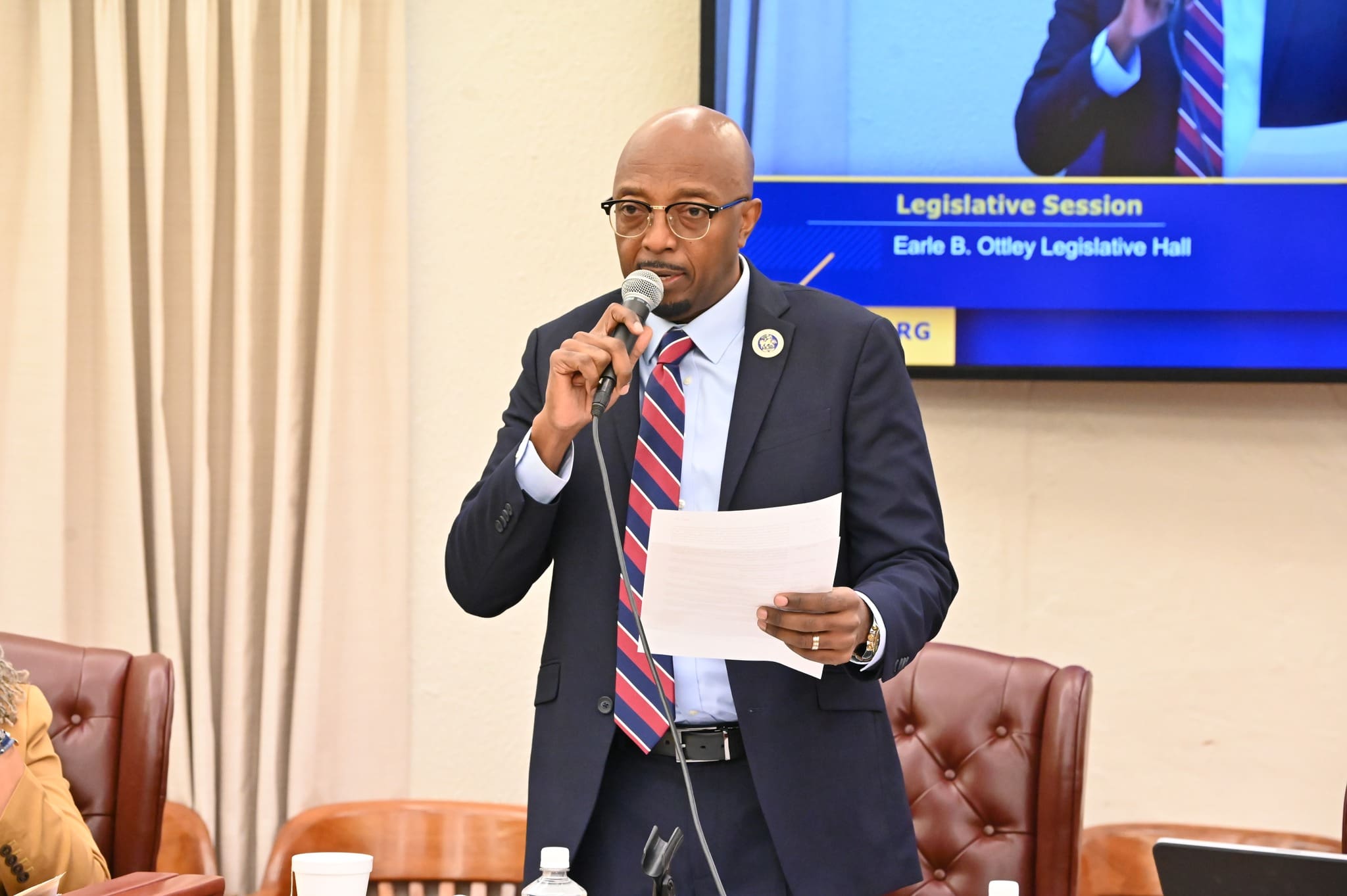 Senators worked diligently during Thursday's legislative Session to approve resolutions honoring valued members of the Virgin Islands as well as collectively appointing several nominees.  
Serving over 10 years on the Public Service Commission, and as a former teacher and senator, Luther F. Renee was approved for the Virgin Islands Casino Control Commission. During the 25th Legislature Renee chaired both the Committee of Government Operations and Consumer Protection, and the Committee of Economic Development and Agriculture. As a former assistant commissioner of Agriculture, he was also an economist, who taught social science and math at Good Hope School until 1986 when he became the Middle School Director. Renee transitioned to the University of the Virgin Islands in 1988 full-time and became the Director of Admissions and Academic Services.
Aaron Hutchins, another nominee, wasn't too shy of credentials himself: founder of Virgin IslandsTrail Alliance, an owner of Leatherback Brewery, and 25 years of work experience with DPNR and the Nature Conservancy, he was approved Thursday to the Virgin Islands Territorial Park Board of Trustees. 
Meanwhile, Willard John and Celestino A. White, Sr., were re-nominated for another three years to the V.I. Port Authority board, and were both praised by senators.
Attorney Carol Thomas-Jacobs – currently the Acting VI Attorney General – was approved for her  nomination for the Virgin Islands Superior Court Judge. Thanking her family, friends, and senators for their support, she said she looked forward to serving the people of the territory and "serving them well."
Sen. Dwayne DeGraff applauded Thomas-Jacobs and stated that during his tenure at the V.I. Police Department and for his four years as a senator, she has "played the role of having the knowledge and being educated at the highest level."
"I have no doubt in my mind that you will be a great judge," DeGraff said.
For their years of contributions to the Virgin Islands community legislators were in unanimous agreement while also approving resolutions honoring Boyd "Boyzie" Orlanzo Todman, Aloy "Wenty" Nielsen, Kelly L. Charleswell, and former senators George E. Goodwin and Horace A. Callwood, Sr.
"To recognize and highlight our local legends and heroes is always a momentous occasion, the younger generations can be inspired by their life journey to overcome battles,"  said Sen. Carla Joseph.
Todman's resolution stems from his passion for basketball, which led to the Zero Tolerance Basketball League being founded, which in 2002 became the Zero Tolerance Basketball Organization, Inc., a non-profit entity. 
The Zero Tolerance Organization maintains a firm stance against drugs, alcohol, violence, bad attitudes, and negative behavior. Promoting discipline, sportsmanship,  teamwork, and positive behavior the organization has been a positive presence in the community for the past 21 years. 
Zero Tolerance provides a healthy environment for youths to mature into educated, honest, and outstanding athletes and members of society and the world. The basketball court at the Oswald Harris Court will be named "The Boyd  "Boyzie" Orlanzo Todman Basketball Court.
With service, commitment, and perseverance in mind, Nelsen will be honored for his work on the Christiansted Bypass which will become the Aloy Nielsen Bypass. 
In memory of Callwood, and for his dedication to the people of the Virgin Islands, the north-south street east of Windward Passage will be named in his honor. 
Goodwin's resolution included honoring the former senator with the Virgin Islands Medal of Honor and renaming the cricket field in Estate Nazareth, St. Thomas, for his advocacy in social justice for underserved people in the Virgin Islands in addition to his roles in various areas of service to the territory.
Kelly L. Charleswell, Sr. better known as "Pupa Kelly" will be honored his contribution to the people of the Virgin Islands in the field of music as a teacher and instructor in the Public School system and his involvement with the musical bands of the Virgin Islands
In recognition and appreciation of his contributions to the people of the Virgin Islands, the President of the Legislature or the President's designee shall have a perma plaque copy of this Resolution prepared and presented to Kelly L. Charleswell or his designee,  at an appropriate ceremony.
 "Civilized and progressive communities honor and commend those among us who achieve excellence in a particular field, and all of the individuals in this block meet that mark," said Sen. Milton Potter.
Senators present: Novelle E. Francis Jr., Marvin A. Blyden, Carla Joseph, Angel L.Bolques Jr., Alma Francis Heyliger, Donna Frett-Gregory, Dwayne M. Degraff, Diane T. Capehart, Samuel Carrion, Kenneth L. Gittens, Javan E. James Sr., Franklin D. Johnson, Milton Potter, Ray Fonseca, Marise C. James.