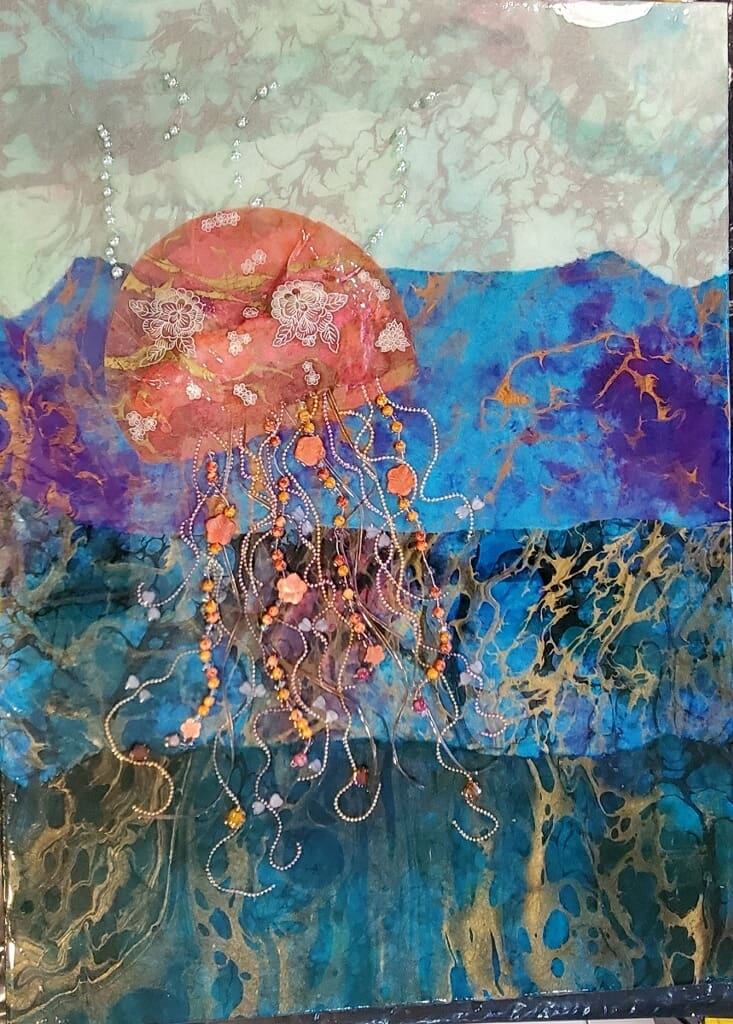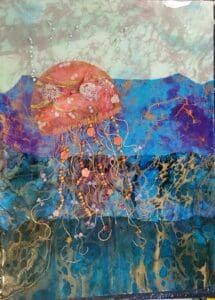 Lucien Downes and the Caribbean Museum Center for the Arts present "New Blood: The Final Chapter" at the Strand St. upstairs gallery in downtown Frederiksted on Saturday, Apr. 2. The exhibition will be open from 11 a.m. to 8 p.m. and features 37 artists. Trombonist Eddie Russell will entertain from 3 p.m. to 5 p.m.
New Blood founder Downes is a visual artist who has curated the shows beginning with the first in 2015. His ideas drew from his own experiences as an "unknown" artist who understood there was no support available if one was not a "top" artist. He began to network with artists who frequented the Pearl Paint Arts & Crafts store in Atlanta where he was employed. Soon Downes began to participate in their shows.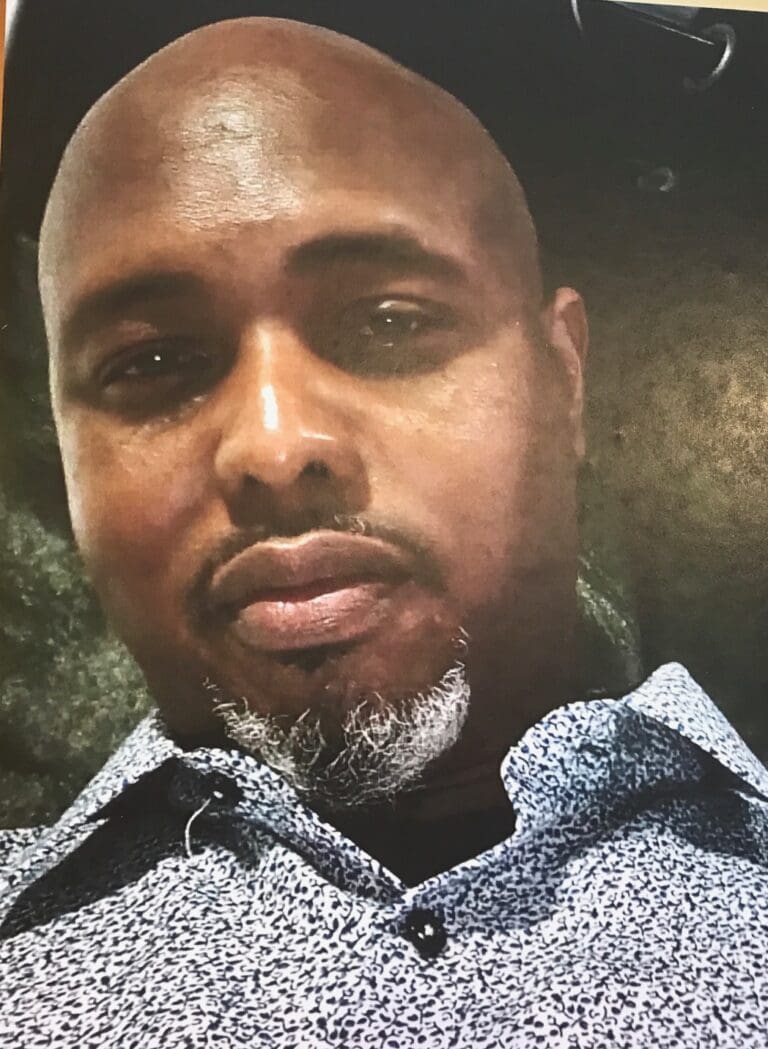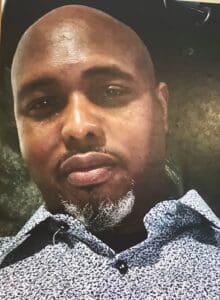 According to his artist biography, Downes is a contemporary, abstract, figurative artist whose work demonstrates freedom of thought and expression through mixed media. His works are composed of spiritual and worldly elements that function independently at times or merge to encompass a whole. Downes utilizes resin, acrylic, fibers, raw pigments, plexiglass, and sometimes found objects to create his pieces.
"Here on St. Croix, I wanted to give unknown artists a 'leg up' where they could show at an event and showcase their work in an environment where they could hopefully make sales," he said.
[adrotate group="6"]
"We have an educational component in New Blood. If an artist is not very strong, I look at their work, critique it and show them where they can create improvement. New Blood is a lot more than a show. We included the younger students to come in from different schools to see the work of professional artists." Each time a person submits their art in New Blood, patrons can see that their work has gotten stronger and stronger, he said.
Downes has developed the New Blood exhibitions with a focus on emerging and professional artist participation. According to Downes, it has been the biggest show in the Virgin Islands and a major fundraiser for CMCArts. The shows were originally exhibited during the Agricultural Fair weekend in February. When COVID-19 made its presence in the territory, the shows moved to April 2021 and April 2022.
The need for a structured art realm was the impetus for the New Blood series. It allowed Downes to create more of a structure and allowed him to find those artists who were "in hiding" and whom no one knew.
The main goal of New Blood was to have a group of 20 artists who could go out and do major art fairs — to go out from St. Croix and St. Thomas to Basel in Miami and other states and other islands in the Caribbean and rejuvenate the Virgin Islands, Downes said. "You go a lot further if you go in a group than if you go by yourself."
Downes was asked if New Blood might come back since this is the Final Chapter. "In the near future, anything is possible," he said. "I need to take the time off from working major shows where I'm investing a lot of my personal time. I have to focus on myself as well. It's good for the community and the overall growth of the arts realm, but I've been doing this for five years, and I've just finally gotten over to St. Thomas," he said.
New Blood has helped to cultivate people's careers that would never have gotten off the ground without these shows, Downes said. He does not take the credit or feel that he is responsible for the success of those artists, but he does see a resurgence of art patrons coming back out since the series began. There's been a trajectory, an upward climb in the arts since New Blood, he said.
Downes' goal is to extend the New Blood brand to other islands when he looks at the future. In 2021, he did his first expansion when he went to St. Thomas and St. John, doing three shows in three weeks on three islands. It was a gauge to see how the arts would thrive and if it was viable. "It's great to be a Crucian artist, but no one knows you except on St. Croix."
"It would be great if our government could understand and see how viable art is as a tourist product." To see the quality of 30-40 artists on this 84 square foot island is amazing, he said.
Of those 30-40 artists on St. Croix, Downes shared the works of three who will show in the Final Chapter exhibit.
"Nahautl"
Eliana Shuster-Brown is a mixed-media artist who showed in New Blood 2021, sold one of her pieces, and will show again this year. "I enjoy New blood because it offers an opportunity for the 'up and coming artists' and makes us feel like we're with everybody else … makes it feel inclusive," she said. Brown is really excited because it's one of the biggest exhibits she's seen on the island. She looks forward to seeing what's coming because she has been meeting new artists she has never known existed, she said. "New Blood has created more spaces for us to work together. It has created a collective. Lucien is my mentor and with all he does with New Blood, I can see it's a lot of work, so I understand that he has to take time for himself. The Last Chapter is bittersweet, it's sad, but it's not the end for the art world, it's also new beginnings."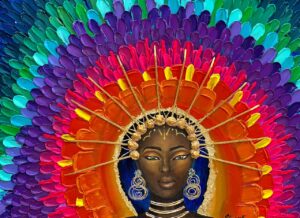 "Jelly Crush"
Donna Prock is an "everything I can get my hands on" mixed-media artist who has been showing in New Blood since 2017. She does not consider herself to be a professional, but she does have art pieces that "live" in Chicago, Missouri, on the east end of St. Croix, and in doctors' offices, she said. "When I have a vision that I want to bring to life and I want texture, I use linens, wood veneer, torn paper, beads, ribbons and other findings, then I seal it with resin. This show has allowed me a venue to show what I bring. Without New Blood, the beginning artist may not be able to show. It has given me experience and confidence now to submit to other shows," Prock said.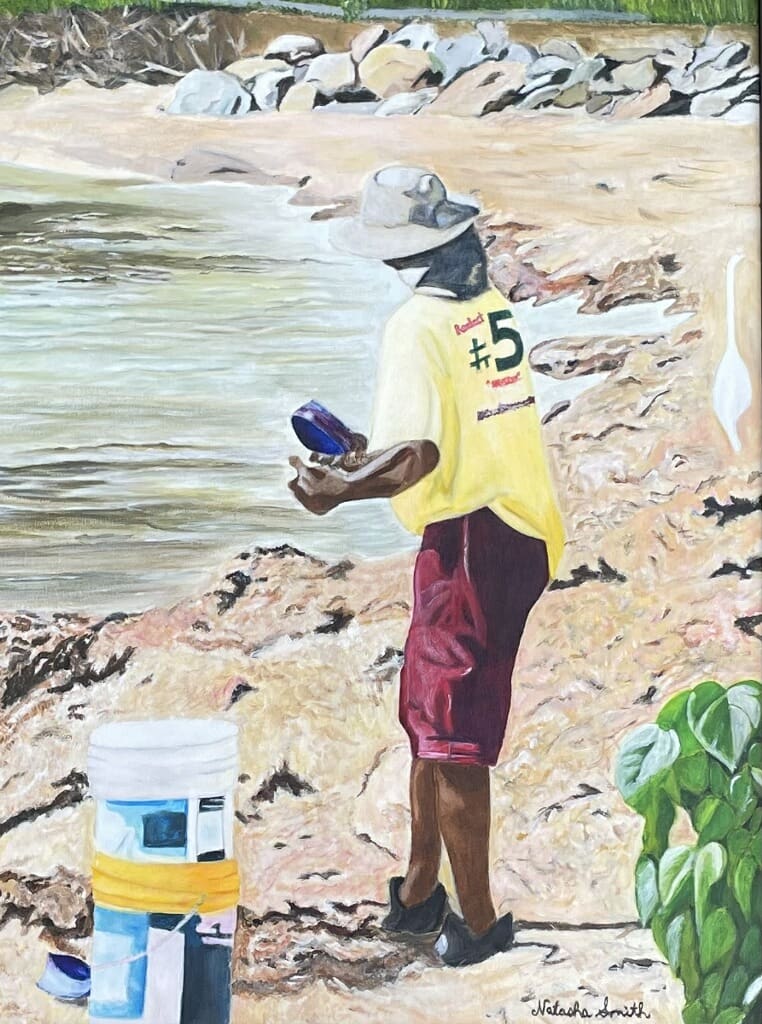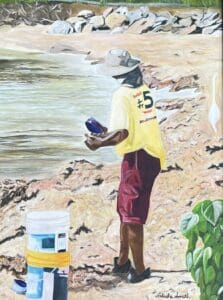 "Pastime"
Natasha O'Halloran-Smith is a self-taught hobbyist who paints in acrylic and posted one of her art pieces on social media. Lucien saw it, reached out to her and invited her to join the New Blood series as an emerging artist, she said. Her first showing in 2021 were three pieces, which sold immediately. "New Blood is such a wonderful experience for me. I'm so appreciative of Lucien and the whole event because it gives artists who typically would not even show their work … that venue to do so. It does build your confidence when others see your work and you get that positive feedback," she said.
"If it wasn't for New Blood, I probably would not have shown my work and would not be where I'm asked if I consider myself an emerging or a professional artist," Smith said.
Kudos to Lucien Downes for his mentorship and the exposure he has given new artists to the business end of exhibiting in a gallery. The artist community will miss his New Blood series and looks forward to him taking the reins again.
New Blood: The Final Chapter exhibition in the upstairs gallery closes May 21.
For more information:
www.cmcarts.org
cmcarts.org/events (for tickets $10 member, $15 non-members)
info@newbloodart.com
luciendownesart.com