Three new degree programs will soon be available for students attending the University of the Virgin Islands. One of the new programs offers academic credentials for a study that UVI gained worldwide recognition for several years ago.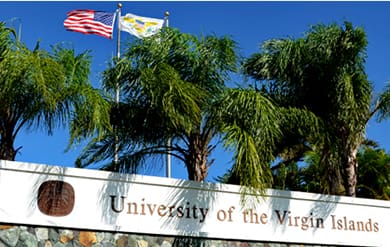 Approval for degree programs in horticulture, aquaponics and dance, music performance, and theater came during a recent meeting of the university's board of trustees. It was one of several topics covered during the Saturday meeting.
The board also reelected their chairman and vice-chairman to serve consecutive terms. Motions to extend the terms of Chairman Henry Smock and Vice-Chairman Oran Roebuck were approved without opposition.
UVI President David Hall joined the meeting by way of live streaming from St. Martin, where he traveled to attend a graduation ceremony. Hall also announced his choices for the president's awards and noted the achievements of students and faculty in national competitions and for recognitions they had recently received.
Completion of the curriculum for two of the newly-approved programs — horticulture and aquaponics — will lead to the award of bachelor of science degrees. Both degree programs will be offered through the School of Agriculture, starting in the fall. The aquaponics program is a new offering at a school where a leading researcher in the field did work on improving fish farming techniques for 30 years.
Dr. James Rakocy led that research on UVI's St. Croix campus and, from 1999, offered the Annual International Aquaponics and Tilapia Aquaculture Course. By 2010 the course attracted 500 students from 50 countries and 45 U.S. states and territories.
A bachelor of arts degree will be awarded to students completing the performing arts curriculum. UVI Music Department Chairman Dion Parsons proposed the course, said the board's Academic Research and Students Affairs Committee Chairman John Quelch.
Students can start pursuing studies in the performing arts programs right away, said UVI Public Relations Officer Tamika Thomas-Williams. "Students can apply now," the university spokesperson said.
Board members also approved a change in policy for students attending UVI whose primary language is not English. The change in policy was intended to improve the exchange of ideas and dialogue between students and faculty, members said.
"There is no change to admission requirements for any student. The Foreign Language Department in (the) College of Liberal Arts and Social Science sought assistance with an adjustment to better serve international students who are required to take TOEFL (Test of English as a Foreign Language)," Thomas-Williams said.
The revamped policy includes new minimum standards for English proficiency. "Those who do not meet the new minimum standards will be advised to register for ESL (English as a Second Language) courses," the UVI spokesperson said.
Winners of the President's Appreciation Award announced at the board meeting included Gail Steele, Nereida Washington, and Una Dyer for their work in orchestrating the live commencement exercises on the St. Thomas and St. Croix campuses.
University Vice President Sharlene Harris and Human Resources Associate Director V. Veda Richards were also recognized for promoting wellness days during the height of the COVID-19 pandemic. They were joined by a dozen other UVI employees who were recognized for their efforts to help the university's faculty and staff see the importance of their wellbeing.