If your new home was decimated by a natural disaster just months, weeks, or even days after you'd moved in, rendering your living space uninhabitable and leaving you without power for the foreseeable future, would you stay? This dilemma was faced by several newly hired teachers at Gifft Hill School, and three of them decided that the St. John community, and the school in particular, were too special to walk away from following hurricanes Irma and Maria.
Director of student services Kate Shelton, kindergarten teacher Corey Rudder, and Spanish teacher Mark Severino navigated settling into a new home while facing fuel shortages, long-term power outages, and all the other hurdles of post-disaster life as their friends and families back home wondered why they wouldn't return to live stateside. Though all three did evacuate prior to Maria, the second category 5 hurricane to threaten the island in just two weeks, they couldn't ignore the deep emotional ties they felt for the St. John and GHS communities.
Miss Kate arrived on island with her six-year-old son just 10 days before Irma struck, and during their time in the states after the storm, she was eager to return to the Gifft Hill School community.
"Before the hurricane I felt an immediate connectivity," she says of her relationship with her fellow GHS colleagues. "When we came back after Maria, I realized I could relate more to being on island than I could being stateside. It was really clear that even though there were so many unknowns, including where we were going to live, it made more sense for us to be here."
[adrotate group="6"]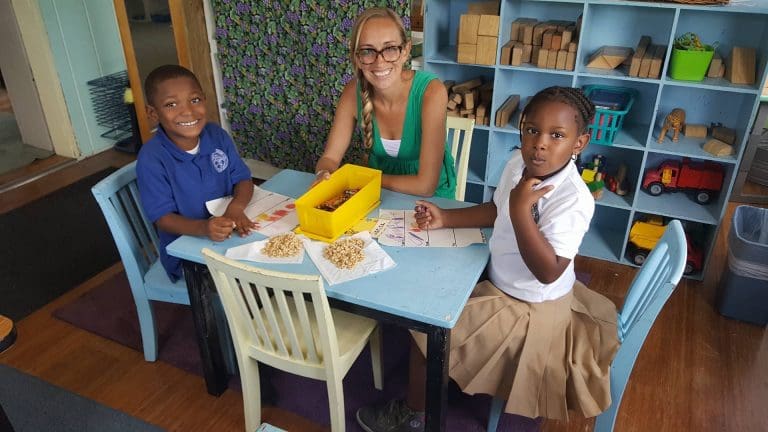 Miss Corey, who was hired before the storms to teach second grade and is now teaching kindergarten due to shuffling of staff after the storms, moved to St. John in May and was having a hard time feeling at home at her new career in hospitality. She previously worked with children at the Children's Hospital of Philadelphia, and she realized that maybe, in order to be happy on St. John, she needed to once again work with kids. She was hired at GHS two weeks before Irma struck.
"My husband worried that I was going to want to move back to the states once the hurricane hit, because I was already struggling with adapting," says Miss Corey. "By the time Irma came though, I already felt more connected. I was so excited to have this job."
Miss Corey couldn't get St. John off her mind during her time in the states after Irma. She stayed in touch with the school, eager to get back to the island.
"I'm not a morning person but I wake up before my alarm now and get my coffee, anxious to get to school," says Miss Corey. "Gifft Hill is such a positive place to work for. I think I've found the gem of the island."
Mr. Mark was hired to teach high school Spanish and now teaches Spanish to all students, preschool through 12th grade, as well as acting as support staff for other teachers. He also left St. John before Maria and was anxious to get back almost from the moment he landed in the states.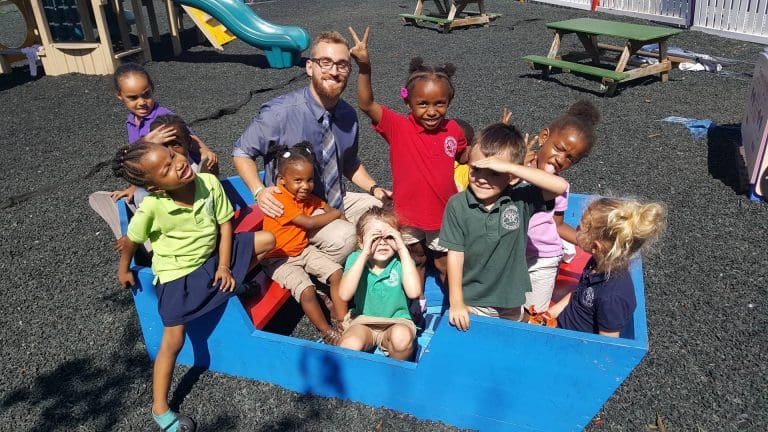 "I spent time with my best friend in North Carolina, and he was like, 'You really want to go back to the island?'" says Mr. Mark. "I said, 'Yes, the St. John community is pretty great, and so is the school.'"
Mr. Mark has handled the expansion of his teaching duties with ease, even filling in as the first grade teacher for a full week.
"It's been an enjoyable challenge," he says. "I could have gone back to Connecticut where I'm from and lived with my family and been able to save more money, but that would've been the easy thing to do. I feel like I have more of an impact here. Although conditions are not ideal, I can adapt and make do with what's in front of me."
These three new teachers aren't the only ones who are discovering the welcoming and loving community at Gifft Hill; the school has welcomed many new students since opening its doors free of charge to all the island's children it could reasonably serve less than three weeks after Irma. So many of the new students have expressed joy and pride for their new school, but they're aware that tuition, which will be reinstated for the 2018-2019 school year, may not be in their family's budget. To support the school's efforts to educate as many of the island's children as possible regardless of their family's financial situation, please continue to donate at https://www.giffthillschool.org/support_donate.html.