V.I. National Park fisheries biologist Jeff Miller has been working on an innovative mapping system of the park's anchorages. There was no one better than Mr. Miller himself to write about this exciting development at VINP.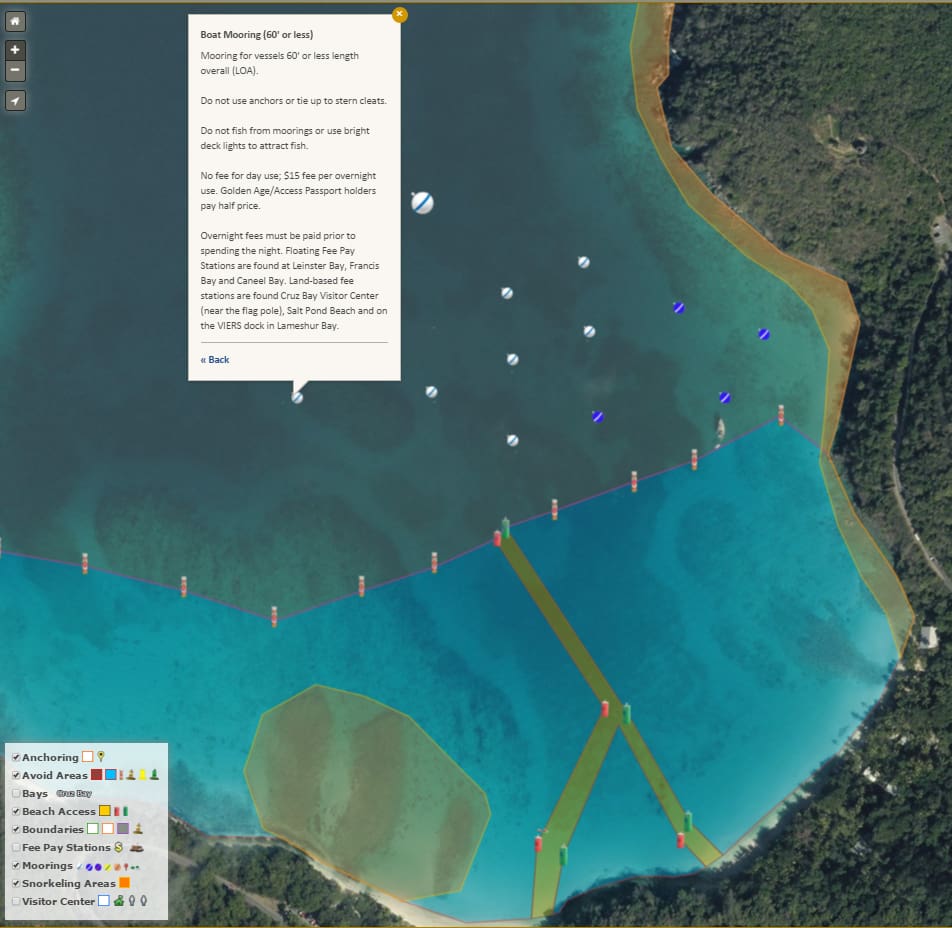 By Jeff Miller
VINP Fisheries Biologist
Special to St. John Tradewinds
Finding one's way around Virgin Islands National Park can be challenging. The hills, driving on the left, a deer, donkey or mongoose runs across the road. Even for boaters, it can be confusing; when are they in the park, what do the different color buoys mean?
For those exploring the park on the water, a new electronic mapping tool has been created to help boaters answer those questions and more. Many park visitors are unaware that activities such as anchoring, pole fishing, spear fishing, using jet skis, etc. are either not allowed or are regulated within the park in order to protect our fragile marine resources.
The goal of this new on-line interactive marine map is to provide accurate and visually appealing information to VINP visitors via their smart phone or other electronic device. VINP officials hope this will enhance visitor experience and ultimately lead to a significant increase in marine resource protection.
The map is designed to provide spatial information to answer many common questions, such as:
– Where are the best places to snorkel?
– What do all the buoys mean, why are they different colors and sizes?
– Where can I anchor?
– Where can I drive a boat, and
– Where should I not drive a boat?
– What fees are required? Where do I pay my fees?
The map has a number of intuitive functions that make it very easy to use. A small arrow at the upper right corner enables the location of the visitor's smart device to highlight their location on the map. A "table of contents" in the lower right is used to turn on layers which display the locations and information relevant to the user. For example, clicking on "Snorkeling Areas" will outline some of the best places to snorkel in the park. Clicking on any of those outlined areas will provide snorkeling information specific to that location.
When the user selects "moorings" from the table of contents, realistic picture icons of all the mooring buoys around the park are displayed.  A user can click on any buoy icon to see information relevant to that mooring.
Selecting "Avoid Areas" from the table of contents displays boating hazards such as Johnson's Reef; along with all the white, cylinder-shaped "boat exclusion" buoys that mark the swim areas. Again, clicking on any feature displayed will provide information on that feature.
Anchoring is only permitted in three locations in VINP (and not at all in Virgin Islands Coral Reef National Monument).  Boaters seeking information on where to anchor can select "Anchor" from the table of contents. This outlines the three areas where anchoring is permitted within the park: Cruz Bay Creek, Lind Point and Francis Bay anchorages. When a user clicks inside those outlined anchorages, a text box is displayed with information on the size of vessels that can anchor and the rules for anchoring.
And to know if a boater is inside or outside the park (or Virgin Island Coral Reef National Monument) boundaries, select "Boundaries" from the Table of Contents. The boundaries of each park unit will be displayed, and when the visitor clicks within those boundaries, general information is provided.
Visitors can access the map through the park's website at: http://www.nps.gov/viis/planyourvisit/virgin-islands-marine-visitor-use-information.htm, (or simply scan the QR code with their smart device) and can be used on a desktop computer or on a smart device (tablet or phone).