"A View from Above" is written by Mauri Elbel and photographed by Steve Simonsen.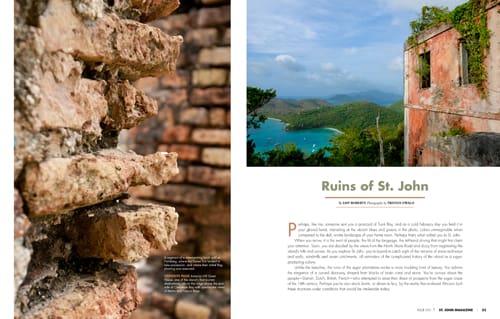 "Ruins of St. John " is written by Amy Roberts and photographed by Tristan Ewald.
"Buddha Garden" is written by Jaime Elliott and photographed by Yelena Rogers.
The latest issue of St. John Magazine hit newsstands across the island last week to great acclaim from readers, advertisers and subjects alike.
This seventh issue of Addy Award-winning magazine, published by MaLinda Media covers topics ranging from the Cruz Bay local eatery Sogos to a history of the island's ghuts.
The over-sized glossy publication also tells the story of Estate Concordia, the recent paddle board craze and Coral Bay's tall ship Silver Cloud and its owner Elliot Hooper among its feture articles.
The pages include stunning images from some of the most talented local photographers. The renowned Steve Simonsen's aerial photos of St. John in "A View from Above" will have readers flying in the clouds, while part-time resident photographer Fernando Ramos captures the action of paddle boarders and Gifft Hill School graduate Tristan Ewald captures the mysterious beauty of the island's colonial era ruins.
Nature lovers will to take a kayak trip with writer Andrea Milam, learn about the island's crabs from Rafe Boulon and experience the attractions of environmentally friendly Estate Concordia with writer Mauri Elbel.
Art adorers  will spend some time in Donald Schnell's studio as the ceramic artist creates the studio's iconic sconces and signature platters and learn about painter Denise Wright's inspirations for her captivating abstract canvases.
"This year's feature articles are stories that will inspire, education, intrigue and ground readers — providing an understanding of the island's rich history, local people, fascinating tales, island life, our ever-caring community and featuring its most famous and breathtaking landscapes and seascapes," wrote Publisher MaLinda Nelson in this issue's Letter from the Publisher. "No matter what your interests are, there is a story for everyone."
Each of the seven issues of St. John Magazine to date have enthralled readers, and Nelson approaches every publication with the same goals, she explained.
"Each issue is approached with thoughtfulness," she said. "We think about 'What makes this island different,' 'What is special about this island,' and 'What view haven't we seen.'"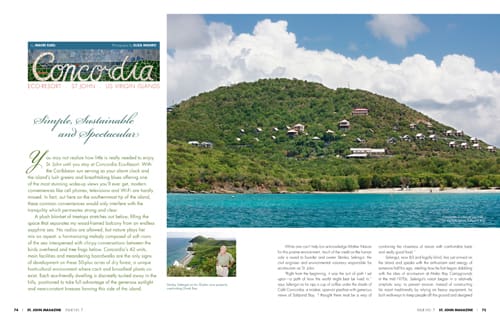 "Concordia Eco-Resort " is written by Mauri Elbel and photographed by Eliza Magro.
"Donald Schnell: a glance behind the potter's wheel " is written by Mauri Elbel and photographed by Tristan Ewald.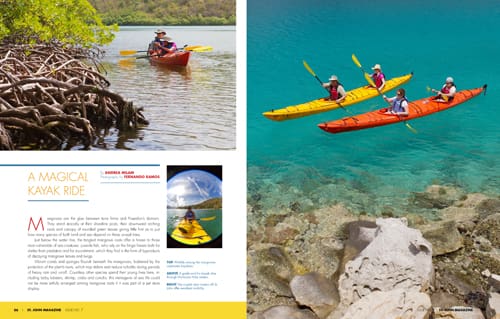 "A Magical Kayak Ride " is written by Andrea Milam and photographed by Fernando Ramos.
"My 'idea list' is ever-growing," said Nelson. "However, my approach is no different from the first magazine. This issue was the most difficult to finish thus far."
While Nelson is thrilled with every single one of the features in this latest issue, having one writer return after a year's absence is one her personal highlights in St. John Magazine Issue No. 7, explained the publisher.
"This issue highlights many wonderful stories about the island and its people," Nelson said. "I am so thrilled to have Carol Beckowitz 'Traveling Backtime' back in this year's issue."
"She was not able to be part of the magazine last year due to overwhelming circumstances," Nelson said. "But this year, she's back with the most marvelous story about Oscar James Sr. growing up in Coral Bay in the 1950s."
Captured by photographer Bill Stelzer, James' smiling face greets readers on page 22, as she tells stories about growing up in age not really that long ago, but vastly different from the St. John of today.
Another recent addition to the St. John Magazine is the Business By the Bay Q&A, which this year features former Senator, V.I. Port Authority Board Member and businessman Robert O'Connor, Jr.
The concept of this feature was co-created by the late Ruth "Sis" Frank and the publisher, who was a St. John Magazine contributor as well, explained Nelson.
"The business Q&A is a relatively new feature that was created with the late Sis Frank," said the publisher. "Sis thought it was a great idea and together we created a short but important list of people to interview; and the list continues to grow."
As Nelson expands her ideas of subjects to grace the pages of future St. John Magazine issues, she continues to find inspiration from the island itself.
"My inspiration is the magic of St. John," said Nelson. "This place never disappoints me and always surprises me."
Looking ahead, St. John Magazine fans can expect more of the same level of quality from MaLinda Media and her team, Nelson added.
"Readers can expect another stunning magazine next year," she said. "I love the fact that nobody knows what the magazine content is and it's a surprise until it hits the newsstands."
Be sure to pick up copies of St. John Magazine Issue No. 7, $10 each, at Starfish Gourmet, Papaya Cafe, St. John Spice Company, Now and Zen, Deli Grotto and other island outlets.
For more information, check out www.malindamediallc.com or call 340-642-5365.