Lone Star owners Jeff Parsons and Amanda Rubio
Jeff Parsons and Amanda Rubio spiced thing up at The Marketplace last week.
The two Texans shared their authentic Tex-Mex flavors with an eager crowd last week then they opened Lone Star Taqueria on the second floor of the shopping complex, next door to 212 Boutique, on Wednesday, December 8.
With a line out the door all day long, the two had to close their doors early when they ran out of food.  But they were right back at it on Thursday, ready for customers looking for more.
"We just wanted to provide some of the food from where we are from; the food that we miss," said Parsons. "This is what we cook when we have friends over. It's simple, but really good."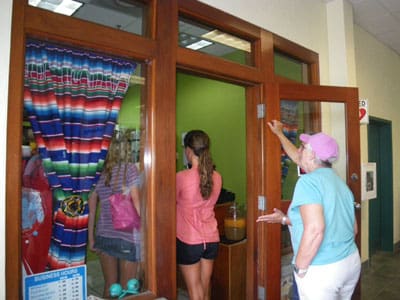 Customers lined up last week for a taste of authentic Tex-Mex.
The restaurant, which offers only take out, is open for breakfast starting at 7 a.m. and serves up morning and lunch offerings all day until 3 p.m.
Looking for a light breakfast taco? Lone Star has that covered and more. Morning highlights include egg and chorizo tacos, huevos rancheros and the miga plate of fresh scrambled eggs cooked up with crispy corn tortilla chips.
There are also fresh homefries, bacon and picadillo — seasoned ground beef cooked with onion and potatoes — whipped up each morning as well.
Later in the day be sure to stop by Lone Star Taqueria for Tex-Mex staples of straight-forward and delicious tacos, plates and nachos. The tacos come soft or crispy with beef, chicken or the scrumptious carne guisda — pork stewed in a thick brown sauce — which should not be missed. Fajita tacos, made with chicken or beef with grilled onions and green peppers, are also available.
Those looking for heartier fare should try one of the lunch plates, which come with spiced Spanish rice and fresh pinto beans. Try tacos, chalupas or fajita-style lunch plates for a filling entree. Combination plates, served with a soft taco, a crispy taco and a chalupa, are also available.
And don't forget about Lone Star's nachos. Choose from cheese, bean and cheese, or fajita nachos, served with chicken, beef or both, along with sliced jalapenos and guacamole.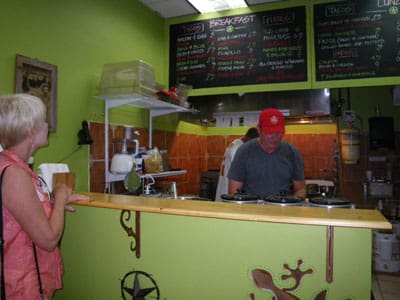 Half of the Lone Star Taqueria team, Jeff Parsons, was hard at work last week whipping up Tex-Mex treats at the new Marketplace eatery.
Rubio's freshly-made pico de gallo and out-of-this-world jalapeno sauce — for which she owes a debt to her grandmother — are the perfect accompaniments to the tacos and plates.
To wash all that down, try one of Rubio's agua fresca drinks, spring water steeped with fresh fruit. While the agua fresca offerings will rotate, last week Rubio had whipped up batches of melon, watermelon and horchata — a refreshing combination of rice, vanilla and cinnamon.
With prices starting at $2.50 and nothing more than $10 on the entire Lone Star Taqueria menu, one simply can't go wrong for lunch or breakfast. But while the prices make the take-out eatery a no-brainer, it's the authentic food that will have customers returning again and again.
"Everything is home-made and it's all the traditional flavors from home," said Rubio. "This is the food that I grew up with. My mother didn't cook anything but Mexican food."
"When I first moved out of my mother's house, I was always calling and getting her recipes for the dishes that I missed," Rubio said. "My grandmother used to carry that jalapeno sauce in her purse everywhere, because nothing was hot enough for her."
After several serendipitous experiences for Parsons and Rubio, the restaurant kind of fell into their laps, the two explained.
"We had been talking about opening some sort of quick, affordable taco stand and this really kind of fell into our lap," said Parsons. "I ran into someone who was selling kitchen equipment and I figured I would sell it or do something with it. Then we knew about this space being available and everything just fell into place."
Parsons has called St. John home since moving to the island from south Texas eight years ago. On a break from Love City about four years, he spent a few months in San Antonio where he met Rubio, who hails from the northwest area of the Lone Star State.
Since returning to the island together, Rubio has been doing massage therapy while Parsons has been working in villa management, and neither is giving up their other jobs. With their new venture, however, the team is sure to be kept busy as Love City enjoys the tastes of their home.
Stop by Lone Star Taqueria Monday through Saturday between 7 a.m. and 3 p.m. for a taste of Texas in Love City. For more information, or to order ahead call 714-TACO (8226).