As construction on the luxury condominium development Sirenusa is complete, landscaping and finishing touches are still needed.
Catalus Capital Managing Partner Marek Olszewski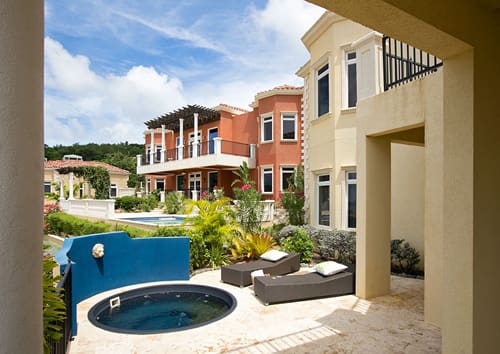 Banco Popular is a great landlord, according to the new owners of Sirenusa, the luxury condominium complex perched on five acres high atop Jacob's Ladder.
When the controversial development finally got underway — after months of public meetings, protests and impassioned pleas both for and against the project — sales apparently didn't keep pace with construction needs, and the property eventually went into default.
Owed millions on the project, Puerto Rico-based Banco Popular took possession of most of the property a few years ago, which by that time was just about complete.
There are a total of 22 units at Sirenusa, eight of which are independently owned. Last month, the Connecticut-based investment fund Catalus Capital announced its purchase of the remaining 14 units.
Instead of letting the property fall into disrepair, Banco Popular looked after the units, keeping mold and brush at bay while maintaining the grounds and interiors of the units, explained Catalus Capital Managing Partner Marek Olszewski.
"The bank did a great job looking after the property," said Olszewski. "Except for a broken microwave oven and little things like that, the units are in great shape. There is none of the mold or other major things you would think would happen to a place that was sitting empty for a period of time."
"There was a full-time maintenance person here the whole time," Olszewski said.
Today, the project appears complete, with construction wrapped up and the buildings sporting fresh paint and neatly trimmed green areas.
The lower portion of the property, however, is bare and needs the most work. Olszewski was in the process of interviewing local landscaping companies last week to do just that.
"Definitely the lower area needs to be landscaped and we're going to hire locally for that," said Olszewski. "The lower portion needs to be filled in and the whole property will need more upkeep."
"We know there has been a lot of concern in the community about what this property would become," he said. "We're going to use St. John companies whenever we can. It's important for us be good neighbors."
And Catalus Capital is already taking steps in that direction; the company donated a weekend at Sirenusa to be raffled off during Woody's Seafood Saloon's breast cancer fundraiser block party on Friday, October 18.
For those who don't win the weekend get-away, two units at Sirenusa are already available for rent, while Catalus is in the process of finishing four more units for short-term rentals in time for this high-season.
The units are two and three bedrooms and range from 2,000 to 4,000 square feet. In addition to the private units, there is also an air conditioned club house with wifi, a fully equipped gym and a shared pool at Sirenusa. The units run between $407 and $1,150 per night depending on the time of year.
For more information on renting units at Sirenusa, check out www.vrbo.com
While none of the units are listed for sale yet, Olszewski said some will become available, although he declined to name potential prices.