Several Gifft Hill School students have been spending two hours each week at Caneel Bay Resort exploring every department from engineering to handling the front desk, above.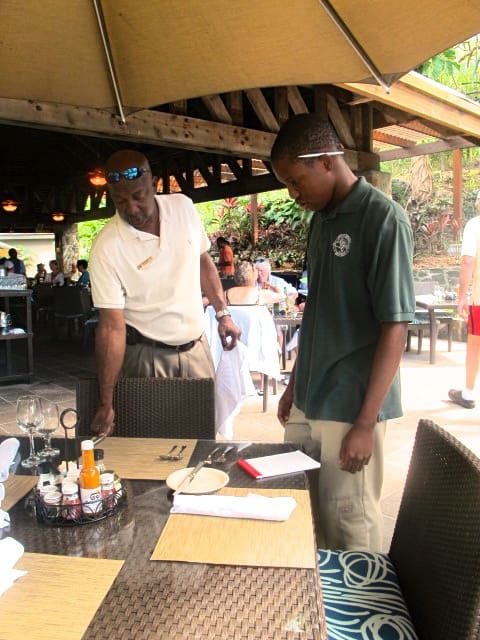 From the kitchen, below, to table service, above, GHS students are learning all the ropes at Caneel Bay Resort.
[adrotate group="6"]
From helping out in the kitchen at Turtle Bay Estate House to handling reservations at the front desk, several Gifft Hill School students have been getting hands-on experience in the hospitality industry at Caneel Bay Resort recently.
The GHS and Caneel Bay partnership is the school's newest elective and was available to students in grades 10 through 12. A total of nine students signed up for the program, five of whom will be rotating through every single department at Caneel from watersports to engineering in a Career Exploration class.
Students in the Career Exploration class, which will run through the rest of the school year, spend about two hours each Wednesday at Caneel and will spend two weeks working in each department.
The other four GHS students are already working part time in different Cruz Bay restaurants and will rotate through the resort's various kitchens as part of GHS' Culinary Arts Program.
"We were looking for opportunities for our students to engage in the community and get work experience in an industry relative to the Virgin Islands," said Meghan Duffy, GHS Director of College and School Counseling. "The hospitality industry is our biggest industry here and we thought it would be a great opportunity for our kids to get that experience at Caneel."
"And Caneel has been amazing in terms of how they are helping the students in so many different areas," Duffy said.
Caneel Bay Resort officials jumped at the chance to partner with GHS, explained the resort's managing director Nikolay Hotze.
"This is a great way for the students to get some practical work experience and see what we do in the island tourism industry all day," said Hotze. "The managers here are really excited to share this unbelievable hands-on experience with the students."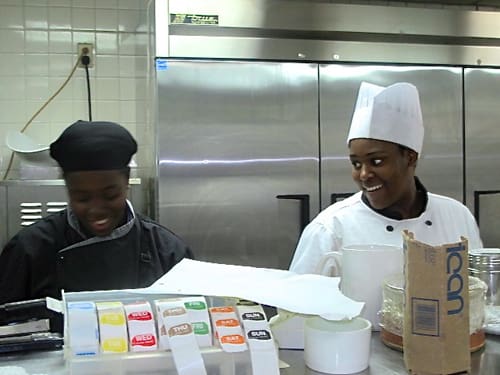 A recent afternoon found GHS students taking reservations, exploring the engineering areas and even pitching in at a busy Turtle Bay Estate House dinner service.
In addition to learning the ropes in the various departments at Caneel, the students are learning important life lessons, explained Duffy.
"When I follow up with the kids, they're using words like 'it was amazing,' 'it was perfect,' 'I didn't want to leave,' and 'I could have stayed longer,'" said Duffy. "It's not only a really great experience but another thing that I love about this program — and this is a huge credit to the staff at Caneel — is that the kids are learning what it means to be a good employee."
"The students are learning customer service skills, how important it is to be on time and how to present themselves," Duffy said. "Those are skills you don't always get to develop at that age. The students are getting a lot more than learning how to take a reservation; they're getting real work experience that they can take with them forever."
Students in the Career Exploration class were able to chose which departments to tour, but all were required to spend time in the housekeeping department, Duffy added.
"The kids chose where they wanted to be, but the only mandatory department was housekeeping," she said. "The kids who have done the housekeeping all said it was great fun and interesting. They said it was not all what people think it is."
"And it's great that we are breaking down some misconceptions like that," Duffy said.
The GHS and Caneel Bay Resort partnership will run through the rest of the school year and hopefully, longer, explained Duffy.
"We'll need to see how it goes, but the long-term vision and hope is that Career Exploration could be a pre-requisite course in future semesters," she said. "So the students could discover areas of interest. They could say, 'I love reservations,' and then they could focus on that for the next the semester."
"Hopefully we can do this more often and create new employees for the very important tourism industry here in the islands," Hotze added.
The potential for students to get so much experience while still in school is exciting, explained GHS Head of School Judy Chamberlain.
"We are thrilled with this," said Chamberlain. "I think a really interesting part of this is that the kids are a blank slate and they are really getting things poured into them with this experience.
There are so many real-life, hands-on experiences they are having in this process."
GHS officials also hope that students will take these experiences and use them to help improve St. John, Duffy explained.
"Our hope is that our kids, even the ones who leave for school, will come back and make an impact on St. John and the Virgin Islands," said the GHS school and college counselor. "I think this program is making the students see that as a realistic possibility now."
GHS is also looking for additional opportunities to partner with St. John businesses and organizations, Duffy added.
"We would welcome additional opportunities for us to partner with businesses, individuals and organizations," she said.
Anyone interested in partnering with GHS is urged to call Duffy at the school at 776-1730.