Photos by Barry Leerdam, Legislature of the Virgin Islands.
CRUZ BAY —  Taxes, the public library, and the needs of a community were among the topics raised at a town meeting hosted by the new Senator-at-Large Brian Smith. About 50 constituents filled the seats at the Cleone Creque Legislative Hall in Cruz Bay to hear and talk to Smith.
Many of those who showed up on a late notice represented bar and restaurant owners, concerned about Gov. Kenneth Mapp's call for the imposition of sin taxes. If approved at the proposed rate, they said, the cost of adult beverages will go up dramatically. Which, those businessmen said, will make it harder to do business in a seasonal tourist economy.
Smith listened and responded throughout the two hour forum. The senator-at-large said he considered himself pro business and had known many of the business owners who appeared at the meeting on Friday night for many years.
But, Smith said, the government is in financial trouble. "We know the government of the Virgin Islands is going through some serious problems because of lack of revenue," he said.
Still, Smith said, he disagreed with a proposed 15 percent tax on alcoholic drinks, tobacco products and sugary soft drinks. A five percent tax would be more in line.
The territorial budget is currently facing a $98 million dollar deficit, according to a statement issued this weekend from Government House.
Raising taxes is something that has to be done, the senator said. The sin tax seems harsh and hard, but government workers may face mass layoffs by the end of February without it. "We've got to do something," he said.
Dive boat operator Chris Larsen raised the opposing point. If businesses like his have to raise prices and lose the competition for tourist dollars. "That's where the BVI can sell a $4 beer and we will have to sell an $8 beer," Larsen said.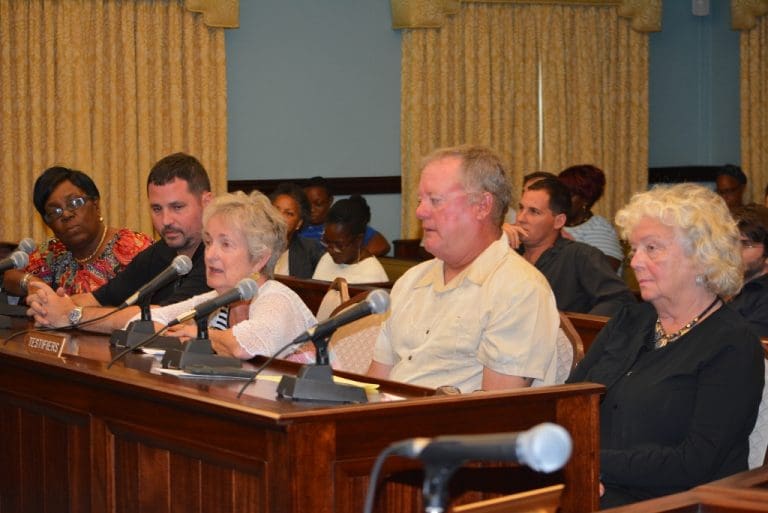 The day after the town meeting in Cruz Bay, top officials of the Mapp Administration came to terms with the unpopularity of the proposed sin tax. Mapp called agency heads into a meeting and told them to develop plans to trim their budgets by 10 percent, across the board.
The governor told his cabinet he understood their positions on taking such severe cuts but he needed them to deliver their plans to do so in the coming week.
Other testifiers asked why the governor and lawmakers looked only at a sin tax and not at other revenue enhancers. Testifier Tiffany Holt spoke on behalf of a beverage distribution company. She said any sin tax passed on to her business would be tacked onto merchandise, along with shipping costs to move products from St. Thomas to St. John.
Once the merchandise reaches the retailer, the sin tax is applied again, Holt said. In that way, it is like a double tax.
Businessman Kevin Chapman posed a question about how the sin tax would affect the Virgin Island's age old duty free tax status on alcohol, tobacco and luxury products. Smith called it a good question, one that he had not heard raised during debates about the proposed sin tax in the Senate.
Of equal concern was the status of the Elaine Sprauve Library.  Retired attorney and author Michele Dorsey said she has admired the converted historic great house that serves as St. John's library for close to 30 years.
Now that her vacations had turned into a full time residence, Dorsey said she was eager to help.
"When I returned to St. John I was disturbed to find a closed library and no librarian. I reached out to others to see what I could do, what we can do to open the library so that St. John residents — including school children and those who need Internet services; not to mention books — can return to the library and return to those things," she said.
Retired VI National Park ranger Elmo Rabsatt told Smith he too was working toward re-opening Sprauve Library. The senator-at-large said he has been keeping an eye on the situation and was told that Public Works plans to perform maintenance to the building's exterior.
Rabsatt said that as a member of the Friends of Elaine Sprauve Library board, he did not want to get into any politics surrounding the library's closure. The primary concern of the friends group, he said, was to get children's reading programs that used to take place on weekday afternoons back on track.
"We used to do it every Wednesday at the library. Now that the library's closed we're looking for a place to do our reading program," Rabsatt said.
One of Smith's aides said they too are working towards promoting reading through an outreach to school programs they have ready to go, starting in February.
But Smith said he too wants to see the doors of Sprauve Library open again.  "We need to get the kids back in the library because if they don't go to the library the way other kids went to the library, like when I was young, they're going to go astray," he said.
Other questions raised at the town meeting included functioning ferry boats leased to local company by Public Works. A staffer for the senator-at-large said the Cruz Bay I, leased to Transportation Services of St. John, was expected to return to service by April 1.
Harith Wickrema, President of Island Green Association, called on the Legislature to support education about waste management in public schools.
Retired school principal Yvonne Wells asked what could be done about road conditions and potholes. She also asked what the government could do to better direct mental health services for St. John residents and where the creation of senior housing communities sat in the scheme of things.
Coral Bay businessman Elvis Marsh expressed support for marina development. Educator Kurt Marsh Jr. said he too favored marina development but would rather see one instead of two in the area.
Legislative aides working with Smith were directed to help document some of the concerns raised at the Friday meeting for further exploration. Smith asked some of those who took time out to join the dialogue to visit his office and fill out forms to help his aide keep track.