A new St. John ambulance boat is expected to be in service by March.
By the middle of March St. John will once again have its own ambulance boat and the vessel will far surpass the old Star of Life, which has been out of commission for months.
As the V.I. Government has been shelling out $500 a day to keep a water taxi at its disposal for emergency medical transportation from St. John to St. Thomas, Gold Coast Yachts on St. Croix has been crafting the finest ambulance boat in the world, according to company president and co-founder Richard Difede.
"This is probably the best laid out and structurally sound ambulance boat in the world," said Difede. "We tried to find other ambulance boats to compare it to, and there weren't any out there."
With nothing to truly work from, Gold Coast Yachts' vice president, co-founder and yacht designer Roger Hatfield set about designing a custom ambulance boat specifically for the needs of St. John patients.
"We looked at everything — the route, the docks, we talked to EMTs on St. John and St. Thomas and we looked at capacity," said Difede. "We discussed things that were wrong with the previous Star of Life and then we designed a vessel just to fit the needs of St. John."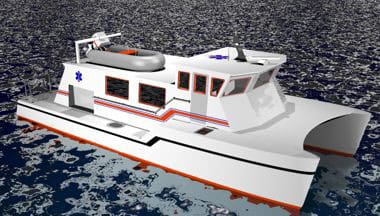 The 50-foot catamaran is designed to be operated in almost any conditions.
The $787,000 vessel is a 50-foot composite catamaran which includes a 300-square-foot climate controlled patient compartment capable of transporting six stretchers at once. There are custom cabinets for supplies and equipment for four or more EMTs as well.
"Provision will be made for ceiling hung IVs, supplied oxygen, defibrillators, cardiac monitoring, locking drug compartments, waste and sharps disposal, litter retention, safety belts for squad benches and more," according to information from Gold Coast Yachts.
A state-of-the-art captain's compartment will allow the vessel to be operated in almost any conditions.
"The captain's compartment will be separated from the patient treatment area and feature exceptional visibility in an elevated wheel house, deck entrance/exit doors, remote engine controls, independent air conditioning, dual helm seats, complete marine navigation array, emergency frequency mobile radios, sirens, intercom and public address systems, a satellite vessel locator as well as a bathroom with sink and toilet," according to Gold Coast Yachts' information.
With twin QSB 425-horse power engines, the ambulance boat will be capable of speeds up to 30 knots and a cruising speed of 26 knots, according to vessel specifications from Gold Coast Yachts.
The vessel was being prepped for painting as of press time and Difede hoped the ambulance boat would be primed by Monday, February 7.
"If we prime it this weekend, we can paint it next week and that will move us toward a launch sometime in the middle of February," he said. "Then we'll need it on the dock for about three weeks for commissioning for final engine, electrical, mechanical and plumbing hookups."
Gold Coast Yachts started construction of the vessel in October and expects the boat to be docked at St. John by the end of March.
The new vessel will be welcome news for residents, who have been due reliable medical transportation for a long time, explained Senator at Large Craig Barshinger.
"This boat is long overdue and St. John residents are anxious for it," said Barshinger. "The current ambulance boat is broken down and the government rents a water taxi for $500 per day, even when no runs are made."
Residents should be excited about the new vessel, Difede added.
"It's a rough crossing there and to have a good boat — the best in the world — will be a really good thing," he said.
For the full specifications of the new ambulance boat, plus artist rendering and photographs of the construction process, check out Gold Coast Yachts' website at 
www.goldcoastyachts.com
and click on "under construction."