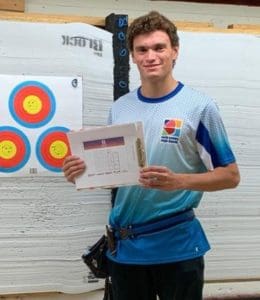 This past weekend, Jan. 15-17, representing the U.S. Virgin Islands, Nicholas D'Amour competed in the World Archery – Indoor Archery World Series, Stage 3. Nicholas shot an impressive 585 to remain in the top echelon of archers worldwide.
D'Amour, 19, competed against 1,233 competitors in the Senior Men's Recurve Division. He competed against the best in the world. He finished 35 overall in Stage 3. Previously in November during Stage 1, he shot a 587 and finished 13th against 635 competitors in his division. In December during Stage 2, he shot a 591 and finished 10th against 1,091 competitors in his division.
More than 5,000 archers around the globe registered for the third stage, the second consecutive leg to have hit that milestone.
Archers will be listed on the total of their best three scores across the four stages. Results were available to follow live online as they were submitted. Scores don't become official until they've been checked against submitted evidence, which is either official tournament scoresheets or pictures, by competition control.
The fourth and final stage will be next month, Feb. 12-14. D'Amour to expected to finish strong in Stage 4. Once his three best scores from the four stages are compiled, he will be among the leading archers in the world.
Stage 3 Places
Place     Name                                        10s    9s   Total