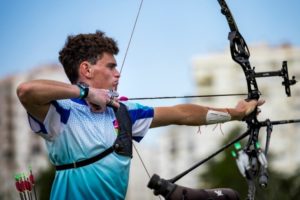 Nicholas D'Amour of St. Thomas competed in the European Grand Prix this past week in Antalya, Turkey. After winning six elimination rounds, getting him to the gold medal match, D'Amour took home a silver medal. He competed in the men's Olympic Recurve Division along with 107 other athletes in his division.
Thirty countries were represented from throughout Europe, Africa, the Middle East and Asia, including powerhouse teams from France, Italy, Germany, Russia, Spain and Turkey. More than 250 athletes competed in both Recurve and Compound Archery at the event.
On Thursday, in the qualifying round, Nicholas was ranked 12th after the first half with a score of 337. The second half did not go as well scoring a 316. Overall, he finished and was seeded 50th in the qualifying round with a score of 653.
As the number 50 seed, he battled through the bottom half of the bracket. First facing Anton Prilepov of Belarus, D'Amour won 6-0. Prilepov was the 2016 Olympian. Next, D'Amour faced Dan Olaru of Moldova, beating him 6-4. Olaru is a medalist at multiple world-ranking events and European championships.
In the 1/16 round, D'Amour was up against Senna Roos of Belgium. He again prevailed, winning 6-4. Roos is a young rising star and number one on the team in Belgium. In the 1/8 round, he faced Mortiz Wieser of Germany. Tied after five rounds, D'Amour beat the German in a shoot-off with a perfect 10 to his opponent's 9. Wieser is part of an extremely strong German team.
In the quarterfinals, D'Amour was up against the Russian, Artem Makhenko. He won convincingly 7-3. Russia had four athletes in the quarterfinals. In the semifinals, he faced Federico Musolesi of Italy, beating him 6-2. He avenged an earlier quarterfinal loss to Musolesi at the 2020 International Antalya Challenge. Musolesi had finished 4th in that event.
D'Amour faced Galsan Bazarzhapov of Russia in the gold medal match. Bazarzhapov was the number 5 seed after the qualifying round. He is a highly decorated archer. He was a gold medalist at the Bangkok 2020 Asia Cup, a bronze medalist at the 2020 International Antalya Challenge, as well as a gold medalist at the 11th World University Archery Championship. Facing very tricky wind conditions, D'Amour suffered his first loss of the tournament, settling for a Silver Medal.
D'Amour was featured in an article written by Chris Wells of World Archery, the governing body for international and Olympic archery https://worldarchery.sport/news/200102/us-virgin-islands-nicholas-damour-guarantees-first-international-podium-antalya