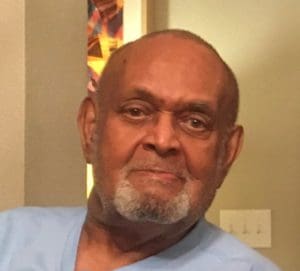 Norman W. Frörup Sr. died on Aug. 11 in Tampa, Fla. He was 87 years old.
He was preceded in death by his sisters: Eva Forbes, Marjorie Lee, Lillia Frorup and Corliss Frorup; brother, Gustave Frorup; and sister-in-law, Veronica Frorup.
He is survived by his wife, Gwendolyn Frorup; sisters: Shirley Christian and Eleanor Frorup; brother, Christian Frorup Sr; sister-in-law, Valburg Krauser; daughters: Alyce "Frenchie" Frorup, Allyson "Mikki" Matthias and Angela Roberts; daughter-in-law, Kendra Frorup; sons: Norman W. Frorup Jr. and Craig Frorup; grandchildren: Amesha Pemberton, Yaneika, Kiko, I'ko and I'koyo Matthias, Ehrin and Kymesha Lynch, and Shanelle, Justin and Alexis Frorup; and great-grandchildren: Ryan, Nariah, Nataijah and I'Kyrah Matthias, Dedrick Jr. and Charmaine Nash, and E'Miah, Acacia and A'laina Lynch.
He also leaves to cherish his memory his nieces: Janet Turner, Corinne Plaskett, Karen Culp, Heather Lee, Rebecca Smith, Palmira Frorup, Theresa Frorup-Alie and Ruth Frorup; nephews: Adam Christian, Christian Frorup Jr., and Gregory, Edmund, Wayne and Edwin Frorup; a host of great-nieces and great-nephews, including Gary Halyard, Nikki Plaskett, Shawn and Raymond Francis Jr., Candace Culp, Gregory and Gabriel Christian, Jalen and Dilani Frorup, Erik and Annika Dalland, and Christian Smith; and extended family and special friends: the Nelthropp family, Annibal Bermudez, Michael DuBois, Raymond Adams and others too numerous to mention.
A first viewing will be held from 3-5 p.m., Wednesday, Sept. 23. The second viewing will take place at 9 a.m. followed by the funeral service at 10 a.m., Thursday, Sept. 24, at James Memorial Funeral Chapel. Interment will follow at Kingshill Cemetery. The family respectfully requests that attendees wear a face mask and adhere to the social distancing requirements.