[adrotate group="6"]
Nikki, Alexander, Demetrios and Kaya Ahladis pose for family photo at their new North Shore Deli.
A hearty, slow-roasted meat sandwich from North Shore Deli is sure to please.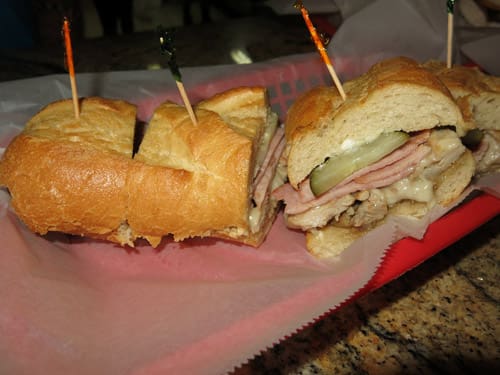 CRUZ BAY — A great corned beef sandwich doesn't require a lot of bells and whistles; just a very long time to slow roast the meat to perfection, which is exactly what diners will find at North Shore Deli.
Demetrios and Nikki Ahladis bought the popular Mongoose Junction deli (formerly Deli Grotto) in September and since opening in early October, the couple has been serving up some of the best sandwiches on the island.
The restaurant business is nothing new for the Ahladis family, who have called St. John home for more than a decade and met when they both worked at Banana Deck. Now they have two children, seven-year-old Kaya and four-year-old Alexander, and while they're working long hours, North Shore Deli is a true family business.
"I always wanted to have my own place," said Demetrios Ahladis. "I've been in the hospitality industry for a long time and it's the natural progression. When the opportunity arose, we jumped at it."
Nestled in the natural stone open-air shopping complex of Mongoose Junction, North Shore Deli is the perfect place to grab a few sandwiches before heading off for a day at Hawksnest or Maho Bay.
"Mongoose Junction is amazing," said Demetrios Ahladis. "There is really no better retail spot in all of the Virgin Islands."
Deli Grotto fans can rest assured the popular multi-grain Grotto bread is still available, as well as those sinfully delicious Jumbles, coconut bars and chocolate chip banana bread slices.
While being sure to keep those old favorites, the Ahladises are putting their own stamp on North Shore Deli. They have added some fantastic new menu items, including vegan options and healthy salads as well as mouth-watering slow roasted meat sandwiches.
Stop in for that slow roasted corned beef or the 18-hour roasted pork which appears in two stellar creations; the Pirate Piggy and the Roast Pork. North Shore Deli's take on a Cuban sandwich, the Pirate Piggy features roasted pork and ham with swiss cheese, pickles and house-made mustard sauce.
The Roast Pork sandwich is the deli's interpretation of a Philly Pork sandwich but swaps out the spinach for sauteed kale and piles on roasted poblano peppers and provolone cheese.
Other popular sandwiches at North Shore Deli are the smoked turkey and bacon and the Greek-style flatbreads, available with chicken or portabella mushrooms or a vegan option with hummus.
Salads include the Super Foods made with local mixed greens, hearts of palm, candied walnuts, craisins, sunflower seeds and blue cheese with the option to add chicken or keep it vegetarian. There are also a Caesar, a Greek and an American salad made with romaine lettuce and topped with bacon, shredded cheese, tomato and onion. All of the sauces, including the tzatziki, sweet sesame vinaigrette and Greek dressing, are all made in-house.
There are also a few kid's items including a hot dog, grilled cheese a PB&J sandwich made, of course, with home-made peanut butter. Anyone in a hurry will want to check out the grab and go cooler stocked with chicken salad, tuna salad, artichoke dip, peanut noodle salad and more.
To help avoid long lines, the Ahladises will be rolling out their new website soon which will offer customers the opportunity to order and pay for their food online. The deli will also have a separate express line for patrons just looking to grab a drink or a container of hummus and get out the door.
North Shore Deli's smoothies are already becoming a hit, especially the "mean green" made with kale, mangoes and banana. Diners can also sip on a beer, a cocktail or pina colada while they wait for their sandwiches to be made. And get that drink in a North Shore Deli reusable cup, bring it in next time and enjoy a $1 discount for the libation.
Early risers will be delighted to know that the deli now opens at 7 a.m. and while sandwiches are available all day, breakfast is served until 11 a.m. With options like a corned beef or smoked turkey hash, frittata and french toast, North Shore Deli's breakfast is sure to become a morning hot spot.
North Shore Deli is open Monday through Saturday from 7 a.m. to 6 p.m. and 7 a.m. to 3 p.m. on Sunday. For more information or to order ahead of time, call (340) 777-3061.