CRUZ BAY — As the Virgin Islands National Park presents itself renewed in time for the 2017 winter tourist season, hundreds of National Park Service workers packed their bags and headed off island. A spokesman for the operation called it the end of the NPS Incident Command on St. John.
Clearing beaches and trails, removing undersea debris and sunken ships was work involving hundreds of responders from dozens of parks across the U.S., said Public Information Officer Murray Shoemaker.
As they prepared for demobilization on Dec. 14, Shoemaker described the effort that went into the rapid restoration. It began with a briefing in Homestead, Florida on Oct. 7 with U.S. Interior Secretary Ryan Zinke. That's where the Intermountain Incident Management Team began its management of damage from Hurricanes Irma and Maria to park sites, NPS historic sites and monuments in Florida and the Caribbean.
At first, he said, federal responders had no grasp of the scope of work needed in the Virgin Islands, Shoemaker said. A few team members arrived, looked around and sent for help.
[adrotate group="6"]
A lot of help. "They realized fairly quickly they needed to have the entire team over here," he said.
About 430 responders came in rotations lasting two to three weeks. In the next few weeks, there were carpenters, electricians, water system technicians, trail workers. Forest fire teams arrived from Northern California, Texas and Puerto Rico. And, for a few days, an NPS museum curator and conservationists. There were also office managers, travel coordinators, payroll clerks and public information officers like Shoemaker who took over the spacious lobby of the VINP visitors center.
Why firefighters in a park wrecked by hurricanes? Because they work quickly, Shoemaker said. They cleared beaches and trails and North Shore Road. At one point their efforts were joined by a team hired by Friends of the Virgin Islands National Park.
"They're all experts at chainsaw cutting" said Friends director Joe Kessler. Because of the volume of work to be done and the speed at which it had to be done, those skills were in demand, he said.
The curator and conservationists came for a few days to clean and prepare artifacts once on display at the Cinnamon Bay Archeological Lab. The beachfront building they were housed in — one of the oldest buildings on island — was destroyed in Hurricane Irma.
"They came because of the cultural collection here," he said, "and when they were done, they de-mobed. It's all in storage, here on park property."
The first firefighting crew to leave was the Puerto Rico Interagency team. The team made up of park workers, members of the National Forest Service and Fish and Wildlife, their mission is to answer any call for any type of fire. But before they left, there was one more task — restoring the playground in Cruz Bay.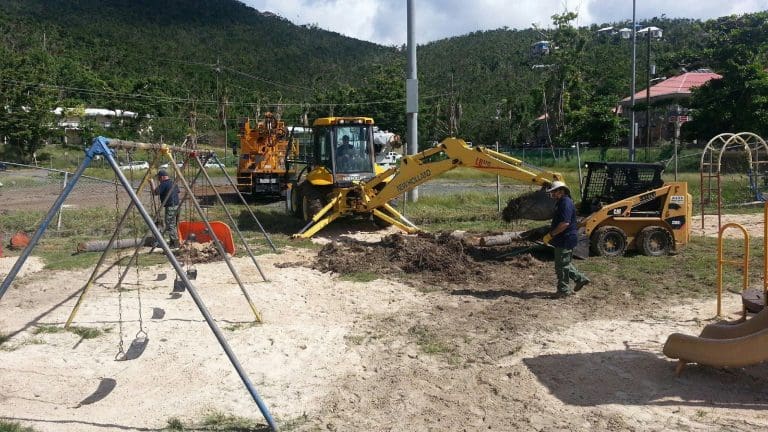 After Irma, the playground formed a background for hundreds of residents and visitors waiting to board evacuation boats for Puerto Rico and St. Croix. Broken sea grape trees mingled scattered branches and leaves with twisted fencing and a small metal grandstand hurled away from the space behind home plate on the NPS ballfield.
Local park maintenance men worked with contracted FEMA crews to pick up debris. Responders from the U.S. Navy pitched tents on the field in the mud as post-hurricane rains set in. The Navy left, utility crews came with heavy duty bucket trucks.
By the time the second deployment of NPS incident command was wrapping up, evacuees and sailors were gone. A trio of donkeys showed up and hung out in the playground, one flopping down to enjoy a roll in the sandbox.
Puerto Rico Interagency was ready to go, too, but took time out for the kids.
With a few hours left to complete de-mobe, a less conspicuous member of incident management strolled past the replenished sandbox, the replaced water lines, and the new chain link fencing.
Kids were already playing on the playground. That's great, said finance specialist Quoya Waters. Waters came to St. John from Ft.Smith National Park in Arkansas. Within two days of finishing her task, she was on her way back home.
That leaves the crew working with the Friends to continue clearing trees on park trials. Trails are all passable, Kessler said, but VINP only has one three-man crew to maintain them. The lumberjacks and lumberjill hired by the non-profit group are staying on the job until March. Their goal is to get the trails in pre-Irma condition, Kessler said.