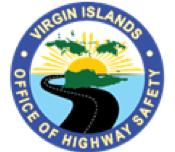 As students throughout the territory return to school, the Virgin Islands Office of Highway Safety (VIOHS) reminds the motoring community to prioritize safety when transporting child passengers.
Virgin Islands law mandates that all children under the age of 14 be transported and belted in the vehicle's back seat. Moreover, children, ages 8 and under, must sit in an age- and weight-appropriate child safety seat as follows:
Children, ages 5 to 8 or less than 4' 9" tall, must use a booster seat
Children, ages 2 to 5, must sit in a forward-facing safety seat with harness straps
Children from birth to age 1 must sit in a rear-facing safety seat
Transporting children under age 8 without an appropriate car safety seat is against the law, and, according to the National Highway Traffic Safety Administration, a proven contributor to avoidable crash-related injuries and fatalities.
"Car seats are proven to save the lives of young crash victims. However, they only work when used correctly and consistently," warned VI Police Department Commissioner Ray A. Martinez. "Parents play a critical role in creating a culture of safety for their family. When they consistently buckle-up and ensure that their children do the same, they form lifelong habits that save lives."
Safe car seat fit is determined by the child's age, weight and height. In the territory, 8 out of 10 car seats checked were found to have fit and installation errors that could cause injuries to child crash victims.
Caregivers should consult with a certified child passenger safety technician to have car seats checked for proper fit and safe installation.
For more information on seat belts and child car seats, or to schedule a car seat safety check, contact the Virgin Islands Office of Highway Safety through Director Daphne O'Neal at daphne.oneal@vipd.vi.gov or Occupant Protection Planner/Coordinator Denise Gomes at denise.gomes@vipd.vi.gov. People may also contact the office via telephone at 772-3025 or 473-7383.