In the aftermath of the hurricanes, officials from the government and representatives with NGOs met with St. John residents every morning at 7:30 at the National Park Visitors Center in Cruz Bay.  Even when officials did not have all the answers to questions posed to them, the daily briefings helped allay anxiety among community members eager for news when most communication methods were down.
As the weeks went on and recovery efforts continued, the meetings became less frequent.  In December, officials agreed to give their reports as part of the Long Term Recovery Team meetings held at the Marketplace on the last Thursday of every month.
At the team's first meeting on January 25, Steve DeBlasio, a consultant with Witt/ O'Brien's, reported on a number of issues involving the Department of Public Works and the Virgin Islands Waste Management Authority.
Ceres, the company contracted to collect storm debris, is now making its final pass to collect debris left within ten feet of public roads, according to DeBlasio.  This is the last chance for property owners to take advantage of the program.
[adrotate group="6"]
Storm debris and natural vegetation have been separated at the Susannaberg Transfer Station, and 500 cubic yards of waste had been brought to St. Thomas on the previous day.  Metal waste has also been separated and will be removed for recycling.  A large shredder that had been located at Susannaberg has been moved to Coral Bay to process the debris piles on the ball field, according to DeBlasio.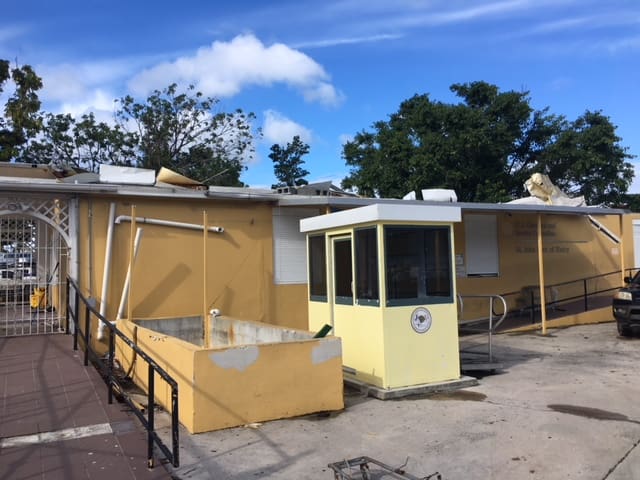 Contractors working with the VI Waste Management Authority (VIWMA) continue to remove household waste bins daily and ship them to the Bovoni landfill by barge three nights a week.
DeBlasio also said that VIWMA was trying to deal with the sewage issues at the treatment plant in Cruz Bay, and the Department of Public Works is filling in potholes along island roads, including Centerline Road near Estate Adrian.
Richard Lanclos, line superintendent with WAPA, said electricity restoration crews had energized Hansen Bay on the East End of St. John and were in the final stages of stringing wire to Lameshure Bay on the southeast tip of St. John.  Street lights are being installed in parts of Cruz Bay.
"We have more composite poles going in, maybe 300 of them," he said, referring to the new, stronger utility poles that will replace the wooden on main roads.  "We'll be better prepared," he added.
Virgin Islands National Park Acting Superintendent Darrell Echols said he was "watching activities in Washington relating to the budget."  Echols and all VINP employees (except for one law enforcement ranger per shift) were furloughed the previous weekend for what turned out to be a temporary government shutdown.
Although all VINP beaches and trails have remained open since December, the park is still not running most of its popular programs, like the ranger-led Reef Bay Trail hike.  These activities depend on the return of interpretation rangers who are now on temporary assignment in other parks, Echols said.
However, retired ranger Deanna Somerville, along with volunteer Mark Whitefoot, are conducting a night sky program for the public on Wednesdays at 7 p.m. at Peace Hill.
The National Park Service has agreed to let the Coast Guard use the park's facility at Vessup Bay (across from Red Hook on St. Thomas) as a staging area for boats that were destroyed in the hurricanes. These vessels that could not be salvaged will be broken down and removed by the U.S. Army Corps of Engineers.  Echols said 50 boats still remain sunk or ashore in National Park waters.
At the meeting, Alex Shunda of the Coast Guard reported that of the 200 vessels sunk or stranded in local Territorial waters, only 25 remained.  "The big player is Resolve Marine," he said, referring to the Ft. Lauderdale-based salvage company that has provided the huge cranes and barges used in the vessels' removal.
Officials with the Environmental Protection Agency said hazardous waste collection was continuing behind the Myrah Keating Smith Community Health Clinic.  More than 8,000 items, like paint thinner, fluorescent bulbs, and e-waste, have already been collected and continue to arrive at the rate of between 150 and 200 items daily.   The collection site is open Monday through Saturday from 7:30 a.m. to 4 p.m.
Cistern water testing is available at a cost of $10, said Jim Casey of the EPA.  "Environmental protection does not stop with the recovery process.  We will continue to implement these programs."
Rob Tutton of the Love City Community Network (LCCN), a non-profit organization formed in the wake of the storm, said his organization was still trying to provide basic internet and cell service to those who couldn't get it from their regular providers.  "We are expanding, but it's slow," he said.
LCCN is working to strengthen the system serving emergency responders, such as the fire station in Coral Bay, and business owners that depend on communications to stay afloat, according to Tutton.
Residents on St. John who are within line of sight of LCCN's signals have been ordering Nano Beams, small receivers which tune into frequencies sent by LCCN equipment located throughout the island.
Those who have had Nano Beams installed by LCCN are requested to make a donation "in the zone of $50 a month" Tutton said.  "We also want to thank the big donors." For more information, he asked that people go on to their website www.lccn.vi.
Delrise Varlack of Varlack Ventures, one of the two ferry companies that has the franchise to operate between St. Thomas and St. John, said discussions were underway to expand the schedule.  The last ferry currently leaves Red Hook for St. John at 8 p.m.  "On occasion, we are getting some angry customers," she said.  Prior to the storm, the last ferry left Red Hook at midnight.
Kevin Stewart, FEMA's division supervisor for St. John, used his time at the meeting to dispel the rumor that FEMA was leaving the island.  "It's not true," he said.  "Our Public Assistance Program [for government facilities in contrast to the Individual Assistance Program] is just getting underway."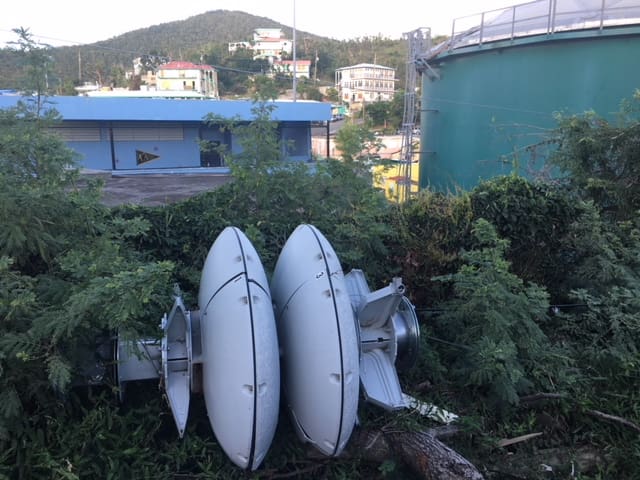 The Sheltering and Temporary Electric Power (STEP) program, which will address the housing shortage and be administered through the V.I. Government, has not been implemented yet.  "We [FEMA] cite the law, and we write the checks," said Stewart.  "We don't write mitigation plans, and we're not the contractors."
Sharon Coldren, president of the Coral Bay Community Council, said her organization was seeking a grant for mangrove restoration.  "We need to get the debris out safely, so the mangroves can recover." The group is continuing its efforts to control damage from storm water runoff and is planning to extend its expertise beyond Coral Bay.
"Coral Bay needs a new community center," added Coldren.  "We lost a church, a school building, the Ag[riculture] Center, and [the building at] John's Folly." She said she was hoping to find someone who could offer land on a temporary basis on which a facility could be built to hold a hundred people.
The fire station at Coral Bay is being repaired, according to Deputy Fire Chief Ernest Matthias.  In the meantime, the fire fighting equipment is being housed at the Calabash Boom Housing Community.
The only person who did not attend Thursday's briefing was VITEMA's Irvin Mason.  Mason, who became the facilitator at the daily morning briefings, was off island attending a conference on disaster mitigation.  The head of VITEMA on St. John, Linda Williams, is on medical leave until April.
Shared content for St. John Tradewinds and the Virgin Islands Source.