The territory's new V.I. Waste Management Authority (WMA) is struggling with thousands of tires that have not been properly disposed of on St. John and will introduce an interim measure to solve the growing problem.
WMA will provide trailers on St. John, where businesses can bring their old tires, sometime in the next three to four weeks, WMA legal counsel Iver Stridiron promised at a town meeting on Monday, March 6.
Specifics of the operation have not yet been worked out, according to WMA Executive Director May Cornwall, who added the public will be notified when the trailers are available.
WMA will provide trailers on St. John where businesses can bring their old tires, at some time in the next three to four weeks, according to Stridiron.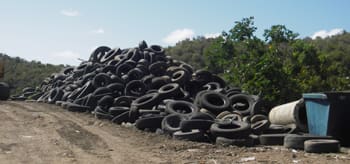 The estimated 2,000 tires which have been amassed at the Public Works Department (PWD) Susannaberg transfer station technically belong to WMA, according to PWD St. John Deputy Director Ira Wade.
The old tires collect water, making them a breeding ground for the mosquito which transmits dengue fever.
Myrtle Barry of E&C Gas Station said her business currently has approximately 2,000 old tires waiting for disposal.
A DPNR inspector recently visited E&C and Barry said she was issued citations and given 15 days to get rid of the old tires.
"I'm across from a school; I'm near a neighborhood," she said. "This is going to affect my employees, and the kids across the street. I don't want anybody dying; I want to get rid of my tires."
"I truly wish to assure you that the Waste Management Autho-rity will take care of the problem," said Stridiron. "The res-ponsibility is going to be ours."
The $6 fee residents currently pay licensed tire retailers per tire for disposal goes into the V.I. General Fund, according to Stridiron, who asked Senator at Large Craig Barshinger at the town meeting to appropriate funds specifically for WMA.
No Tire Market in VI
Current plans for the old tires involve shipping them to a company in Florida which only accepts whole tires.
Several residents suggested the old tires be shredded, and used within the territory.
"Right now, there is no market for tires in the Virgin Islands," said Stridiron.
WMA is trying to mandate the use of shredded tires in asphalt, he added.
"There was a time here when we didn't have any tires on St. John," said Wade. "We were able to get rid of them."
"To say there are 10,000 tires here now is probably an understatement," he said of the island's total current collection of used discarded tires.
PWD recovers tires from the island's public garbage bins every day, added Wade.
"It's illegal to dump them in the bins, and most of the bins are labeled to that effect," he said. "If they are caught, they could be fined up to $1,000. But they do it – we find tires in the garbage all the time."
The St. Thomas-St. John district has not had a tire shredder during the 11 years that he has been on the job, Wade added. "For 11 years, I've been told that we'll get a tire shredder," he said. "Two years ago, I didn't have a tire up there (at Public Works)."
In response to residents' concerns, Stridiron said that until WMA can begin tire collection on St. John, the agency will notify DPNR of its intent to solve the problem.
"In the meantime, we'll talk to DPNR, and tell them in writing what we intend to do," he said. "We will continue to remove tires until we come up with a solution."