Bob and Caren Linden with their local architect Rob Crane at "On a Clear Day…," the island's first 5-star IGBL Certfication rental villa, which is located at Franis Bay.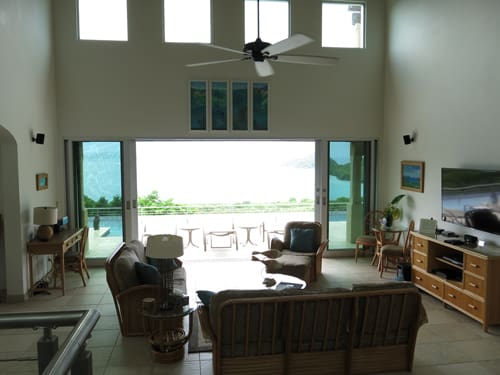 Low-E glass throughout the villa reduces the amount of heat the home absorbs. The four-bedroom "On a Clear Day… " is the only "five star" energy certified short-term rental home on St. John — so far.
FRANCIS BAY — When Bob and Caren Linden decided to build on an acre of land overlooking Francis Bay, there was never any question that the home would feature green technology.
The Lindens began working with St. John architect Rob Crane in 2008 and began construction in 2010. The Fred Traysor built house was completed in 2012 "On a Clear Day…" and the four bedroom, four and a half bathroom villa is the only five-star home certified by Island Green Living Association specifically designed for the short-term rental market.
As part of IGLA's efforts to promote sustainable and environmentally responsible development and construction, the group developed a Tropical Green Building Certification Program. IGLA's guidelines address site planning and design, water management, energy conservation, light pollution, landscaping and more. A home must comply with 90 percent of IGLA's checklist items in order to be certified five star.
From the paint on their roof to the herb garden planted outside, the Linden's were excited to meet IGLA's criteria for residential green building.
Originally from Connecticut, the Lindens and used as much green technology as possible when they built their New England home in the mid-1980s. More than 20 years later, they knew they wanted a home on St. John that would be as kind to the environment as possible as well.
"We have a passive solar house in Connecticut and I knew I wanted to do the same thing down here," said Bob Linden. "I like renewable energy and I don't like polluting. There is only so much oil and coal out there and we don't need to use fossil fuels.
Since the home was designed specifically for the short-term rental market, they couldn't sacrifice creature comfort either.
"A lot of people think it take this big effort to build green, but it really does not," said Bob Linden. "You can do green technology now and have it all be automatic and passive. It's nominally more expensive, but now we don't have a WAPA bill."
The result of Crane's and the Linden's efforts is a luxurious villa with commanding views of Francis Bay, St. Thomas and out to several off-shore cays. With a bank of solar panels discreetly set off to the side of the home, it's not obvious at first that the villa is different from any other rental property. Yet that is deceptive.
Great care was taken to try to keep the home from absorbing as much heat as possible in the first place. From choosing roofing material and paint to the type of insulation and windows used, the Lindens only had to air condition the bedrooms and exercise room in "On a Clear Day…" and those are individually controlled high SEER-rated ductless units.
Other green features at "On a Clear Day…" include the use of low-E glass throughout the villa which helps the west facing home not absorb heat. Crane specifically designed Ipe wood trellises with slanted slats on the deck and verandahs to provide shade while reflecting sunlight away from the home as much as possible.
LED and CFL lighting is found throughout the villa as well as Energy Star appliances, fans and televisions. All plumbing fixtures are WaterSense low flow and the bathrooms feature dual flush toilets.
There is solar heated domestic hot water and the entire villa is powered by two large ground-mounted photo voltaic arrays.
The villas has proven to be a popular rental with guests excited about the green technology, explained Caren Linden.
"Our manager is great at explaining everything to the guests who are really interested in the green features of the home," she said.
Guests are also given a reusable shopping bag which they are welcome to take home, Caren Linden added.
"On a Clear Day…" is managed by Caribbean Villas & Resorts and is also available on VRBO.com at number 442485.
The Lindens also offer a free one year membership to Friends of V.I. National Park to renters through the group's Villas for the Park program. For more information about Friends of VINP's villa program check out www.friendsvinp.org/how-to-help/villas-for-the-park.