Calypso By the Sea, above, has plenty of Caribbean charm and a real beach for a front yard, below.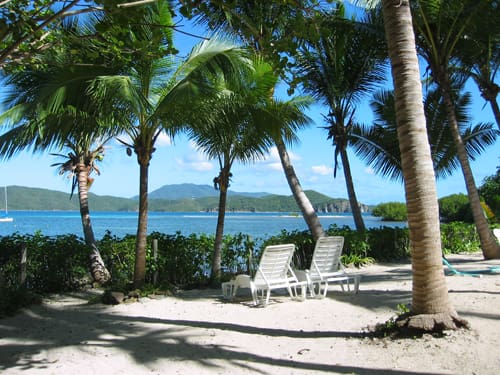 While many homes on St. John can boast stunning views of the turquoise Caribbean Sea, not many offer access to that water, just a few steps away.
Calypso By the Sea is one of those rare true beach houses on St. John where one can lounge in a hammock under a coconut tree and dip their toes in the sand — right in their front yard.
Located in Johnson's Bay Estates within Estates Quacco and Zimmerman, the two-bedroom, two-bathroom Calypso By the Sea combines irresistible Caribbean charm with solid Force 10 engineering.
The home is listed on the St. John MLS for $995,000 and sits on one-third of an acre with not a hill in sight, explained Marty Beechler, broker/associate with Islandia Real Estate.
"Johnson's Bay Estates is a small seaside gated community easily accessible from the public road," said Beechler. "The area has a flat terrain which is rare on St. John. There is not one retaining wall in sight."
Coconut palm trees dot the yard and assure an abundant supply of fresh coconut and plenty of shade, Beechler added.
And the protected bay right off the front yard would make an ideal place to moor one's watercraft.
"Johnson's Bay has a sandy beach with calm waters sheltered by a large reef," he said. "The reef provides a friendly anchorage and good swimming and snorkeling."
Besides the postcard perfect setting, the home boasts serious construction details designed to withstand even severe storms.
"The home was designed and built by David Holzman of Innovative Builders and is a Force 10 Engineered Building System with steel frame construction designed to withstand hurricanes and earthquakes according to the builder's product literature," said Beechler.
Calypso By the Sea offers another rarity on St. John, plenty of easy to access parking for cars, boats and more, Beechler added.
"Parking is a breeze," he said. "The house has a gated driveway which leads to a ground level entrance under the house where one could park a car or trailer-able boat. There is also plenty of enclosed storage space under the house as well."
Inside the gingerbread detailed home is an expansive kitchen and two identical master suites off the great room.
"All of the rooms have prime water views through glass sliding doors which lead to the large deck complete with sunken spa," said the Islandia Real Estate broker/associate.
One can easily imagine soaking in that spa while listening to the waves gently break on the shoreline just a few feet away and feeling the cares of the world melting away.
"Sitting on the expansive deck looking out through the palms across the serene waters toward  Fortsberg peninsula and the V.I. National Park lands across the bay gives one a feeling of peace and tranquility and the desire to relax and enjoy the moment," said Beechler.
If that sounds ideal to you, call Beechler at Islandia Real Estate at 776-666 or on his cell phone at 626-1399 for more information on Calypso By the Sea.