Gallows Point Seaview's location is rivaled only by its potential, located on a peninsula just out of Cruz Bay with commanding views.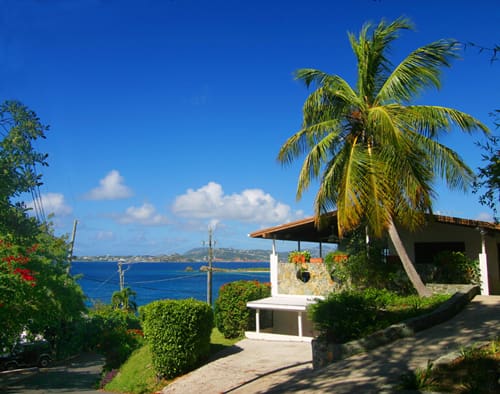 Soak up stunning tropical sunsets from one of the more intriguing properties on St. John.
Gallows Point Seaview is located on two parcels totalling just over a half acre and offers a ton of possibilities. The two bedroom, two bath home located across the street from Gallows Point Resort is for sale for $2.999 million, explained Holiday Homes broker owner Christie O'Neil.
The property offers easy walking access to two beaches and is a short stroll from the dining and nightlife of Cruz Bay just down the hill. But what is even more exciting is the zoning of the land, explained O'Neil.
"Gallows Point at Seaview offers great development potential," said the Holiday Homes broker owner. "The land is zoned to accommodate development with a W-1 and R-4 zoning. The site could perhaps be a restaurant, a wedding venue or even an event catering business."
The property's W-1 zoning, on a 0.28 acre parcel, allows for myriad uses, from commercial uses to water sports opportunities and more. The property's 0.328-acre parcel is zoned R-4, which allows for multiple family dwellings or condominiums.
"This property is exciting due to the multiple options with zoning and potential to develop," said O'Neil.
Currently on the property is a charming solidly constructed two bedroom, two bathroom home with beautiful native stone details. Sit on the expansive verandah and enjoy the sea breeze and views to French Cap and Pillsbury Sound. When the tropical sun dips below the horizon watch as the lights of St. Thomas twinkle to life in the distance.
Take a short walk into town for lunch or take advantage of the fantastic snorkeling that awaits at nearby Frank Bay, just down the hill.
"Gallows Point Seaview has great views," said O'Neil. "You can walk right into town and even walk to the beach. Frank Bay is just down the hill."
The current home on the property also offers convenient living on a single level, the Holiday Homes broker owner added.
"The home would be perfect for a retirement home, as it is all on one level," said O'Neil. "Plus there is loads of room to expand."
Don't miss out on this exciting and unique opportunity available at Gallows Point Seaview. For more information on the home and land, call O'Neil at Holiday Homes at (340) 774-8088.