Karen Jarvis, above fourth from left, and fellow St. John and Tortola paddle board enthusiasts line up their boards before the start of the first race in the three-series SUP Cup in Brewer's Bay.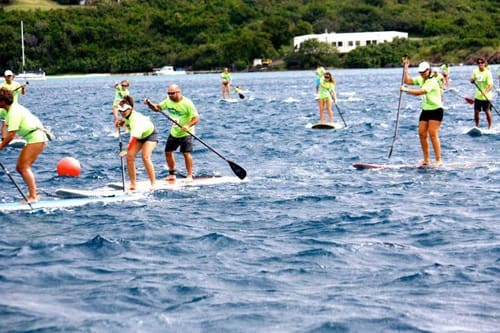 Jarvis, above at far right, competed in a windy race on St. Thomas recently.
When Karen Jarvis first saw a stand up paddle board she didn't even want to try to it out.
"About a year ago a friend of mine got a paddle board for Christmas and we were out at Ditliff swimming and people were taking turns trying to use it," said the long-time St. John resident. "They told me to try it, but I was not a particularly athletic person and said, 'No way; I can't do that.'"
"At the end of the day, I finally got on the board and proceeded to fall off a few times," said Jarvis. "But I got home that night and thought, 'That was really cool.' The feeling was amazing."
Since that first experience, Jarvis has bought several boards, competed in several regional stand up paddle competitions, started her own Love City Paddle Boards business and shed more than 50 pounds along the way.
And Jarvis isn't alone. After emerging as a West Coast fringe sport about a decade ago, paddle boarding has exploded in popularity.
Paddle boarding around St. John was even featured in an article in the New York Times' Sunday Travel section last month.
In addition to Jarvis' business, Arawak Adventures, Cinnamon Bay Watersports and Pretlow Majette's soon-to-open watersports emporium at Wharfside all rent boards and offer lessons.
Jarvis was bit by the paddle board bug so hard, she decided to start Love City Paddle Boards as a way to cover competition costs and travel.
"After I went out a few times, I just couldn't get enough of it," said Jarvis, who has owned and run a child care center on St. John for years as well. "Whenever I wasn't working I was running out to the beach and paddling until dark and getting out there every weekend."
The appeal of paddle boarding seems to be twofold. There is the exercise element of the sport; and, especially here on St. John, the unique opportunity to get up close and personal with nature in a serene, non-threatening environment.
"It's really wonderful," said Jarvis. "It's a wonderful way to clear your mind and you are amazed by the nature you see here. Sting rays, tarpon, sea turtles have all skimmed right under my board."
"It's so beautiful," she said. "It made me fall in love with St. John all over again and really appreciate the beauty all around us."
Putting one on top of the water, the sport also offers a new perspective to many who are used to swimming in local waters.
"I was trying to find a new sport because I can't run anymore," said Jude Woodcock, a personal trainer on St. John who has also competed in local paddle board competitions. "I like paddle boarding because it's like an adventure and since I've been swimming here for the past 15 years, I get to stand on top of the water. It gives you a whole new perspective and suddenly Maho Bay looks totally different."
Paddle boarding is also a great workout, working the core muscles to stabilize oneself on the board and using arm strength to paddle.
"It's great for your arms and your legs and it's a good all-over body workout," said Woodcock.
"Every muscle in your body is required to stabilize your board before you even lift that paddle," said Jarvis.
An easy sport to approach, paddle boarding can also be tailored to different physical abilities and ages, Woodcock added.
"It's pretty easy to learn," she said. "Just about anyone can do it. And it can be as physical or as easy as you want to make it."
"You can be casual and actually sit on the board or you can be aggressive and make it very challenging," Woodcock said.
"You have to be able to swim, but then it's suitable for people of all ages," agreed Jarvis. "I've seen kids as young and four years old out there and I have taught 60-year-olds how to paddle board. I would recommend paddle boarding for anyone really at any age and any ability."
Jarvis, Woodcock and several other St. John paddle board enthusiasts have been representing Love City well, placing at the top of the pack in several local competitions. Up next is the second of the three-race SUP Cup on Tortola in Brewer's Bay in February. Jarvis is heading over for the race and would be happy to bring more competitors along, she explained.
Since boards can run upwards of $1,000 and paddles will put one back a few hundred dollars, many novice paddle boarders start by renting at first. Jarvis offers paddle board rentals for $25 an hour and one-hour lessons with the board for $40. Rentals are also available through Arawak Adventures and Cinnamon Bay Watersports as well.
From being "not particularly" an athletic just a year ago, Jarvis has her sights set even higher than local short-course races.
"My dream is to do open ocean long distance racing," she said. "For me to fall in love with this at the age of 41 and feel like I feel now, it's amazing."
While Love City Paddle Board will hopefully allow Jarvis to realize her open ocean racing dream, she also loves simply being able to share her favorite sport.
"A lot of people are intimidated, but it's really not as hard as some people think," she said. "It takes a little bit of patience and persistence, but once you have it, you have it. I have such a great time sharing paddle boarding with people."
For more information about Love City Paddle Boards or for rentals and lessons, call Jarvis at 340-642-9419.