Joseph Sibilly Elementary School Sun Rays Steel Band, above. A dancing mocko jumbie enhances the performance of the Rising Stars Youth Steel Orchestra, below.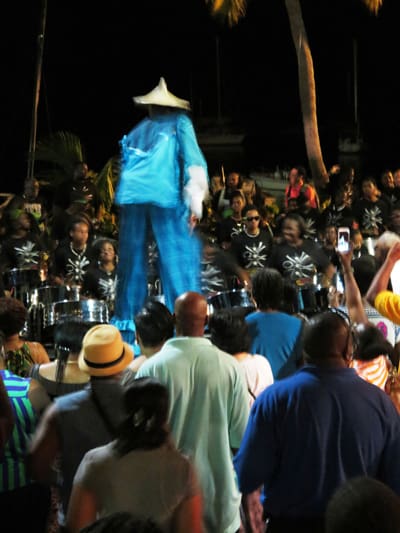 CRUZ BAY – The Diamond Jubilee, celebrating 60 years of St. John July 4th Festival, began Saturday night with an evening of pan.
Eleven steel bands filled the streets around Franklin Powell Sr. Park to present the 2014 Festival Panorama May 31. Hundreds of music fans crowded around as musicians, new and experienced, offered a cultural, musical showcase.
Panorama returned this year to a venue it played up until two years ago, when the event moved to the Winston Wells Ballpark. The shift allowed music fans to enjoy sea breezes, a golden sunset and the brief rise of a new moon in a darkening sky.
Four elementary schools, a junior high and a middle school, one adult and two community youth bands and a massive youth steel orchestra took turns at sets of polished chrome instruments.
The evening ended with a romp around the block, led by instructors of the Rising Stars Youth Steel Orchestra Pan Around the Neck band. Spectators and members of the festival committee who worked all evening serving refreshments let loose as they fell in behind the musicians, dancing in the streets of Cruz Bay.
Special performances added flair to a festive night. Members of the veteran St. Thomas All Stars gave impromptu backup to the Joseph Sibilly SunRays, stationed besides them. The E. Benjamin Oliver Steel Owls celebrated a recent win at a steel pan festival held in Orlando, Florida.
The Ulla Muller Steel Panatics and the Addelita Cancryn Phoenix Sounds drew in crowds that stayed throughout the night.
The Joseph Gomez Pan Busters, BCB Burning Blazers and West Stars captivated spectators with twirls and shouts executed between well practices notes and phrases.
A mocko jumbie dancer worked his way through the crowd to frolic as the Rising Stars performed a medley of Carnival tunes. The Love City Pan Dragons brought the crowd back around at the end of the evening, offering a second wind to those who spent hours bouncing, dancing, laughing, eating drinking, watching children race around and snapping shots with smart phones.
Panorama Committee Chairman Liston Sewer said he was thrilled with how well the evening went.
"I didn't know organizing a Panorama could be so much fun, welcoming people, welcoming my friends and family to the island of St. John," Sewer said. "What a thrill! All of the bands were i good form. How do you describe something like that?"
Throughout the night members of the festival pageant committee introduced contestants who will soon appear in competition at the Winston Wells Ballpark and the Julius E. Sprauve School Auditorium.
This year's theme is: "A Grand Diamond Jubilee for St. John Festival's 2014 Anniversary."