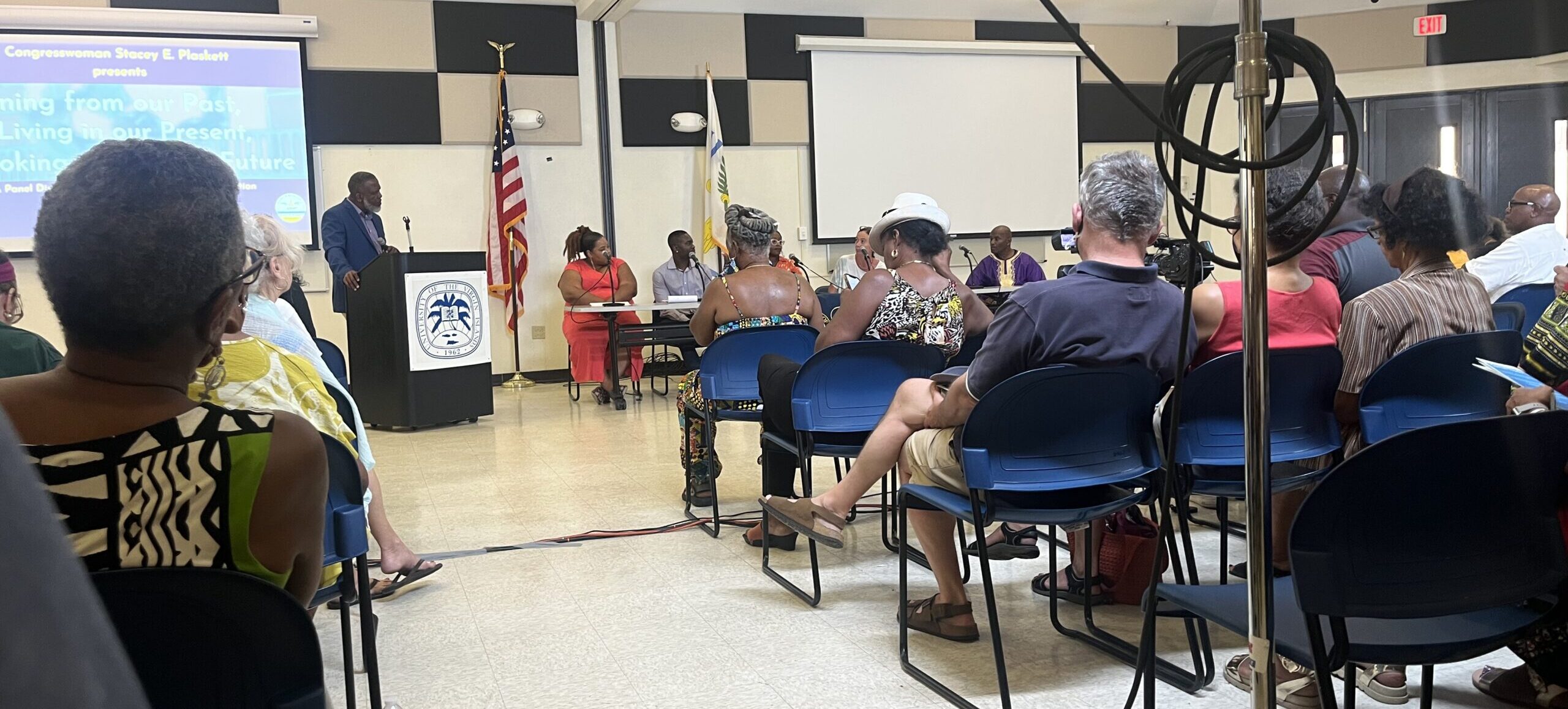 It was a packed room at Delegate to Congress Stacey Plaskett's discussion in honor of the 175th Emancipation Day commemoration on Saturday evening at the University of the Virgin Islands Great Hall on St. Croix.
"Learning from our past, living in our present, looking forward toward our future," was the topic of the night. A panel of V.I. historians, thought leaders, academics, and community activists spoke to a crowd of more than 100 attendees. Panelists answered questions regarding how the events before and after Emancipation in 1848 have affected the history of the U.S. Virgin Islands in everything from arts and culture, to politics, education, and the economy.
"Where we have been, where we are now and where we are going. This is a discussion that I know we have internally within ourselves, among our close friends, but having it as a community is something we need to have periodically," said Plaskett. "I could think of no better time than the celebration of the victory of our ancestors over their own oppressors that brought them and brought us to the place we are right now."
The two rounds of questioning were addressed to a panel of mostly millennials and the crowd seemed pleased with their thoughts and answers. Moderator Michael Thurland asked, "Do you believe that Denmark should provide reparations for their involvement in its slave trade and slavery in the Danish West Indies?"
Hadiya Sewer replied, "Yes, when we think about how wealth was accumulated in the global north or in countries that were colonial powers, we understand that wealth was built off of the backs of people who were captured, tortured and enslaved."
She continued, "So when we have emancipation as a particular juncture in history, we know that emancipation is not a totalizing event. That freedom is always an ongoing project that each and every one of us are actively participating in. So those nations have profited off history's exploitation and torture. Yes, I would say they have a moral obligation to provide reparations to the descendants of those people whom they have enslaved."
Later, Plaskett gave a special congressional recognition to the "Yesterday, Today, Tomorrow Emancipation Commemoration Committee," for preserving Virgin Islands history and culture.
Educator Sayeeda Carter then brought her students from the St. Croix Educational Complex drama club to recite a poem and show a video to commemorate the event.
College student Amari DeSouza, who was invited to be one of the panelists, said, "Coming up in the school system in the Virgin Islands I felt like the system was kind of rigid and constrictive in a way. I don't think we embrace students that don't think conventionally," he said.
"They say school is to prepare us for the workforce. It teaches us how to be obedient, follow rules. I mean that's all and good but that sounds like being a slave to me. I don't think they want us to color outside of the lines, they want us to color in the lines so I think we have to embrace those out there kind of thinkers instead of just the people who want to be part of industry," DeSouza said.
After the second round of panel discussions the crowd was invited to ask questions. Plaskett also shared videos of her colleagues from Congress and a letter from Vice President Kamala Harris.
To see the discussion in its entirety, visit Plaskett's Facebook page.
Saturday's panelists were Gerard Emanuel, Johanna Bermudez, Chalana Brown, Monica Marin, Tarik McMillan, Ashley Scotland, Jessica Samuel, Hadiya Sewer, Sommer Sibilly-Brown, Tiphanie Yanique, and Amari DeSouza.