Painting enthusiasts mark your calenders — two eminent artists are collaborating on an exciting exhibit at the Artists' Association of St. John's Lumberyard Gallery from March 13 through April 14 with an artists' reception scheduled for Thursday evening, March 13, at 5:30 p.m.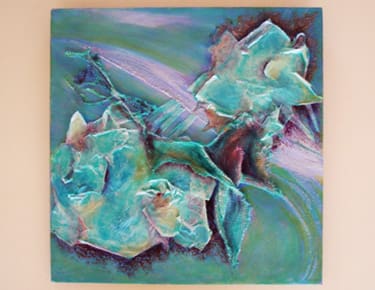 New England and St. John based Marica Reed and long-time St. John resident Denise Wright will display their latest works at "Parallel Views: A Sense of Light."
Reed is best known for her landscape paintings in watercolor and oil which evoke strong emotions through nuanced color and bold brush strokes.
The paintings "are memories of nature, whether nocturnal scenes or atmospheric views in expressionistic color," according to the artist. "The landscapes invite the viewer to enter its world with all senses heightened."
Using her native New England area, Coastal Maine, Love City and, for the past seven years, Tuscany, Cinque Terra and Sardinia, Italy, as inspirations, Reed's paintings not only reflect her surroundings, but her personal journey as well.
"It is important that my landscapes in oils and watercolors convey a sense of place," according to Reed. "Nature is my influence but then it becomes something more. I want to embrace a mood for the piece, and challenge the viewer to look deeper."
"In the process of painting on location or in my studio I strive for the balance of when to intervene and when to leave well enough alone," Reed added.
The landscape painter has been teaching art for 30 years at the Williston Northhampton School and, since 1990, at Maine College of Art's summer sessions. Reed also teaches workshops and painting retreats in Tuscany and Sardinia, Italy, and St. John.
It was at one such workshop on St. John where Wright met Reed for the first time, and a lasting friendship ensued resulting finally in the upcoming exhibit.
"While I have no art degrees, I have painted all my life and have studied under Marcia Reed," said Wright. "I am honored to share this showing of our work together at the Artists' Association gallery."
"Our art is very different, but we share many basic beliefs, thus the name of the show — Parallel Views: A Sense of Light," Wright continued.
Usually a realist painter, Wright will be showing work much different than what most have come to expect from the artist who, in past, has depicted island scenes and seascapes with adroit ability.
"This past year, I began painting what I feel rather than what I see," said the artist. "Having our local gallery allows me to show this new work — a technique I call 'layering,' which is an evanescent art."
"Layerists believe beauty is the natural consequence of the opening of the soul," Wright continued. "Because of its holistic intention, layered art has a spiritual dimension."
Through her new work, Wright is bringing to life the dynamics of individuality verses universal identity, according to the artist.
"Creativity is that force within each of us that allow us to formulate what painter Piet Mondrian called 'the individual-universal equation,'" said Wright. "While each of us is both isolated and individual, at the same time we are universal and indivisible from the world."
"I am expressing myself as an individual with this new work, and at the same time, I am expressing a most universal perception — awareness of beauty is a natural unfoldment of consciousness," Wright said.
Don't miss your chance to discover exactly what the artist means at the Parallel Views: A Sense of Light opening reception on Thursday evening, March 13, at the Artists' Association of St. John gallery at the Lumberyard complex at 5:30 p.m.
Call the gallery at 774-2275 for more information.