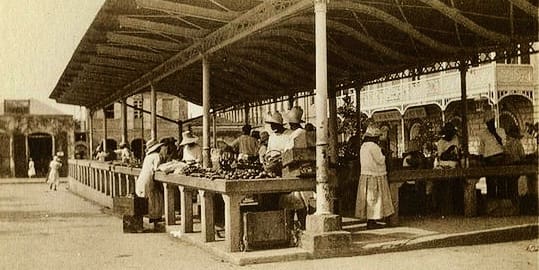 This is the second in a series on notable Virgin Islands women in honor of Virgin Islands History Month and Women's History Month.
The business community of the territory's early years was filled with women entrepreneurs. On St. Thomas, women operated from the doorsteps of their homes in Savan, Pollyberg, Downstreet, Garden Street and Round the Field. When one walked through the streets on the way to work or returning home, they could stop at Miss Meada's or Miss Gussy's to buy herbs, vegetables or even a dumb bread or bush for "bush tea."
Many of these items may have been grown on a patch of ground in the woman's yard or procured from the wharf on the boats coming from Tortola and other nearby Caribbean islands. These were the days before Chinnery's Food O Mat, Pueblo and Grand Union supermarkets. Women made a viable living selling and carried their "tray" on their heads through the streets. A "catta," a cloth wound in a circular fashion, was worn on the head to take the weight of the basket and balance.
Some women hawked their items yelling, "peppers, seasonings, soursops for sale," as they walked.
Those women who secured a "tray" under the Bungalow sold there every day, but Saturday was the big day. Any woman or housekeeper planning to shop knew to get to the "market" as early in the morning as possible, for by mid-morning, the trays would be empty. There was socializing and gossip sharing. It was a custom of the community of the early days, and women tended their enterprise with a seriousness of business acumen. In the corner of the market square, French women from Carenage, Frenchtown, sold handmade straw hats, bags and straw baskets. It was a formidable business community made up of women who provided goods and services.
Who is this Virgin Islands Woman?
She is a Business Leader and Humanitarian
In a faltering economy of the early years, she was an entrepreneur, the market woman who grew the seasonings for tasty preparation of food and went to the open market square to sell her wares. She was the woman at the wharf where she bagged coal to sell at the doorway from her home.
Sanderilla "Miss Sandy" Thomas was the quintessential market woman, who would build an empire of real estate from her sales of food, and was the epitome of power, underestimated in her political influence. Some of these market women wielded power from "under da market."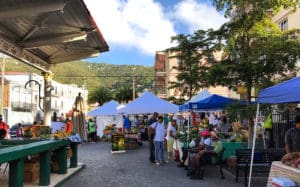 She is the woman who during the hardship years of poverty, and before the welfare services as we know them today, placed a hibiscus in her hair and walked from destitute neighborhood to neighborhood to tend to the needs of the poor.
Maude Proudfoot was a trailblazer for human rights and was the first welfare caregiver. She would later be followed in this field by women with formal education who would excel at providing a human services operation, in this author's opinion, equal to any under the U.S. flag. She is the woman who would meet the needs and protection of children head-on with a resolve to make a better and safe life for the young.
Among them are Gwendolyn Blake, Jewel Molloy, Dilsa Capdeville, Sedonie Halbert and Catherine Lockhart.
On the island of St. Croix, she is the woman whose family's wealth would allow her to give most generously to the food supply of service organizations and many times, anonymously. Ansetta deChabert would build a business that would contribute to St. Croix's early socio and economic sustainability. This St. Croix woman devoted her life to her family, community and fervent love for the Virgin Islands. She was posthumously honored by the Legislature on March 1, 1976, in a resolution that speaks of a life dedicated to "noble pursuits and good works throughout the Virgin Islands community." Her name is synonymous with business on St. Croix. The legacy she left continues to be a guiding and dynamic force in the Virgin Islands. She has led the charge. She was an activist, businesswoman, civic leader, political figure and involved in the work of the church.
On St. Thomas, women ran businesses such as I. Levin, La Gracia, Bamboula, Hays, Lavida Shoe store, Lockhart stores and the Lockhart Bakery, to name a few. These were the economic hubs providing services and goods. The Virgin Islands woman managed complex and necessary businesses with the acumen of competent entrepreneurs. She would trust her customers to pay their debt for purchases and services, for she knew the women held the highest standards of honesty. These businesswomen would come from the Jewish faith, Indian nationality and Spanish migrants from Vieques, Puerto Rico, and surrounding islands, such as Tortola and the Eastern Caribbean. Women such as Francine Coulianos, Gertrude Dudley Melchoir, Lavida Creque and Corinne Lockhart set formidable examples of successful businesswomen.
Who is this Virgin Islands Woman?
Sanderilla "Miss Sandy" Indiana Blyden Farrington Thomas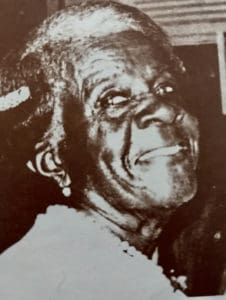 Few people are legends in their own time. Sanderilla Indiana Blyden Farrington Thomas walked among the great and influential in the Virgin Islands and was a legend in her day. "Miss Sandy," as she was affectionately known in these islands, was the epitome of underestimated power. She was also a quaint essential market woman. Her influence carried throughout the islands of St. Thomas and Tortola and no politician chose to doubt her impact at the voting polls.
A woman of the land, she was born in the Danish Virgin Islands on Nov. 23, 1911. Her family later relocated to Tortola in the British Virgin Islands. The daughter of John Alfred and Alberta Todman Blyden, she and her five siblings resided on Tortola during her childhood. Her mother worked the land and provided for the family through the sale of fruits and vegetables. A young Thomas joined her mother and helped her, working the land and selling vegetables. It was here she learned the fortitude for hard work, for Miss Sandy was known to say that her mother worked very hard all of her life.
At age 19 she married Joseph Farrington and had three children and later moved to St. Thomas, where they had an additional 10 children. At the end of that marriage, Miss Sandy and eight children (two having died young) faced difficult financial times. She later married James Osmond Thomas and from this marriage had three additional children. Miss Sandy was dedicated to her family and instilled in them a sense of decorum and dignity through hard work and perseverance. She raised 14 children, all of who took respectable and leadership positions within the Virgin Islands community.
No one can lay claim to the honor of the "market woman" more than Miss Sandy. Her impact and influence under The Bungalow of the first market on St. Thomas was known and respected throughout the Virgin Islands and the neighboring islands. Few people knew of Miss Sandy's ability to use political clout that she wielded from her post at Market Square. "Under the market," she wielded the leadership and admiration of the other market women with a quiet countenance and a serious look of "business only in this place."
Political influence from the sidelines is an important feature of elections in the Virgin Islands because those who have it can wield the sword of the ballot. They can cut the cord of connections to who will get elected and who will not. As the old saying goes: "They hold the handle and the [politician] other hold the blade." Miss Sandy had this influence. She was a formidable foe to any politician who did not meet her approval.
Perhaps her most influential time was during the Farrelly/Hodge campaign. The late Sen. Earle B. Ottley, in his book, "The Hardball Years," writes, "Sanderilla Thomas, recognized as the 'Grand Dame' of Savan, was there with a flock of her family and supporters." During the years of Cyril King, she had "broken with the Democratic Party. She said it was a historic and happy occasion, marking as it did, her return to the Democratic Party." There was little doubt that Miss Sandy's involvement and visibility with the Farrelly camp pushed the widespread support for the Farrelly/Hodge team.
Miss Sandy's strength went beyond that of political influencer and market woman. During her lifetime she amassed a wealth of real estate and through businesslike and careful management, became a successful businesswoman in her own right. A woman of influence and impact, she has left a legacy of visible strength and dedication to the political maneuverings within the Virgin Islands. Market Square in recent years was renamed the Rothschild Francis Square and The Bungalow was named in Miss Sandy's honor.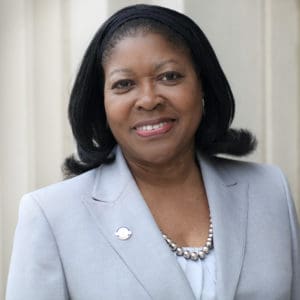 About the author: Debra Adelita Brown DeLone is a third-generation Virgin Islander with ancestral roots on St. Thomas and St. Croix. She has worked in the private and government sectors of St. Thomas for 45 years and has been a community contributor for more than 40 years. She has a bachelor's degree in human service administration and a master's degree in public administration. She is the past president of the League of Women Voters '98 and a past president of Rotary Club Charlotte Amalie. She is married to professor William DeLone, formerly with the University of the Virgin Islands, and has a daughter, Andrea Brown-White and two stepchildren Tim and Niki DeLone. She resides in Rockville, Maryland, and enjoys spending time with her grandchildren, Alonzo IV, August and Thayre Marie.
Part 1: Virgin Islands Woman: Rebel, Leader and Queen