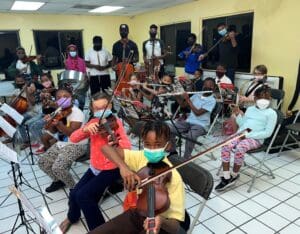 Violins, cellos, flutes, trumpets, clarinets, steel pans, drums and more combine to create a unique sound of classical, Caribbean and pop music through the new Partners for Strings Virgin Islands Youth Orchestra. The orchestra is being run by Partners for Strings Inc., a 501(c)(3), nonprofit organization that was established in 2020 to operate a free after-school music program for children, ages 6 to 17. The program is primarily giving Virgin Islands underserved, under-resourced and at-risk youth a chance to express themselves and be inspired through the power of music.
After a few starts in 2019 and 2020, this year, the Partners for Strings Virgin Islands Youth Orchestra is up and running with the help of many partners, including board members, parents, sponsors, friends, volunteers and major community supporters.
Partners for Strings president Gloria Gumbs said, "Our goal is to use music as a vehicle to transform lives. Young children are being trained on orchestral instruments three days per week, Monday, Tuesday and Wednesday, from 4:30 – 6:30 p.m. at G-Clef Music Academy in Mandela Circle. They are also given encouraging words that will help them overcome challenges and inspire them to succeed!"
A graduate of Clark Atlanta University, she is a marketing entrepreneur who has produced award-winning advertisements and video productions, including the official documentaries for Magens Bay beach, the St. Thomas Synagogue, and the local fitness DVD, "Seniors Sweatin' in the VI."  Her family-owned company also produced an array of government agency and corporate media campaigns, as well as digital media network and signage content.
She won an award from the University of the Virgin Islands Small Business Development Center as "The 2006 UVI-SBC Women in Business Champion of the Year."  She has been active in the community as a lead board member for several major local organizations and has written two alma-maters for St. Thomas schools.  She currently works with her husband, James H. Gumbs Jr., to manage G-Clef Music Academy on St. Thomas and St. Croix. She has had a desire to develop a free community youth orchestra since she first saw G-Clef Music Academy's summer camp students perform as a string ensemble in 2013.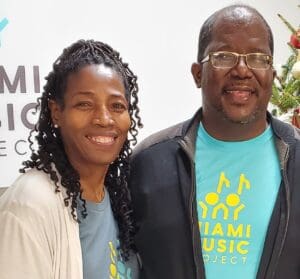 Gloria Gumbs said, "Music has many benefits to a child's brain development.  In fact, a study led by Ellen Winner, professor of psychology at Boston College, and Gottfried Schlaug, professor of neurology at Beth Israel Deaconess Medical Center and Harvard Medical School, found changes in the brain images of children who underwent 15 months of weekly music instruction and practice.  Research has found a link between music and spatial intelligence, which means that understanding music can help children visualize various elements that should go together, like they would do when solving a math problem.
"Further evidence shows that 'music instruction reliably improves spatial-temporal skills in children over time.  This leads to the enhancement of skills needed in solving multistep problems, like one would encounter in architecture, engineering, etc.  Music also offers other benefits, such as increasing a child's focus and confidence, plus participating in the orchestra adds an opportunity to enhance their team playing skills."
Partners for Strings board of director officer Priscilla Lynn said, "This organization is a true partnership in every sense of the word.  I love music and I'm happy to be a part of an organization that encourages youth through music." Lynn is the owner of a successful marketing consulting practice, founded in 1989, that provides marketing, public relations, events and business development services. She also founded Street Level VI (SLVI), which is a "go-to" source for the live music scene in the U.S. Virgin Islands. In addition, SLVI awards scholarships and distributes donations to island youth music education programs. Its group Facebook page, which has nearly 4,000 members, is www.facebook.com/groups/StreetLevelVI
"We want to be a unique music group in the Virgin Islands," said Partners for Strings board of director officer James H. Gumbs Jr.  "Partners for Strings Virgin Islands Youth Orchestra is learning several styles of music, like classical, calypso, pop, R&B, hip hop, reggae, gospel, Latin and jazz.  We are introducing music that youth will love to learn and play.  We're making sure we empower them with music theory, so they learn how to read and express themselves through music.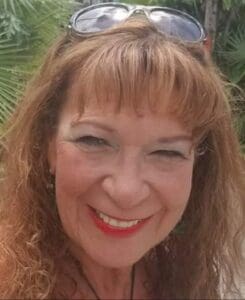 James H. Gumbs Jr. established G-Clef Music Academy in 2011 because of his sincere passion for teaching music and developing quality musicians.  He holds a bachelor's degree in music education from Clark Atlanta University and has worked in the education system of the U.S. Virgin Islands for over 18 years. Gumbs is an accomplished musician. In the early part of his career, he performed with jazz music giants, such as Miles Davis, Dizzy Gillespie, Herbie Hancock and Ray Charles. Through James' leadership, G-Clef has become the largest privately run music school in the USVI.
Partners for Strings is strengthened by a partnership with Miami Music Project.  Miami Music Project oversees the operation of several free Children's Orchestras and Leaders Orchestras in the Miami-Dade County Public Schools.  These orchestras are designed for beginners to advanced musicians.
Gloria Gumbs acknowledges the support of local sponsors who have invested in young lives.  Thriving Charity Advocates (TCA) donated $30,000 towards the development of the Partners for Strings Virgin Islands Youth Orchestra.  TCA serves as a boutique brokerage of opportunities to impact the forgotten, marginalized and poor by connecting artists, tours and live events with humanitarian organizations to leverage the stage and empower audiences to raise the funds necessary to change lives here and around the world in a tangible way.
Other sponsors to Partners for Strings include Discover Fund Management, Fintrac, MSI Building Supplies, G-Clef Music Academy and Street Level VI.
"We plan on expanding our partnerships to the island of St. Croix," said Gloria Gumbs. "Later this year, St. Croix will also have orchestra training sessions. If … interested in your child(ren) joining the free orchestra training sessions on St. Thomas or St. Croix, visit www.partnersforstrings.org and complete an Orchestra Contact Form.
"It is important that parents know that they are also an important part of the orchestra's success. A parent or guardian will need to be present to complete an application packet in order for your child to join the Partners for Strings Virgin Islands Youth Orchestra.  If you are interested in supporting Partners for Strings Inc. as a sponsor, please email to partnersforstrings@gmail.com or call 344-6449."