Mini Moke "Cult Car"
ST. JOHN — The Mini Moke is a "cult car" with a worldwide following that celebrated its 50th Anniversary in 2014!
The Mini Moke was designed and produced in England by BMC, British Motor Corporation, beginning in 1964. BMC had merged the Morris and Austin automobile companies in 1952 (and Jaguar in 1966) and 15,000 Mini Mokes were produced in England by Austin and Morris until 1969.
The Mini Mokes were built on a Mini sub frame and powered by a front wheel drive, "A" Series, 890 cc. transversely-mounted Mini engine/gearbox unit. Mokes were produced in Australia from 1966-1983 and production moved to Portugal from 1983 to 1989. Moke's were also produced in Italy from 1991 to 1993 when the last Moke was made.
This worldwide production diversification means that Mini Mokes still exist all over the world today! And because of the popularity of the Mini Cooper, Mini parts for the Moke are still available!
Let me be the first to say that I am sure some Mini Moke purist will think that I am a "philistine" for removing a 48 year old ICE (Internal Combustion Engine) and replacing it with a 20 HP electric AC motor and 11 kW lithium iron phosphate battery bank! And maybe I am, but here is my story.
Fascination from 1970s
My fascination with the Mini Moke started in the mid 1970s in Tortola, BVI where I was chartering my classic wooden ocean racing yawl "Stormy Weather" and needed a vehicle on land. A Moke was the first car I owned when I moved to the Caribbean. I loved having a Mini Moke!
You could drive anywhere on the island, beaches, cow pastures, etc. and never get stuck! And of course if you did get stuck, you just pick the back end up and move it over a bit… and off you go. In those days one could drive into Road Town and leave keys and belongings in the car and never worry.
Fast Forward 40 years.
I am now a retired architect living on St. John and St. Thomas in the U.S. Virgin Islands, where life is easier for a U.S. citizen. I have been driving solar-powered (with PV modules on the roof) GEM (Global Electric Motors) NEV (Neighborhood Electric Vehicles) mini trucks for about 15 years. The GEMs are a 7 HP, 72 volt DC system with heavy lead acid batteries, which severely limit range and speed on our hilly terrain.
The Virgin Islands has very regressive auto dealerships that do not sell electric cars or even hybrids! So, wanting to drive a zero emission vehicle that runs on sunshine, I decided to do a conversion!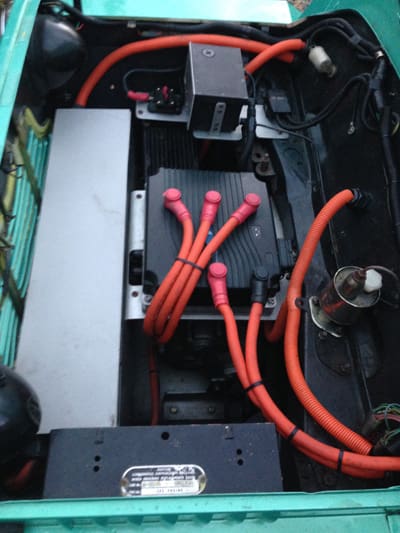 20 hp, 96 Volt AC Electric Motor
I wanted to make an "all island, go anywhere" electric vehicle (EV). Of Course, to start an EV conversion, one needs a donor vehicle. I asked myself. What is the best "island" car I have ever owned? And BOOM! A Mini Moke popped into my mind. Instantly I made the decision to make an electric Mini Moke! That, in my opinion, would be the perfect island car!
I had seen a YouTube video of a classic VW Beetle conversion (another "cult car") done by an EV conversion shop in southern California. I called them and asked if they might be interested in doing a Mini Moke conversion.
"Funny you should ask," They said. "We were just talking about it. We think a Mini Moke would make a good conversion, and we don't think anyone has ever done one before. So, yes if you have patience (and money), we will do one."
Searching for Mokes
So, my search for a Moke began! I had seen a Moke advertised online several months before and called the owner to see if it had been sold. Nope, not yet was the answer. It was a 1967 Austin Mini Moke and he was only the second owner.
Luckily my cousin happened to live in the same town in Florida where it was located. He gave it a green light. The Moke was in remarkably good condition for its age, with only 21,000 miles on the odometer, having spent much of its life in storage in a barn, I was told.
So sight unseen, but with a lot of faith, I bought it and shipped it to California for the conversion. The six months that I was told the conversion would take, slowly turned into a full year before I would see my Moke EV!
Old ICE Goes to Fiji!
Normally, when an existing vehicle is converted, only the engine is removed. The transmission is left in place and a metal plate is made to which the electric motor is bolted to the transmission. Well, the first lesson we learned is that the Moke's transmission is actually below and integral with the engine. When the engine was removed, there was nothing to attach the electric motor to! The good news is that I was able to sell (recycle) the ICE on eBay to a Moke owner in Fiji!
Based on my experience in driving NEVs and hybrids, I was able to give the EV shop very specific requirements for an all-island, go anywhere "Island EV." The Virgin Islands are small, only 18 miles long, with lots of curves and steep hills (sea level to 1700 feet), so the Moke only needed a 40-50 mile range between charges, lots of power for the hills and a top speed of 40 mph.
Island Specifications
A Graziano differential was selected to which a 20 hp, 96 volt AC electric motor would be attached with the motor's water cooled inverter/controller mounted above it. An 11 kW LiFePO4, 108 volt DC battery bank was installed in two custom aluminum, weatherproof battery boxes, one in the engine compartment just behind the grill and the other behind the backseat.
The gas tank was removed to make room for the onboard 120 vac battery charger. The charging receptacle is located under the gas tank cap.
I elected to use a 120 vac charging system, because, although slower than 240 v chargers, 120 volt outlets are readily available and there was no additional expense for an EV charger(s) and there are currently no public EV charging stations in the Virgin Islands.
LiFePO4 batteries are a key component of EV conversions because they weight much less than lead acid batteries, have greater energy density and cycle life and can be discharged to 80 percent of capacity without damage. Their only current drawback is their high upfront cost! However, if you compare life cycle cost, they work out to about the same price as lead acid batteries.
Key Components for Terrain
Another key component for EVs in hilly terrain is the AC electric motor with regen capabilities. I had learned the advantages of regenerative breaking battery charging from driving my Toyota Prius hybrid. On our islands, 40 percent of driving is uphill, where in a hybrid, both the small ICE and electric motor do the work; 40 percent is downhill without the use of the ICE and the electric motor is recharging the batteries; 20 percent is on the flat running on the electric motor.
Hybrids can cut your greenhouse gas emissions and gas usage by about 50 percent. However I was not satisfied with that. I wanted to "move my ass with no gas" and zero emissions!
In summary, the Moke spent the first year of my ownership at the EV Conversion shop, another year in the V.I. fine-tuning the details, such as fabricating new drive shafts, replacing CV joints, repainting and replacing the top, etc.
However in the end, I do believe that I have achieved my goal of creating a zero emission "perfect" island car that runs on sunshine. I charge it in my solar carport where it takes between 3 and 7 kWs to recharge, depending on battery state of charge over 5-6 hours. Generally I drive during the day and recharge it at night!
Power, Driving Range and Speed!
The power, driving range and speed are great! If anything it has too much power! It is wonderful and fun to drive a car that makes people involuntarily smile when they see it! And then, when they find out it runs on sunshine, WOW!!
Why not create a sustainable local industry in the Virgin Islands to build electric Mini Mokes in the Virgin Islands and refurbish and convert older "island cars" like Suzukis and Jeeps into electric vehicles rather than sending them, at great cost, to scrap off-island and buying a new car. That money goes right off island and local dealers do not want to sell EVs anyway.
Maybe auto dealers do not want to deal with EV's because they require so little maintenance. They never need an oil change, new spark plugs, fuel filter, oil filter, muffler, etc.!
The V.I. could create its own Electric Moke and conversion economy to provide skilled jobs and keep money recirculating on island!
LONG LIVE THE MINI MOKE!