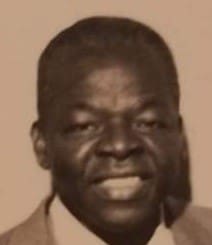 Dear family and friends, it is with great sadness that we announce the passing of Pastor Roy Emanuel Blyden, 91. He departed to his heavenly home to be with his Lord and Savior Jesus Christ on Monday, Oct. 25.
A native of St. Thomas, Virgin Islands, he was a Korean War Navy veteran, who was also known as Pastor Blyden, a loving husband, steadfast father, dear brother, and faithful minister of the Gospel of Christ and previous Chaplain of American Legion Post 90.
Pastor Blyden enjoyed broadcasting Christian programs on WIVV Vieques, PR, and extended his pastoral ministry to programs on Radio One and WSTA in St. Thomas, USVI. He also worked as a social worker at Human Services on St Thomas and was a consistent member of several choirs, including the Belair Choir, Caribbean Chorale and the American Legion Post 90 Choir.
Continuing his love and legacy is his loving wife, Gwendolyn De Riggs-Blyden of Curacao, NA; sons: Paul Blyden and Marcus Blyden; daughter, Esther Blyden; grandchildren: Jayson, Myla-Danae, Saniyah, Trinity, Malaeya, Aron, Mishael and Naomi; sisters: Luna Nibbs-Frett and Ida Epps; special cousin, Bernice Harrigan; 60 plus nieces and nephews; as well as extended family too numerous to mention.
Pastor Blyden was preceded in death by his father, Abraham Blyden; mother, Estella Blyden; sisters: Esther Blyden-Matthias, Nola Owens and Louise Pritchett; and brothers: Alfredo Blyden, Edward Blyden, Halvor Blyden, Abraham Blyden Jr., Joseph Blyden, Raymond Blyden and Eli Blyden.
The first viewing will be held at Turnbull's Funeral Home from 4-6 p.m., Thursday, Nov. 4. His homegoing ceremony will be held on Friday, Nov. 5, at Trinity Baptist, Bolongo Bay, with a viewing from 10-11 a.m. followed by a service from 11 a.m. to noon. Interment will be at Eastern Cemetery, Veterans section. Services will be streamed live on YouTube and Facebook.
The family requests that navy blue, royal blue and or white be worn. Family and friends may send pictures and tributes to: turnbullsfuneralhomevi@yahoo.com