For more than 30 years, Patrice Harley has been awakening children to the joys of learning, with a teaching style that goes beyond mere words.
Harley, who earned her undergraduate degree at Ball State in Indiana, began her teaching career in 1975. Her first position was at her alma mater, the Nisky Elementary School on St. Thomas.
Life-Long Dream
"I always wanted to be a teacher," said Harley. "Since I was in the sixth grade, I knew that this is what I wanted to do."
Harley then began graduate studies at Glassboro State College in New Jersey, where she also taught children of migrant workers. After three years in the Garden State, the St. Thomas native came back home, and taught at the E. Benjamin Oliver Elementary School on St. Thomas—which is named after her grandfather, who was a teacher and principal.
"Back when I started teaching, a lot of the teachers were from the states," said Harley. "So, the school was happy to have a local here who they knew was going to stay. I missed the weather here and I missed my family."
Harley also missed the community connection during her times in the states.
Back to a Caring Community
"I missed the love of this local life that I was accustomed to," she said. "I missed being surrounded by people who care. Up in the states, no one really knows each other."
Also an avid tennis player, Harley, nee Ebbesen, first met her future husband, St. John administrator Julien Harley, at a tournament in St. Croix.
"Julien was at a big softball tournament at the same time, and that is where it started," she said.
The two got married in 1981 and the new Mrs. Harley moved to St. John, a place she has called home ever since. Harley has been teaching at Guy Benjamin School (GBS) in Coral Bay since 1990, and still hasn't tired of her job.
Opening the Treasure Box
"I feel such a happiness when I see the sparkle in the children's eyes when they finally understand," she said. "We teach just waiting for that day. It's like a box full of treasures—they know that something is inside, but they can't open it—and then they do."
The teachers at GBS have formed a close-knit family over the years, Harley said.
"I love teaching here because we all have a great relationship," she said. "We are all trying to be the village that raises the child. We are all on the same wave length and the parents know that, and give us their cooperation."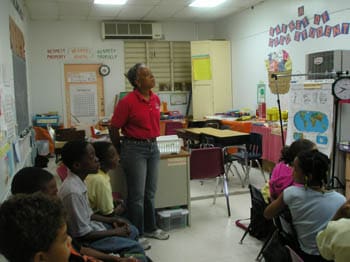 New Position at GBS
Harley, a veteran first grade teacher, recently switched to teaching kindergarten through sixth grade math—a position she enjoys, although she admitted that she misses the youngsters.
"I love math and I love opening the children to math skills, but I miss guiding the younger ones," said Harley. "They need a special kind of guidance. They come in with so much raw energy, you have to deal with that before you start in on the lessons."
The most difficult part of teaching for Harley is assigning grades.
"I like learning for the fun of learning," she said. "If you need help, you just need help, you shouldn't have to fail. I know grades are needed, but sometimes it sets the kids back and that is not positive."
Opening children's eyes to the wonders of knowledge is Harley's favorite part of her job.
The Joy of Teaching
"I think that anything you can do, I can do," she said. "I might not be able to do it as well as you, but I can do it. If I can see these numbers and how they are related, the kids can do it too."
"They key is finding what is blocking their understanding," Harley continued. "You are opening that treasure box to the world of knowledge, and that is the joy of teaching."
As the 'Mrs. St. John Administrator,' Harley keeps her feet grounded.
"I am the same old Pat," she said. "I try to show as much respect for the office as I can, but I don't make it a big to-do. The position itself needs to be respected, that is what is important."
Too Much Too Fast
As a 25-year St. John resident, Harley has witnessed a great amount of change in Love City.
"Twenty-five years is not a life time, and still I have seen so many changes in that short amount of time," she said. "It's just too much too fast. Before we get adjusted to one thing, something else happens—we need to slow down."
No matter how hard teachers work, parents must play an active role in their children's lives, explained Harley.
"It can't just be the teachers, the parents have to be involved," she said. "We hold on to the respect here, but we can't control them on the weekends. All kids need guidance, every step of the way."
"Then, when they are older, they will make the right decisions," Harley added.
Connection to Children
All children need a special person in their lives, either a mentor, family member or older friend, said Harley.
"A child won't listen to you if they don't trust you," she said. "In order to get through to a child, you have to really know them. And then, you can't teach just by words but by action."
The best way to keep the Virgin Islands culture alive is also through actions, not words, according to Harley.
"What we can do is keep promoting our culture, not just complain about losing it," she said. "We must make a conscious effort to keep alive what we think is important. If it is important to you to say good morning to people, then you must do that."
"You can't just talk, you have to act," Harley added.
Incorporate Black History into U.S. History
Although Black History Month is important, it should be incorporated into daily life, Harley explained.
"It's time for a change," she said. "Black History Month was created to get us thinking. If we contributed to the growth of the United States, why do we need a special month?"
"We need to incorporate our history into U.S. history," Harley continued. "This is history—not just black history—but U.S. history. It doesn't need to be separated."
Greatest Achievement
As an educator for more than 30 years, Harley has a long list of graduating students whom she remembers fondly. But her greatest achievement is her family—husband Julien and their two sons and two daughters, she said.
"I am most proud of raising a family with Julien and having our kids hold values that are dear to us," she said. "Our children hold ideals that are consistent with how Julien and I think. By doing that, it gives me a greater love of coming into the school and helping the kids."
"Teaching is very powerful," Harley continued. "We have the power to open up students' minds, and that is very important."