Maintaining Cat Feeding Stations
Last column acknowledged the "evolution" of our St. John "Cat Houses" initially built by good people like Henry Frederickson, Boston Gary and Pirate Bill.
Two more important people, Nancy Louis, an ACC Board Member and her husband John Diehl, who own and operate the St. John bed and breakfast "Garden by the Sea, both donated materials and built five beautiful stations for our Island's homeless cats! A heart-felt Thank You to Nancy and John from both the cats and our community.
One more individual who needs to be recognized for donating material for the initial station at Concordia is Eric Humbaugh Manager at Paradise Lumber. Our appreciation for your help Eric in "upgrading" our stations.
Now that we have better-designed cat stations, it then becomes the responsibility of other ACC volunteers in maintaining our island cat stations and sanctuaries.
Daily Station Commitments
It is a daily commitment to stop everyday to ensure that these homeless cats are fed and watered. Dry cat food — purchased by your generous donation throughout the year — is delivered to our ACC each week. These bags are then picked up and taken to individual stations.
These volunteers must fill up empty water jugs on a regular basis to be sure that water is available for drinking. They are also responsible in identifying any cats who are in need of vet attention; or who have perhaps "moved in" and are in need of spaying or neutering.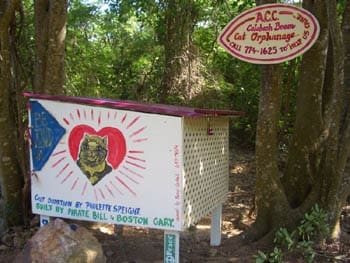 I have first-hand knowledge of this important daily commitment as I "man" the "Calabash Boom Cat Orphanage" in Coral Bay. It is often both gratifying and heart-wrenching to become a part of this cat colony family.
The gratefulness displayed by these animals is wonderful! They may be somewhat "skittish" and shy in their initial contact with station feeders, however over time, it is quite amazing to watch them wait for your arrival and "dinner".
"My" cats know my truck and the time of day that I am driving up and down the road. I often see them lined-up waiting for me. They demonstrate their "thank you" by seeking out personal contact in time looking for a slight pat on the head or some kind of interaction.
In fact, when walking both my dogs Princess and China, I am regularly followed by one black kitty who has been named "Sweetie" who joins us. She also wrestles and plays with both dogs!
The problem then is to not become too attached as each cat has a personality of their own — and of course is in need of a home.
Without cat station volunteers, our ACC would not be able to do this important program.
Commitment Greatly Appreciated
Please know that your commitment is greatly appreciated and acknowledged! If you see these kind people, please say a community "thank you". Demonstrations of kindness to anyone — person or animals — in any form adds to the betterment of our world.
The ACC Board of Directors gives a special thank you to these valuable fedding station volunteers:
Maia Mongie, Terry Witham and Paula Myles; Matt Mueller, Sharon Kearsey and Katherine Fahy; Shira Sofer, Bamboula Staff at Mongoose and Joanne Sica; Jeanne and Andy Piotrowicz, Monica Munro and Veronica Wilshire; Pirate Bill, Robin Berlin and Dolly Reckless; Vie Mahabir, Heather at ACC and Maurice Smith; And, Aubrey at Bellevue Village
ACC Take Note:
• Besides hosting donations for "Halloween for the Animals" at Morgan's Mango, Carlos and Maria DiBlasi made a generous donation to our ACC as well…Thank You from the animals!
• Reserve the evening of Dec. 9 for "Christ-mas for the Animals" our ACC fund raiser.
• One special lady is always helping with our ACC fund raisers-in fact has in numerous capacities for many years now. She also donates her time to searching out dog adoptions with photos in every issue of Tradewinds. She is Betty Gerhardt from Scandic Executive Services at Mongoose Junction.
Betty, your service to and love of animals has greatly benefited our ACC and its years of work on St. John. Thank you Betty for all that you have done and continue to do!