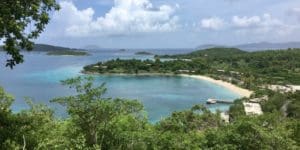 Delegate to Congress Stacey E. Plaskett released the following statement regarding the next phase of environmental assessments at Caneel Bay being conducted by the National Park Service:
"I am pleased that the National Park Service has initiated the next phase of environmental site assessments at Caneel Bay Resort. The assessment will identify the nature and extent of possible environmental contamination on the property. This is a critical step in determining the future of the resort.
"These actions demonstrate NPS's commitment to responsibly stewarding the environment and natural resources of our St. John community. The data that will be gathered will serve as the scientific basis upon which solid decisions regarding cleanup and redevelopment of the resort can be made. Sampling and analysis for an Engineering Evaluation and Cost Analysis, in alignment with Environmental Protection Agency guidelines, will take place over the next several weeks, followed by laboratory analysis and evaluation of potential risks to human health and the environment.
"I am also very happy that the National Park Service is being intentional about community involvement. The NPS is strongly encouraging public participation and will allow the public to comment on the EE/CA report and supporting documents in the coming months.  Additional information, including reports and associated documents about the Caneel Bay environmental site assessment as well as the Administrative Record for the project, will soon be available at https://parkplanning.nps.gov/CaneelBayAssessment.
"These developments are very encouraging. I and my team look forward to supporting the efforts of the National Park Service as they remain committed to responsible environmental stewardship for our beloved St. John."