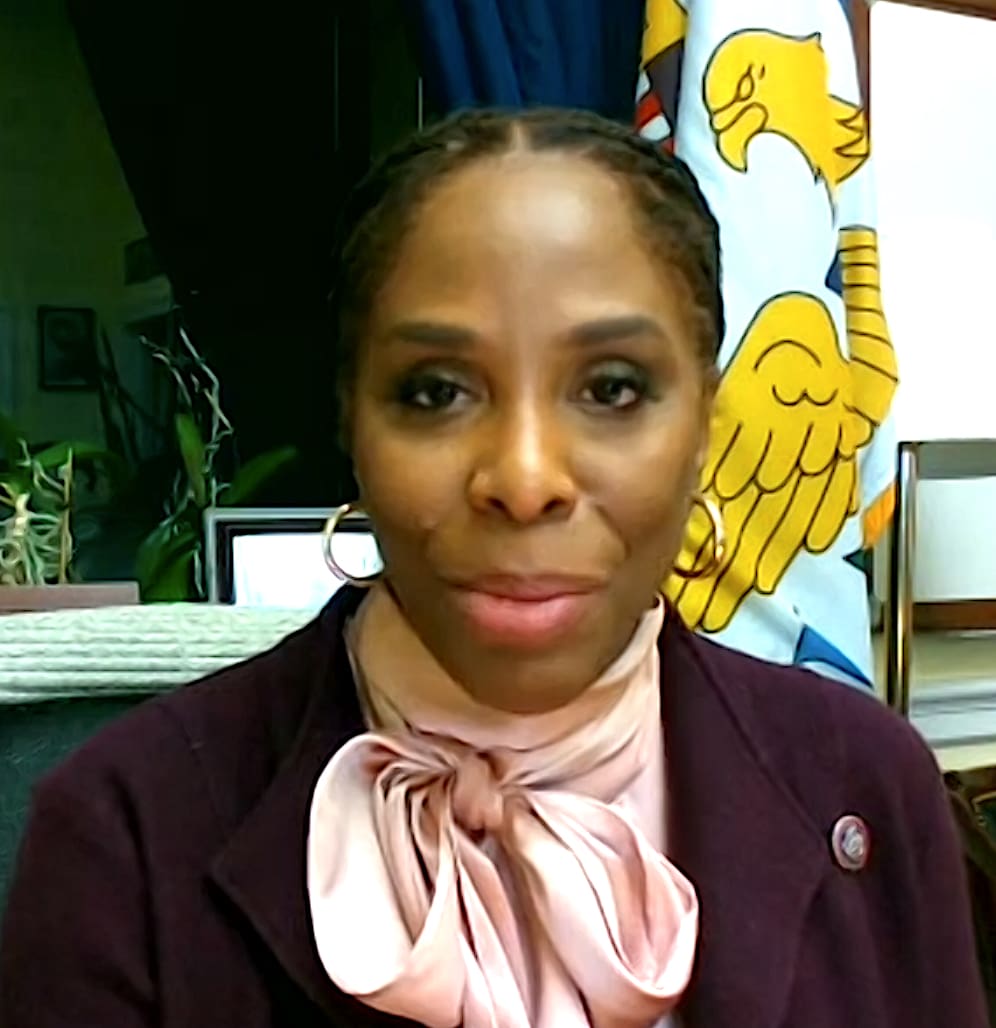 Governor Albert Bryan, Jr. touched on a multitude of federally-funded spending plans for the territory in his State-Of-The-Territory address Monday night. These high-hopes lists are something of an unofficial tradition for the annual speech — outlining how money allocated in Washington D.C. can help bolster infrastructure projects in the Virgin Islands.
Another, less-fun unofficial tradition was taking place as Delegate Stacey Plaskett watched the speech from her congressional office: She worried if the funding for which she and her team had pushed so hard would actually reach the people for whom it was intended.
"I'm grateful he has a plan, but of course, the devil is in the details," Plaskett said shortly after the governor's speech.
Spending for roads, sewer systems, healthcare, and more were all on Bryan's list, and each carries procedural hurdles. Plaskett singled out education, noting V.I. kids have dealt with hurricanes, COVID, and a lack of equipment and support to deal with those disasters.
"It's really important to me to make sure that that funding is not caught up in local red tape, local bureaucracy, and actually gets to our children," she said. "It's really important to make sure that our children have this money, that our teachers have this money."
Federal funds need to be spent in specific ways within specific timeframes outlined in each allocation. If they aren't, Washington can potentially claw the money back or direct it to some other use.
Bryan pointed this out himself during the speech, noting local agencies navigate FEMA's bureaucracy to access the funds and then need to follow through on using them.
"The Office of Disaster Recovery presses forward to get the funds, and more importantly, to spend the funds and spend them correctly," he said in the address. He noted some contractors had not been paid for work completed in April 2019 because the officials couldn't produce documentation required by FEMA for reimbursement.
Plaskett said of all the programs and allocations Bryan mentioned, he didn't hit on the actual breadth of the federal funding she was able to secure for the territory. To ensure it is spent within federal guidelines — and in a way that best benefits Virgin Islanders — is a job of extraordinary importance and detail, she said.
"I really try to stay within my lane. I recognize that it is the governor's job in the executive branch to disperse that funding, and I'm grateful that I have a relationship with the governor where he is open to recommendations and discussions with me. But I recognize that ultimately at the end of the day, it is my office's responsibility to make sure that federal funding is used appropriately. And so, if necessary, I will use the power of the legislature to bring more oversight if I think that is necessary," Plaskett said, adding she has developed close relationships with HUD, FEMA, and the Office of Management and Budget.
A big part of that proper disbursement of funding is being prepared to do the work. Plaskett says groundwork should have been put down well before Bryan's time in office. Officials knew federal relief funds were coming after the 2017 storms but failed to prepare to make the most of it, she said.
"We know that we are going to have a tremendous amount of construction projects coming up. Have we been putting the funding into vocational training and support so the 5,000 jobs that we'll need to do the building of our hospitals and our schools so that we can first look within ourselves, trying to soak up some of the unemployment … and not having to contract outside of the territory?" she asked. "Those are the things that I'm concerned about, and I'll be looking at going forward."
Despite the potential pitfalls ahead, Plaskett said cooperation is not one of the problems: "I'm grateful that I have a governor in Albert Bryan that I have a healthy, cooperative relationship with."