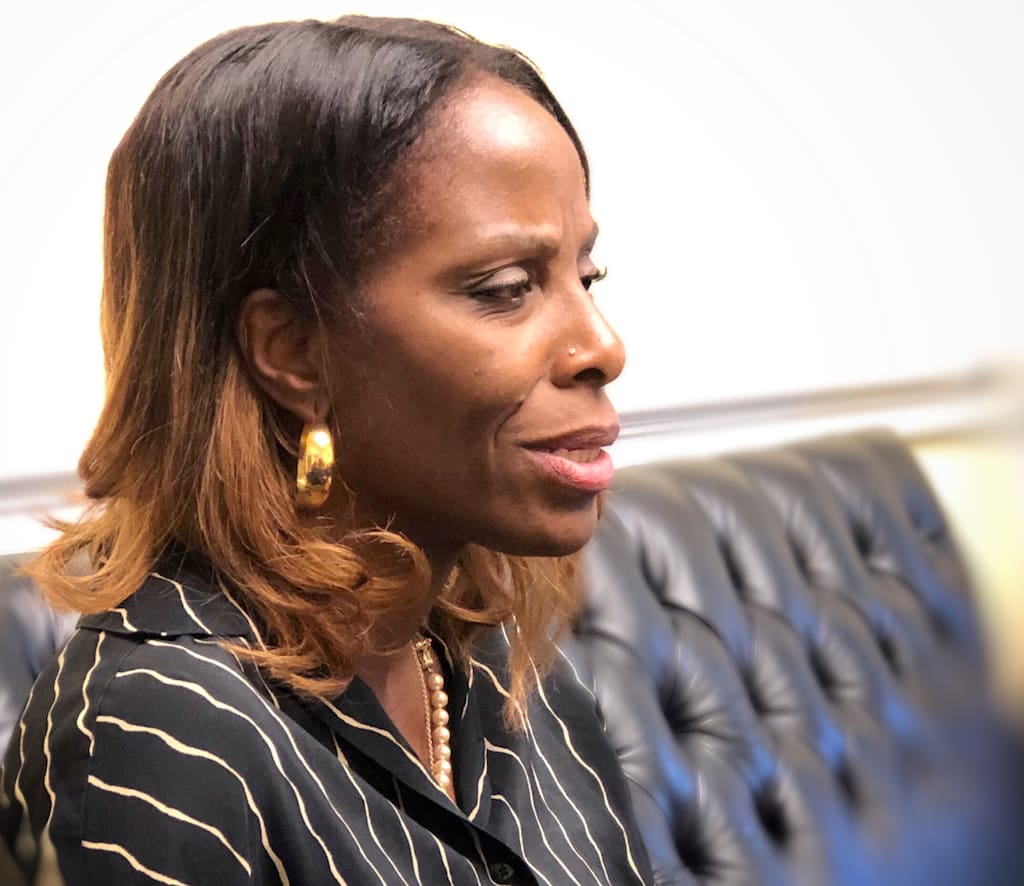 With Congress in recess, V.I. Delegate Stacey Plaskett took time out Friday to discuss funding opportunities for her constituents as a result of what she called the Biden administration's "once in half-a-century" infrastructure legislation.
Speaking only of the recently approved $550 billion Infrastructure Investment and Jobs Act, not the $3.5 trillion budget package also in play, Plaskett said the territory can look forward to:
– More than $95 million over five years to rebuild roads and bridges in the territory.
– $7.5 billion in funding that the V.I. can compete for to implement projects of economic benefit to the community.
– A minimum of $25 million to improve broadband service and make it affordable to residents of modest means. Thousands would be eligible for the connectivity benefit directed at families earning 200 percent of the federal poverty level ($25,760 or below for one person; download full chart here).
– Participation in $3.5 billion in weatherization funding to reduce energy costs.
– More than $37 million over five years to improve the territory's water infrastructure and ensure drinking water is clean and safe as a community right.
– $30 million over five years to improve V.I. public transportation options.
– $30 million to improve territory airport infrastructure, over and above current projects.
– $2.5 million to protect against cyberattacks.
The funds come on top of $561 million awarded to the USVI in direct federal money under the American Rescue Plan, allowing broad uses to address the economic free fall during the pandemic.
And the Child Tax Credit gives a credit of up to $3,600 per child under age 6 and $3,000 per child from ages 6 to 17, adding about $300 per child to the family budget for school supplies, clothing, housing and other necessities, Plaskett said.
Importantly for the territory's coffers, she added, the government will no longer have to pay for the tax credit out of its own budget, freeing $25 to $40 million a year for other uses. (The American Rescue Plan enacted the changes to the Child Tax Credit for 2021 only. President Biden and others are urging Congress to extend the increased Child Tax Credit into the future.)
While a glaring Medicaid disparity with mainland states has yet to find a permanent cure, a more equitable reimbursement percentage, begun after the 2017 hurricanes, is continuing. It has enabled 20,000 Virgin Islanders to join the ranks of the insured, Plaskett said, and for hospitals to be compensated for treating them.
The delegate said she has asked FEMA to forgive its community disaster loans, which the agency has the discretion to do. Housing and Urban Development Secretary Marcia Fudge, whose agency's Community Development Block Grant Disaster Recovery loans supplement those of FEMA, was also open to this request, Plaskett said.
With the caveat that she prefers to "stay in my lane" when it comes to Limetree Bay Refinery, the delegate said no one knows at this time what will happen to the business. But in a recent meeting, she asked U.S. Environmental Protection Agency Administrator Michael Regan to stand by the Virgin Islands; not only when it acts as an enforcer, but also in the aftermath, to assist with the recovery from the environmental and economic impacts of the refinery.
"In 2012, the EPA said we were out of compliance and enforced a consent decree on Hovensa, but we didn't hear from EPA after that," Plaskett said. "I've been assured by Mr. Regan his agency will be there this time."
The bipartisan infrastructure bill includes $21 billion for environmental remediation that the territory can compete for, and she's hopeful that St. Croix's south shore, which includes one or more potential brownfield sites, will become test cases for the Biden administration's promise to dial back the contamination visited on brown and Black communities. (In land-use planning parlance, brownfield land is any previously developed land that is not in use that may be potentially contaminated.)
"Around the country, hundreds of thousands of former industrial and energy sites are now idle – sources of blight and pollution," Plaskett said. "Over 25 percent of Black Americans and 29 percent of Hispanic Americans live within three miles of a Superfund site, which can lead to elevated levels of lead in children's blood."
In addition to the oil refinery's legacy of oil leakage, the south shore's groundwater and soil were polluted by the now-defunct alumina plant whose byproduct was a persistent, caustic red dust.
A brownfield cleanup and plan to repurpose this 1,400-acre area could be an employment and tax generator, Plaskett said.