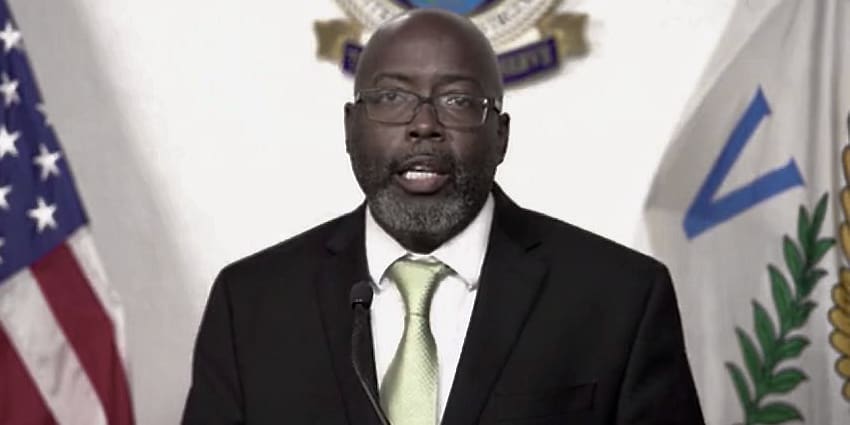 With active investigations ongoing, the top brass of the V.I. Police Department released few details about two separate shooting incidents that took place Monday night on St. Croix, leaving three men dead and injuring others, including an 11-year-old girl, but did say they expected to solve both cases in "short order."
Around 7:46 p.m. Monday, the 911 emergency system reported calls about multiple shots fired in the Aureo Diaz Housing Community. Police arriving on the scene shortly thereafter found four injured, among them an 11-year-old girl at the playground. Both the minor and another shooting victim will survive, Police Commissioner Trevor Velinor said at a police online news conference Tuesday morning, but Michael Ramos, 33, and Juan Velasquez later died at Gov. Juan F. Luis Hospital, where they had been transported.
St. Croix Chief of Police Sidney Elskoe said the shootout appears to have stemmed from an argument but would not specify what kind of guns were found at the scene, nor exactly how many weapons were recovered.
Less than two hours later, authorities responded to a report of a shooting near the Cash & Carry in Estate La Reine. At the scene, St. Croix resident Jovel Newton was found dead.
Speaking on Tuesday, Velinor said VIPD along with federal Drug Enforcement Agency and Homeland Security Investigations agents played an active role in the response and are "looking into those individuals" responsible.
"I will tell you, we will solve these two cases," Velinor said, adding that the department is keeping as much information "as close to the hip as possible," but have suspects in the pipeline.
In the meantime, he and Elskoe praised the tips coming in from the community about Monday's murders, along with a combination of efforts – the increased use of crimefighting software, camera access and partnerships with different local and federal agencies that adds manpower – that he said has exponentially increased overall response time.
Velinor said the department will also roll out Phase I of its camera system at the end of July, making street surveillance available throughout the territory, and will later incorporate Phase II, incorporating government facilities and possibly local businesses.
Velinor said Homeland Security Investigations, the Drug Enforcement Agency and VIPD officers responded to the La Reine incident. He said federal agents who were part of the response were also VIPD law enforcement officers deputized as federal agents of HSI and DEA. These officers also work with the High Intensity Drug Trafficking Area initiative and receive the same training as other federal law enforcement personnel.