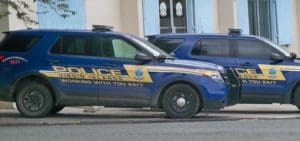 The body of a woman who had been stabbed multiple times was found around midday Friday in a vehicle in Vista Concordia on St. Croix. The case is being treated by the V.I. Police Department as a possible homicide.
The victim was identified by family members as 56-year-old Lucy Lindquist of Morning Star Circle.
It was the 23rd homicide on St. Croix since the beginning of the year, the 31st in the territory, according to the Source homicide list.*
According to the police, at 11:30 a.m., Friday, Aug. 20, the 911 emergency call center dispatched officers to Vista Concordia to investigate a report of a possible deceased female in a vehicle. Emergency medical technicians confirmed that the female, later identified as Lindquist, had no vital signs and was in the early stages of decomposition.
The body appeared to have multiple stab wounds about the body.
Police said the case has been classified as a possible homicide pending an autopsy for cause of death. The female was identified by family members as 56-year-old Lucy Lindquist of Morningstar Circle.
Police urged anyone with information about the case to call 911, the Crime TipLine at 340-778-4950, or the anonymous tip service, Crime Stoppers USVI, at 1-800-222-8477 (1-800-222-TIPS). Reports to Crime Stoppers that help resolve a crime can earn the caller an anonymous cash reward.
* The Source homicide list is based on reports from the V.I. Police Department, but unlike the police list or some other news outlets, the Source does not include vehicular homicides or suicides, which can lead to a difference in the totals reported.